Grey Kitchens: 8 Ideas for a Modern Kitchen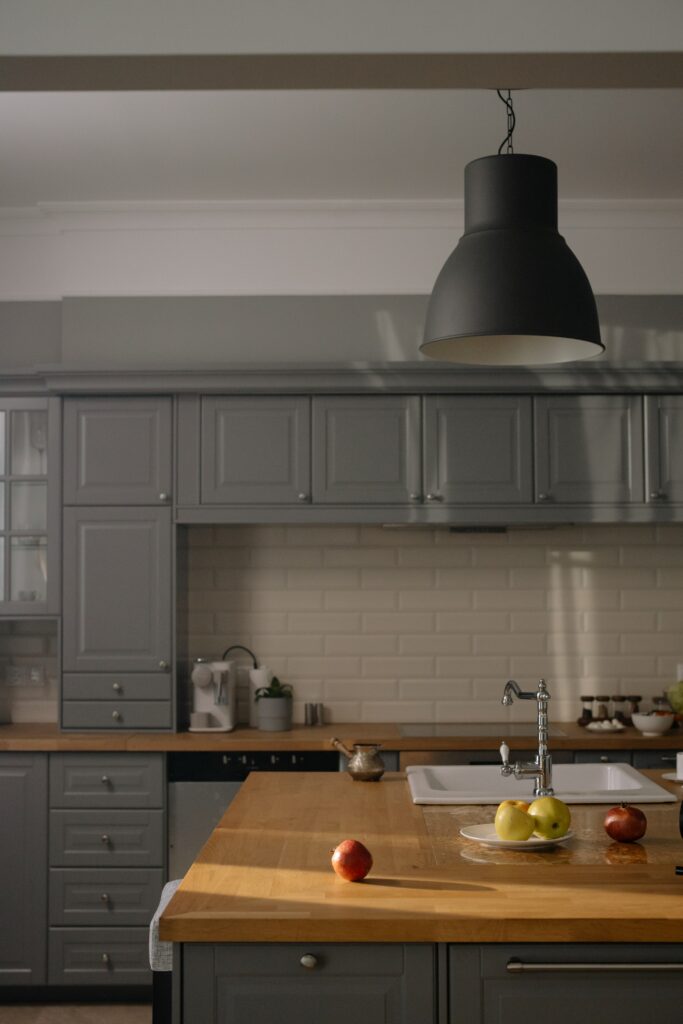 Are you considering a grey kitchen for your next renovation? If so, you're in good company! A grey kitchen is a popular choice for modern homes, thanks to its versatile and stylish look. In this post, we'll give you 8 ideas for how to design your grey kitchen. So whether you're looking for inspiration or just need some help narrowing down your options, keep reading!
Why is Grey Popular for Kitchens?
Grey is a popular colour for kitchens for many reasons. First, grey can be used to create an industrial look. Exposed brick or concrete walls can be painted grey, and metal cabinets and fixtures can be left their natural colour for a rustic feel. Secondly, grey is a versatile colour that goes well with almost any other colour. Whether you want to pair it with a bright accent colour or keep things more neutral, grey will give your kitchen a stylish look. Finally, grey is a good choice for small kitchens because it can make the space look bigger. Light colours tend to reflect more light, so painting your kitchen grey will help to brighten things up. Whether you're looking for a modern or traditional look, grey is a great choice for your kitchen.
1. Use Grey Kitchen Cabinets and White Splashbacks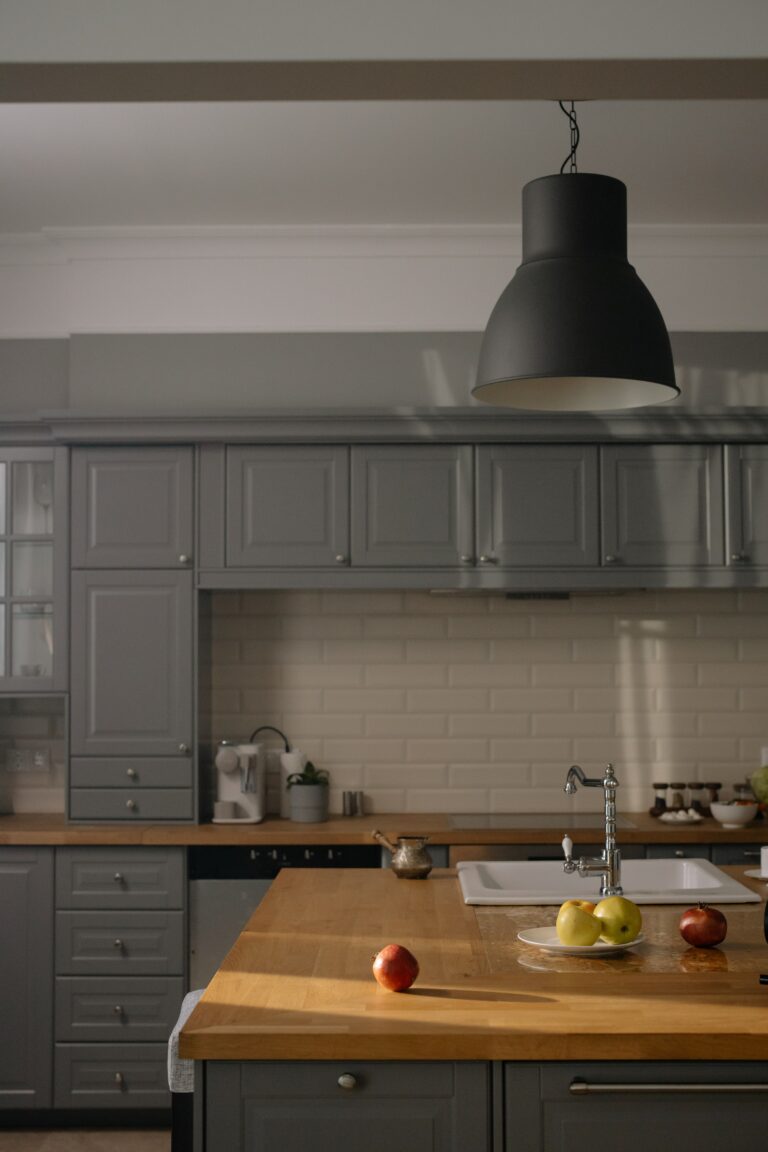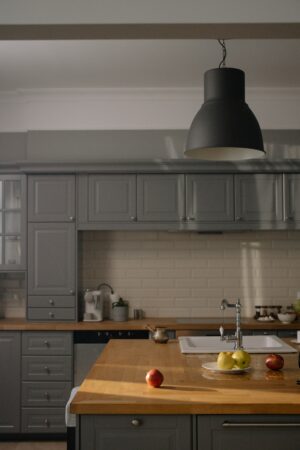 As any cook knows, the kitchen is one of the most important rooms in the house. It's where we prepare our meals, and it's often the heart of the home. When it comes to kitchen design, there are endless possibilities. But if you're looking for a classic and sophisticated look, you can't go wrong with grey kitchen cabinets and white splashbacks.
The neutral colours provide a blank canvas that can be easily dressed up or down. And the simple colour scheme is easy to maintain, giving you more time to enjoy your time in the kitchen. Whether you're whipping up a quick meal or hosting a dinner party, grey kitchen cabinets and white splashbacks are timeless choices that will always look chic.
2. Pair Grey Kitchen Floors with White Marble
Grey kitchen floors are a beautiful way to add some depth and Interest to your kitchen. They pair well with white marble countertops to create a sleek and modern look. You can also add some accent colours in the kitchen to make the grey pop. If you have stainless steel appliances, consider adding some grey and white tiles around the backsplash area. This will help to tie the whole look together. You can also use grey flooring in other areas of your home, such as the bathroom or laundry room. It is a versatile colour that can help to brighten up any space.
3. Use Different Shades of Grey
When it comes to design, there is more to grey than meets the eye. Grey can be a versatile and stylish shade to use in your home. If you are looking to create a sophisticated and modern aesthetic, consider using different shades of grey in your kitchen. For example, pair light grey walls with darker grey cabinets or floors. You can also experiment with texture by using matte or gloss finishes. By playing with different tones and textures, you can create a unique and chic Grey Kitchen that is both stylish and practical. So don't be afraid to think outside the box when it comes to design - go grey!
4. Try White Ceramic Tiles to Balance Matt Grey Cabinets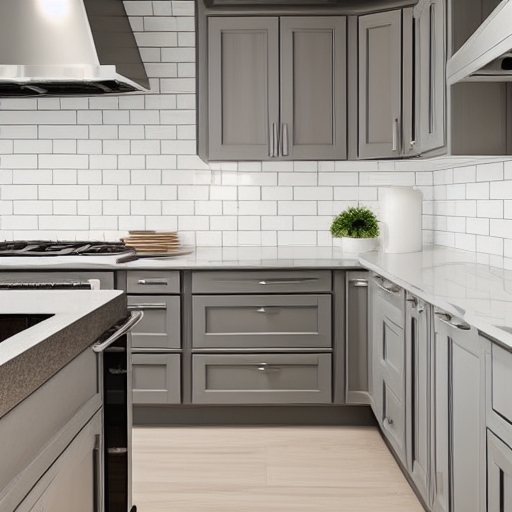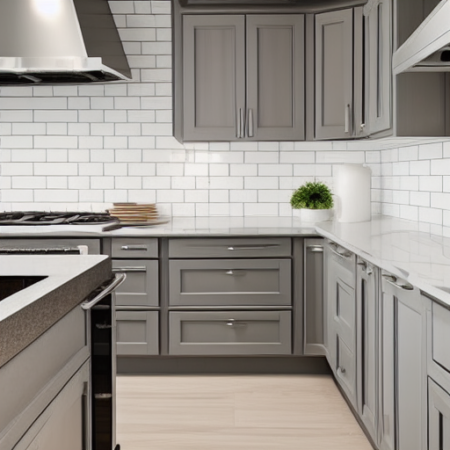 One of the most popular kitchen trends in recent years has been the use of grey cabinets. Grey lends itself well to a variety of design styles, and it can help to create a feeling of sophistication and elegance. However, grey can also be quite unforgiving, and it can make a small kitchen feel cold and clinical.
If you're planning to use grey cabinets in your kitchen, one way to balance out the look is to use white ceramic tiles for your backsplash. The bright colour will help to add a touch of lightness and warmth, making your kitchen feel more inviting. In addition, white ceramic tiles are easy to clean and highly durable, making them an ideal choice for busy families. So if you're looking for a way to add some visual interest to your grey cabinets, try using white ceramic tiles for your backsplash. You might just be surprised at how well they work together.
5. Use Coloured Glass Lighting for a Subtle Contrast
As anyone who has remodelled a kitchen knows, choosing the right lighting can be the difference between a room that feels dated and one that feels fresh and new. And while there are many different ways to achieve this desired look, one of the most effective is to use coloured glass lighting.
By installing coloured glass light fixtures, you can add a subtle but distinct contrast to your grey kitchen that will immediately give it a more modern feel. Whether you opt for pink, blue, or any other colour, coloured glass lighting is an easy way to give your kitchen an updated look. And best of all, it's a relatively inexpensive way to achieve this desired effect. So if you're looking for a quick and easy way to update your grey kitchen, consider adding some coloured glass lighting. You'll be surprised at the difference it makes.
6. Add Colour to a Grey Kitchen with Accessories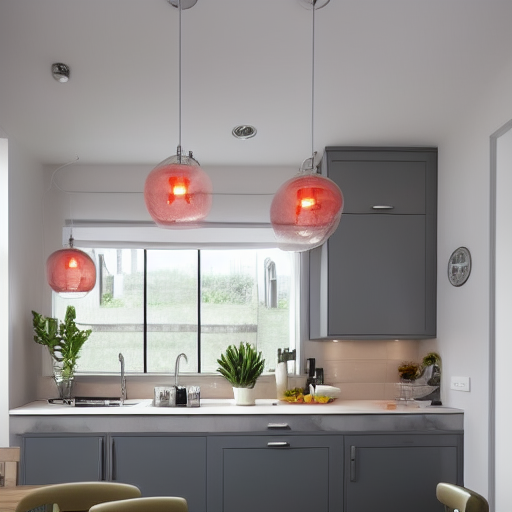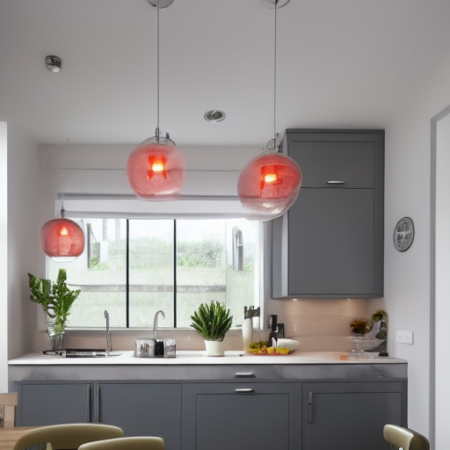 A kitchen is the heart of the home, and its design should reflect this. However, many people are reluctant to add colour to their kitchen for fear that it will be too overwhelming or that it will clash with the rest of the house. However, there are many easy ways to add colour to a kitchen without completely overhauling the space.
One way is to use colourful accessories. Bright dish towels, colourful rugs, and patterned window treatments can all help to add a touch of colour to a grey kitchen. Another way to add colour is to paint one wall a bold hue. This will instantly brighten up the space and make it feel more inviting.
Finally, another easy way to add colour is to incorporate colourful fruits and vegetables into your decor. Brightly coloured fruits and vegetables can act as both decorations and delicious snacks. So don't be afraid to add a little bit of colour to your kitchen. With a few simple changes, you can transform your grey kitchen into a bright and inviting space.
7. Choose Metals to Balance a Grey Kitchen
A gold tap is a perfect way to add a touch of luxury to your kitchen. If you have a grey kitchen, then this is a great way to make it stand out and give it an updated look. Accessories like this can make a difference in the overall look and feel of your kitchen. You don't need to spend a lot of money to get a great new look for your kitchen, just a few simple updates like this can transform the space. So if you're looking for a quick and easy way to add some personality to your kitchen, then consider gold taps!
8. Install Wooden Floors for a Natural Balance
Wood has been used as a flooring material for centuries, and good reason. It is durable, easy to clean, and forgiving of spills and dropped dishes. In addition, wood floors add a touch of warmth and natural beauty to any home. When choosing wood floors for your kitchen, it is important to consider the overall design of the room. For a rustic kitchen, choose floors made from rough-hewn lumber in a dark finish. For a more modern look, opt for lighter wood or floors with a distressed finish. Whatever style you choose, wooden floors are an excellent way to add balance to your grey kitchen.
Conclusion
Grey kitchens are a popular choice for many homeowners. And there are many different ways to incorporate grey into your kitchen design. Whether you choose grey cabinets, grey flooring, or grey accessories, there are many ways to use this versatile colour in your kitchen. So don't be afraid to experiment with grey and see what works best for your space. With a little bit of creativity, you can transform your grey kitchen into a stylish and inviting space.
Stick to a muted colour palette in your kitchen with a matt black boiling water tap. Find out more about boiling water taps in our buyer's guide.
Alternatively, learn more about kitchen design with these hand-picked blogs:
Related Articles from the same category: