10 Kitchen Storage Hacks for Small Spaces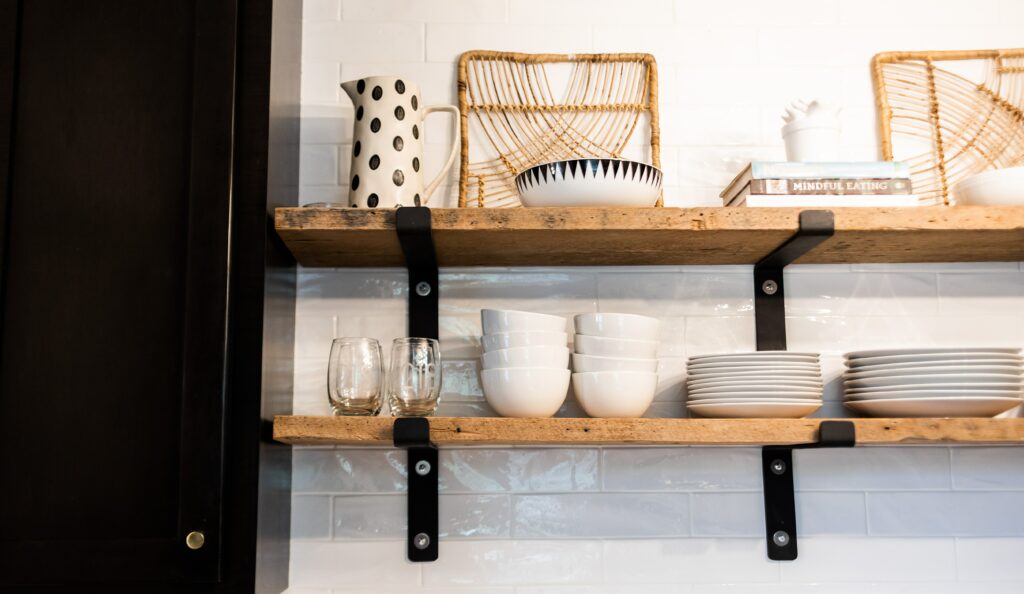 For those of us lucky enough to call an apartment or small home our own, making the most out of limited space can be challenging. But don't stress! If you're looking for creative ideas for storing kitchen items without compromising countertop and cabinet storage, then this article is for you!
Let's dive in to discover 10 incredibly useful kitchen storage hacks that will help make the most out of any small space–without sacrificing style. So if your kitchen could use a little boost, get inspired by these clever ways to maximise what you have to make your space both functional and beautiful.
1. Create Vertical Storage Space
There are few things more frustrating than a lack of storage space, especially when you don't have much room to begin with. Fortunately, creating vertical storage space in small spaces is a great way to make the most of your available square footage and de-clutter at the same time. Setting up shelving or hanging baskets on walls is an ideal way to organise items such as books, documents, magnets and other mementoes while also freeing up countertops and shelves.
It's easy to get creative and use anything from vintage crates to decoupaged boxes to store items and accessorise any room. If you're renting or don't want the permanence of wall hooks, take advantage of tension rods for hanging curtains, which can provide attractive yet easily removable storage solutions for spices, towels or other hangable items. If you declutter your kitchen with a little bit of effort, it's possible to turn almost any small space into an organized sanctuary!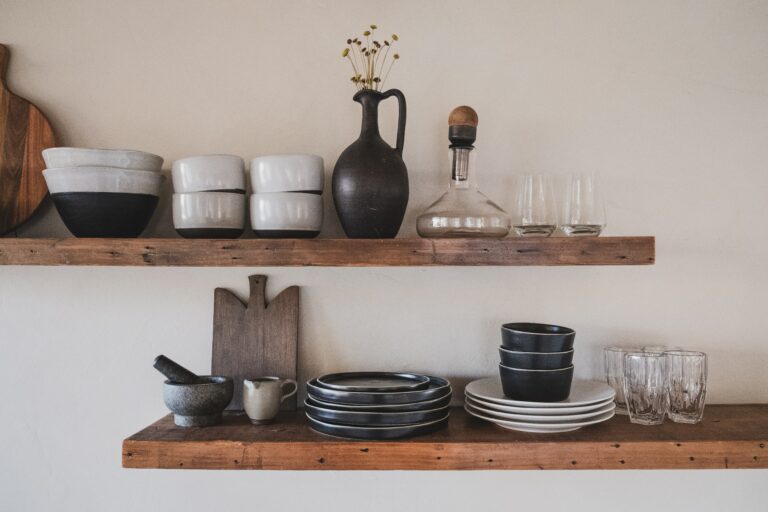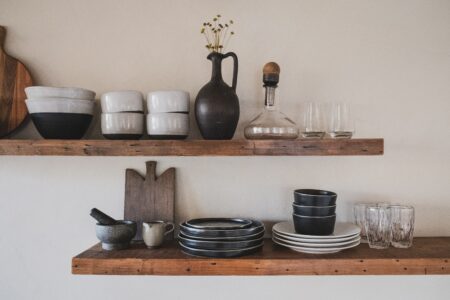 2. Utilise the Wall for Hanging Containers
Homeowners in small spaces need to look no further than their own walls for an effective solution to de-cluttering and storage. Utilising the walls to hang containers makes it easy to keep any random items, like extra blankets or toys, tucked away and organised. The greatest benefit of this type of storage is that you maximise your space without having to take up precious room on the floor.
Best of all, all the hardware can easily be hidden behind the hanging containers so it looks neat and tidy when not in use. With a proper plan and creative mindset, anyone can make use of their walls and finally get rid of those stagnant piles!
3. Put a Pegboard to Use in the Kitchen
A pegboard may just be the answer to bringing organization and storage solutions to a small kitchen. Pegboards are versatile and can be used to store almost anything, from spices to pans and appliances. Installing one is easy and requires only a few tools – many even come with pre-drilled holes for added convenience.
In addition to efficiency, incorporating a pegboard in the kitchen adds style as well. Choose from a variety of textures, colours, and sizes to find one that fits into the space's aesthetic. With a great look and plenty of practical uses, it definitely pays to put a pegboard to work in any small kitchen!
4. Make Use of Drawer Inserts and Dividers
When it comes to organizing a small kitchen, drawer inserts and dividers can be an absolute lifesaver! These convenient storage solutions help you make use of all the available space in your drawers without creating unwanted clutter or general disorganization. In addition, these items make finding items much easier, as you'll be able to store everything in neat compartments so that nothing will get lost.
Using drawer inserts and dividers allows you to take advantage of the often overlooked vertical space in small kitchens, giving you room to store more than you may have thought you could fit. Investing in one or two of these nifty organizers could result in a more efficient and organized kitchen - allowing you to free up more time and energy for the delicious meals ahead!
5. Maximise Shelf Space with Corner Shelves
Working in a small kitchen can often pose the challenge of maximising available storage space, but corner shelves are a great way to make the most of your kitchen. Not only are investment corner shelves perfect for smaller spaces as they fit snugly into any corner, but they also provide high levels of storage capacity and even an extra surface area upon which you could keep items or prepare food.
Corner shelves come in all shapes, sizes, and materials allowing you to find one perfect for your style and budget. So, if you're looking for ways to get clever with your space in the kitchen, look no further than the versatile corner shelf: it is sure to free up some much-needed desk real estate!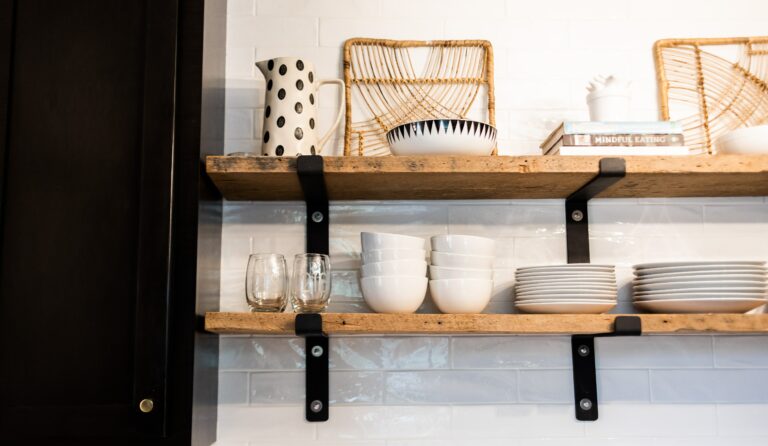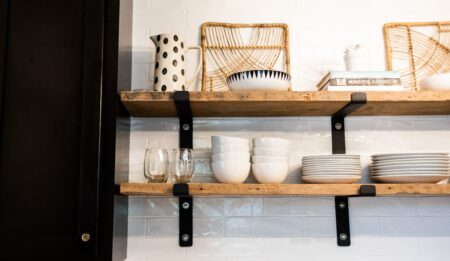 6. Incorporate Magnetic Knife Strips or Hooks
One of the most efficient ways to make the most out of a small kitchen is to incorporate magnetic knife strips or hooks. These are perfect for any cook, amateur or professional alike since they allow cooks to have quick and easy access to knives without having to fish through drawers. Not only that but they also mean no more accidentally slicing a finger while trying to reach into a utensil drawer.
Magnetic knife strips can be installed easily and securely, allowing you to take full advantage of wall space while keeping all your sharp kitchen items safely away from little hands. In addition, magnetic knife strips give kitchens a modern and sophisticated look, making them fashionable additions that will always be in style.
7. Bring In Multifunctional Furniture Pieces
For those with limited kitchen space, incorporating multifunctional furniture pieces can be an ideal solution. While most people may think of their kitchen as solely a room for cooking and eating meals, there are actually many benefits to making efficient use of the space. Not only can furniture such as folding tables and hidden storage spaces create more workspace when needed, but they can also help organise the clutter in a small kitchen in order to maximize the available room for preparation and clean-up.
Additionally, wall-mounted shelves or microwave carts can provide additional countertop surfaces that are easy to access and still make the area feel roomy. With so many modern designs available, adding one or two pieces of multifunctional furniture to your small kitchen has the potential to transform it into a more comfortable and efficient space.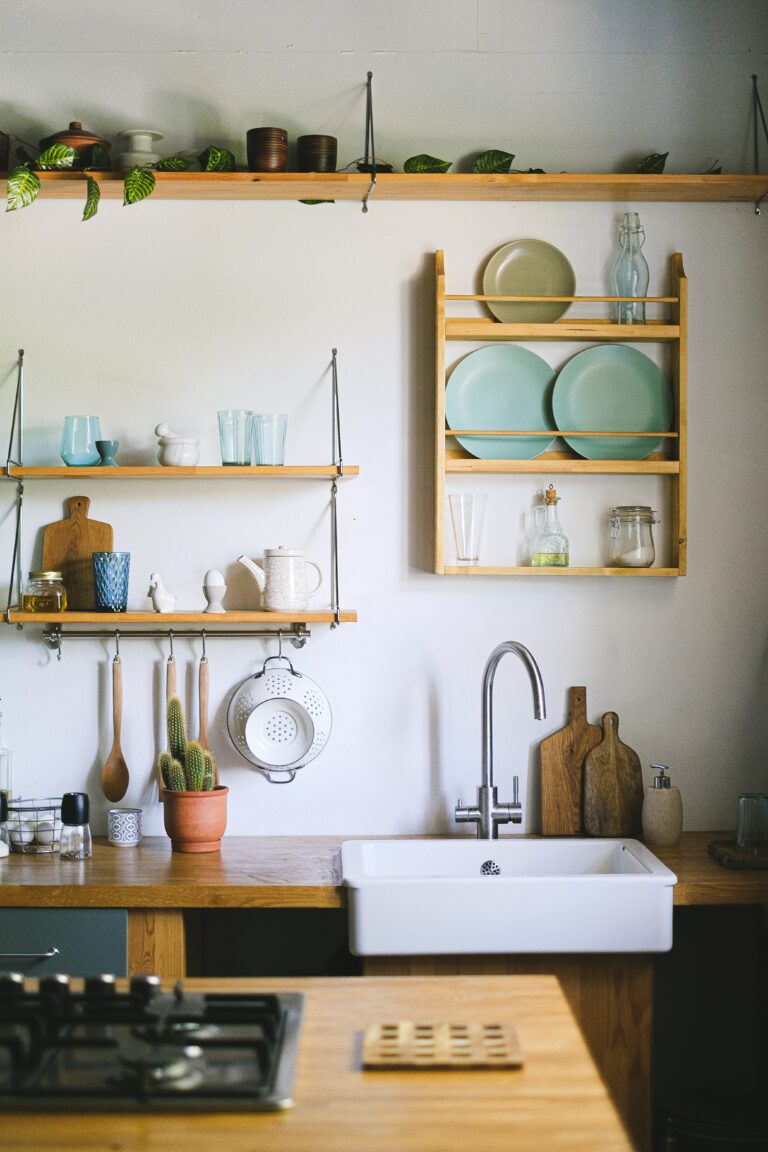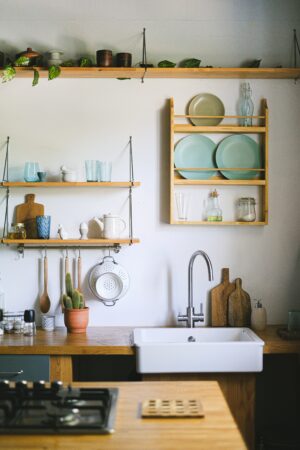 8. Hang Tiny Pots & Pans From Ceiling Racks
If you're stuck with a small kitchen, fear not! You can fit in so much more without sacrificing style. A great way to take advantage of the space but still keep it looking neat is to hang tiny pots and pans from ceiling racks. Not only will this help reduce storage within the counters and cabinets, but it also adds a modern touch of decoration to any kitchen. Even if it's tight on counter space, there's plenty of room to get creative with final touch-ups like this one! With simple installation and classic pieces that last, you'll have your kitchen looking spacious in no time.
9. Invest in Stackable Canisters & Jars
A great way to maximise storage in small kitchens is to invest in stackable canisters and jars. These items can help keep your counters, cabinets and drawers organized without taking up too much space, making them ideal for limited kitchen layouts. Not only are they lightweight and easy to store, but durable materials like stainless steel ensure durability. Stackable canisters of various sizes let you separate the flour, spices, utensils and more, while the smaller jars fit perfectly on shelves or inside cupboards, leaving space for other items. Finally, stylish designs bring a bit of life and personality to any kitchen - all without sacrificing hard-earned storage.
10. Design a DIY Spice Rack with Mason Jars
If you have a small kitchen and need to make more efficient use of space, then a DIY spice rack with mason jars is the perfect solution. This innovative design not only looks attractive but also provides easy access to your favourite spices while freeing up counter space.
Start by using wood or plastic boards to create a grid system as the base of your rack. Then attach some small (preferably) clear mason jars with lids, allowing each one its own square on the board. Finally, label each lid so you know what spices are inside, and sort them according to their colours or use category. Not only will you be able to maximise the kitchen space effectively with this brilliant design without sacrificing the decor, but you'll also save money on fancy spice racks.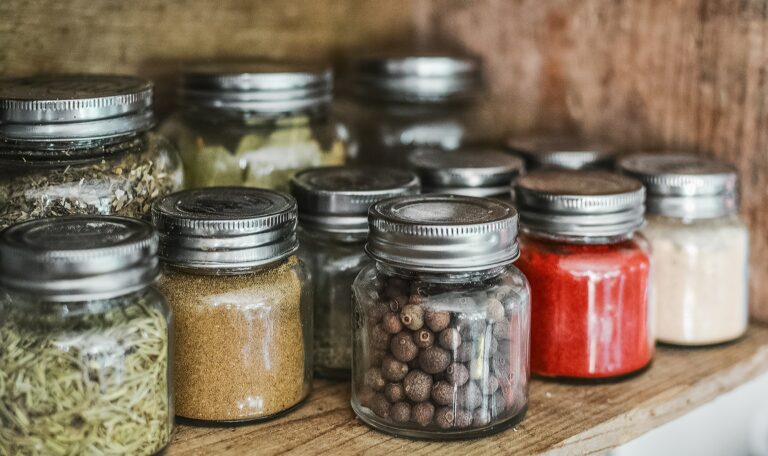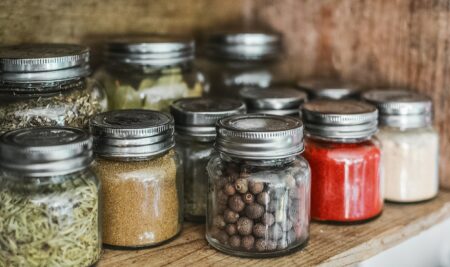 Conclusion
It's possible to turn a small kitchen area into an efficient and organised space. Use these suggestions as a roadmap and with some decorating finesse, soon enough your little kitchen will be transformed into a functional mini-masterpiece.
Our boiling water taps are perfect for decluttering your kitchen worktops, replacing your outdated kettle completely. Find out more about how a boiling water tap works.
Related Articles from the same category: