11 Christmas Decor Ideas for Your Kitchen This Year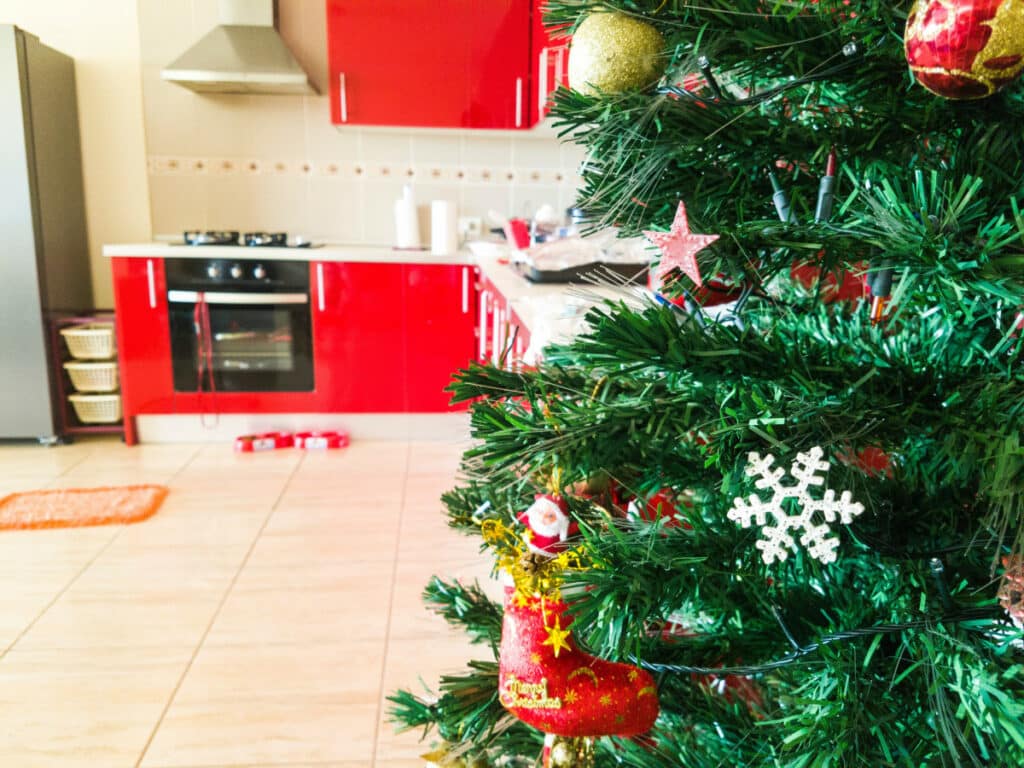 Looking for some new Christmas decor ideas for your kitchen this year? You're in luck! We've put together a list of 11 fun and festive ideas to get you inspired. From cheerful holiday details to clever storage solutions, there's something for everyone. So get ready to deck out your kitchen in style!
1. Hang up a festive sign
View this post on Instagram
Decorating for Christmas is always such a fun and festive task. One of the quickest and most impactful ways to decorate the kitchen is to hang a festive sign - it's an excellent way to put a bit of holiday cheer right where you can see it! Whether it's rustic, modern, or a classic traditional look, there are so many options available when it comes to finding decorative signage.
Plus, you can enjoy your special sign throughout much more than just the yuletide season; with many designs featuring inspirational or funny quotes they make excellent everyday decorations too! Get ready to spread some extra holiday joy this year with a charming and joyful sign in the kitchen.
2. Frame your window with Christmas garlands
View this post on Instagram
By decorating your kitchen's windows with festive Christmas garlands, the atmosphere of your mealtime can be enhanced this holiday season. Not only are these decorations eye-catching and unique, but they're also sure to spread joy in the room! Making your own garlands is easy enough to do, making it a great way to prepare for family gatherings and get into the spirit of Christmas.
3. Dig out your Santa decorations
View this post on Instagram
With the holiday season just around the corner, it's time to break out your favourite Santa decorations to give a classic Christmas touch to your kitchen! Nothing puts you in a festive mood better than seeing these adorable figurines dotting shelves and countertops or strung up on walls and doorways. Not only are these decorations a beautiful sight to behold, but they also fill the room with wintry cheer and create a feeling of childlike joy.
4. Decorate with Christmas candles
View this post on Instagram
Sprucing up your kitchen for the Christmas season takes no effort thanks to Christmas candles! Whether it's scented candles or wax figure candles, these small decorations add a festive touch to any kitchen space. Place a few candles around the top of your cabinets, or use them to fill up an empty shelf. Filling glass bowls and containers with different coloured tea lights makes for a beautiful centrepiece on your table to bring out the festive spirit of the holidays. Candles in the kitchen also make cooking meals more enjoyable throughout the winter months, giving off soft light while you're creating warming dishes. With minimal effort, your kitchen can feel like a magical wonderland full of holiday cheer!
5. Get some Santa plates
View this post on Instagram
Sprucing up your kitchen for the Christmas season doesn't need to break the bank. With a set of Santa plates, you can transform any bland kitchen into an enchanting holiday retreat. Decorating your countertops with these festive plates creates a wonderfully cheery atmosphere, and will certainly brighten your mood when preparing meals in the kitchen.
Whether you decide to go for a classic style featuring Santa Claus himself, or you prefer something more modern such as snowy scenes or cartoon characters, the choices are nearly endless and surely pleasing to everyone. Be sure to grab some Santa plates this season so that everyone can enjoy them all winter long!
6. Hang up a festive wreath
View this post on Instagram

One great way to spruce up your kitchen for the Christmas season is to hang a festive wreath with bright ribbons and plaid patterns. This will add instant holiday cheer and can be an excellent conversation piece for your friends and family members who come to visit over the holidays.
Plus, there are so many fun styles of wreaths out there that you'll have no problem finding one that perfectly complements your kitchen's overall aesthetic. Whether you go with a traditional evergreen or something more unique, you're sure to be pleased when it's placed on the door creating a glowing, inviting arrival spot for all who enter.
7. Decorate your kitchen lights
View this post on Instagram
Making your kitchen festive for the holidays can be a fun, creative experience. You can start by decorating your light fixtures with bright colours and twinkling lights to add some extra holiday cheer. It's as simple as taking a strand of small white Christmas tree lights and wrapping it around the ties of your kitchen cabinets or across the lighting trim of a pendant light.
Nothing boosts spirits better than gathering around the dinner table while twinkle lights wrap around you like you're in a snow globe! Whether traditional coloured strands or battery-operated LED strings, adding warm lighting to your kitchen is a surefire way to make all of your gatherings more enjoyable this season.
8. Get cosy with soft textiles
View this post on Instagram
Adding some festive cheer to your kitchen this Christmas doesn't need to be difficult, and it's a fantastic way to get the whole family feeling excited for the big day. Soft textiles and cosy fabrics in velvety shades of red, green, and gold can transform a simple kitchen into a truly inviting space. Choose plush bedspreads as tablecloths for extra comfort, or look for cushion covers with snow-filled scenes that will bring out the holiday spirit. Add bright tea towels edged with lace as window coverings or hang cheerful garland adorned with sparkling red bows from cupboard handles. Whatever you decide, you'll be sure to have fun creating your special atmosphere for Christmas.
9. Keep it cute with smaller accents
View this post on Instagram
Decorating the kitchen for Christmas can be overwhelming, but it doesn't have to be overly complex. Smaller accents are a great way to keep it adorable without all of the efforts of bigger decorations. Consider a basket filled with mistletoe, as just one little touch that will bring in the festive spirit. Don't forget to hang some wreaths or wooden signs on your cabinets or refrigerator - they will make a lasting impression that stays around until the new year comes around!
Things like holiday cookie cutters and mugs will also liven up your kitchen counters and get everyone in the spirit of Christmas. Whatever you choose, remember that keeping it cute and small is always best when decorating for this wintery holiday.
10. Throw in some festive cushions
View this post on Instagram
Getting ready to celebrate Christmas in style? Why not start with your kitchen by adding festive cushions to the mix? Picking a few bold cushions with vibrant, seasonal motifs and colours will instantly bring joy and warmth to this important part of your home. Plus, when you spend time cooking up some delicious holiday meals while surrounded by these cosy conversation starters, you will appreciate how much they bring your entire decor together with an inviting aura.
And don't forget that guests love sitting down for a meal in surroundings with plenty of zest and variety! So why not add some throw pillows to make sure your kitchen is dressed for success come the Christmas season?
11. Play it simple with a pinecone wreath
View this post on Instagram
The kitchen is one of the most important spaces in your home, and when it comes to decorating for the holidays you want something sure to stand out, while also fitting into the cosy atmosphere. A pinecone wreath is a perfect option, adding holiday cheer and traditional Christmas decorations without being over the top. This simple piece will look beautiful slung over your pantry door or hanging against a window as room décor and an added dimension to your existing kitchen set-up.
You can also add seasonal accents like tartan ribbon to bring even more festive cheer for the season. The possibilities are endless so don't be afraid to indulge in creating a lively kitchen space; a simple and stylish pinecone wreath is the perfect way to do just that!
Whether you're looking for a traditional Christmas feel or something more modern, these kitchen decor ideas will have your home ready for the holidays in no time.
A boiling water tap will make cooking Christmas dinner easier than ever this year. Learn more about how a boiling water tap works here.
Related Articles from the same category: