Comparing Our Boiling Water Taps (Costs, Features & More)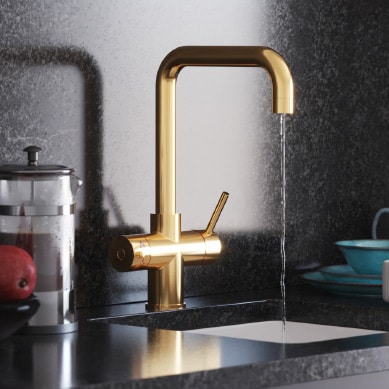 Our boiling water taps are the most affordable on the market, brimming with all of the great features homeowners expect to see in a 21st-century appliance. In today's article, we're comparing our boiling water taps so you can make an informed decision about which one is best for you.
Hot Water Taps

Avista
Athena
Quantum
Platinum
Type
3-in-1
3-in-1
4-in-1
4-in-1
Price
from £299
from £369
from £469
from £599
Carbon filter
Y
Y
Y
Y
Cold water filter
N
N
Y
Y
Flex hose
N
N
N
Y
Finishes
4
5
4
4
Warranty
5 years tap
2 years boiler tank
5 years tap
2 years boiler tank
5 years tap
2 years boiler tank
5 years tap
2 years boiler tank
Klarna
Y
Y
Y
Y
60-day returns
Y
Y
Y
Y
Avista: our most affordable boiling water tap
When Hot Water Taps launched, we made it our mission to make our taps the most affordable on the market. With Avista, we changed the way homeowners thought about boiling water taps, making them accessible to more people without sacrificing quality.
Athena: our premium 3-in-1 boiling water tap
For those looking for more customisation options, the Athena comes in 5 different finishes and with a superior build for even greater longevity and reliability.
Quantum: our best-selling 4-in-1 boiling tap
The Quantum 4-in-1 tap has all of the state-of-the-art features of our 3-in-1 taps, with the addition of a cold water filter that removes impurities and unwanted chemicals. This means you can enjoy the luxury of filtered water and boiling water on tap at any time you want.
Platinum: our flex 4-in-1 boiling tap
The Platinum 4-in-1 is our state-of-the-art kitchen tap. Packed with all of the great features of our other taps, the Platinum comes fitted with a flexible hose. This means you can direct the flow of water around your kitchen sink, making cooking and cleaning a breeze. A safety mechanism ensures boiling water can't be used when the flex hose is in use.
How safe is a boiling water tap?
Compared to kettles, boiling water taps are incredibly safe. Whereas kettles are hot to the touch when turned on, our boiling tap tank and spout are insulated, preventing burns. And where kettles can be picked up and dropped, a boiling water tap is fixed in place. To make our boiling taps even safer, our models all include a spring-loaded mechanism, which will prevent the boiling water from accidentally being switched on.
What is the difference between a 3-in-1 and a 4-in-1 tap?
While both types of tap dispense instant boiling water, the 4-in-1 tap dispenses cold, filtered water, too. The filter that arrives with the 3-in-1 tap is for the boiler tank only. For families who want to drink pure h2o from the tap every time, a 4-in-1 tap is a perfect fit. If convenience is
What is a flex tap?
A flex tap has a flexible hose, which can be removed and used to direct the flow of water around your kitchen sink. This is incredibly useful for getting to different parts of your sink, whether you are cleaning dishes or filling a glass with crystal-clear drinking water.
Which boiling tap is best for me?
The tap that is best for you depends on your needs and preferences. If you are looking for an affordable option, the Avista 3-in-1 tap is a great choice. If you want unparalleled convenience and ultra-clean, filtered water, the Platinum 4-in-1 is better for you. Remember, you can split the price across three interest-free payments, thanks to our partnership with Klarna. That means owning this century's must-have kitchen appliance is more accessible than ever.
How energy efficient are boiling water taps?
Boiling water taps are shown to be more energy-efficient than kettles, often costing the same to run for a full day that a kettle would use in just a couple of boils. What's more, because you're not boiling water you don't use, you'll prevent unnecessary energy waste, saving you money in the long run if you're an avid coffee or tea drinker. Overall, a boiling water tap will make little difference to your energy bill, which means those concerned about additional running costs need not worry.
Shop our full range of boiling water taps today and enjoy free next-day delivery and unrivalled customer support. Alternatively, find out more about boiling water taps in our buyer's guide.
Related Articles from the same category: