Wondering how your boiling water tap works, how to maintain your tap or how to install it? You've come to the right place. On this page, we're sharing our answers when it comes to our customers' most frequently asked questions. Looking for answers to a specific question? Use our table of contents below:
The Boiling Water Tap
1. How does a boiling water tap work?
Your new tap is plumbed into a compact boiler tank we provide, which is designed to fit neatly in the cupboard below your kitchen sink. The boiler tank takes cold water from your existing kitchen cold water feed and heats it to your desired temperature within the 2.4-litre tank. When you're ready to use the boiling water, you simply turn the handle and the boiling water is instantly dispensed.
Your normal hot water feed works exactly as it did previously, supplied from your main household hot water tank or boiler. Find out more about boiling water taps.
2. Why do you have different temperature settings for the water?
Using the easy control settings on your boiler tank, you can set the temperature to any of 5 different settings to give you the temperature you require, ranging from 75°C to 98°C. Remember, different teas need different temperatures which are never as high as 100°C, as this can spoil the taste. The high temperature will also scald and damage coffee beans which also results in a bitter taste.
3. What are typical uses for boiling water taps?
Boiling water taps replace your kettle and are ideal for making any hot drink requiring boiling water or any cooking application requiring boiling water. This includes brewing tea and coffee, cooking pasta, blanching vegetables or boiling water to clean a floor. Find out more about different ways to use boiling water.
4. How many cups of tea/coffee will it make before needing to reheat?
Your boiler tank will supply between 5 to 6 typical cups of boiling water before the unit needs to reheat the water.
5. How long does the boiler tank take to reheat?
If only one cup of boiling water is drawn from the tap, the tank will heat back up to the maximum temperature in under a minute. If the entire amount is drawn it normally takes 4 minutes to get back to maximum temperature. From new or being turned off allow 7-8 minutes. The base temperature of the mains water will affect the reheat time.
6. Are the boiling water taps safe to use?
Yes, boiling water taps are remarkably safe, even in homes with young children. Here are three reasons:
By storing the water at just under 100°C you get the benefits of instant boiling water with no spitting, as the pressurised steam is turned back into a liquid.
The tap spout is insulated so it never becomes too hot to touch.
Each tap has a built-in boiling water handle with a child-safe button so it can't be turned on accidentally. What's more, the handle is sprung so when released it automatically turns the water off.
7. Should you turn your boiling water tap off?
We advise you not to turn them off as it costs more to heat up water from cold than to keep boiling water at a high temperature. The unit is designed to be on constantly to give you instant boiling water when you require it, which means the system itself is insulated to prevent heat loss and unwanted energy expenditure. We would recommend you turn your boiler tank off and drain it if:
a) It will be exposed to freezing temperatures
b) You are going on holiday for longer than 7-10 days
8. How much does a boiling water tap cost to run?
An insulated boiler tank means minimal energy is required to maintain the water supply at a high temperature, costing between 10 and 15p a day. Comparatively, a kettle can cost anywhere from 2-6p to boil each time, depending on the make and the amount of water. This means that if you boil a kettle multiple times a day, you're unlikely to see much difference in your energy bills.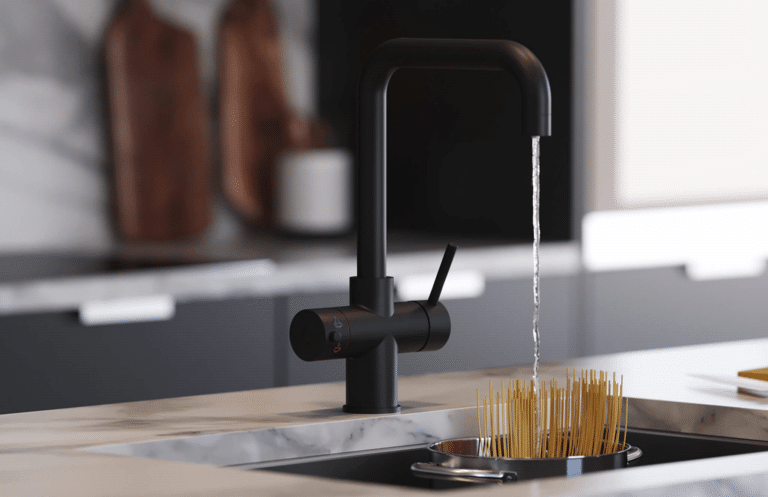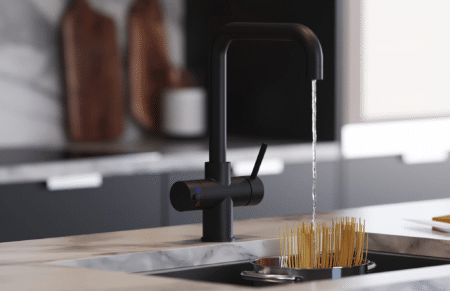 Installation
9. Can I do my own installation?
Yes – a competent DIY person who is comfortable with simple plumbing can install a hot water tap, though we recommend if you have any uncertainty that you hire a professional plumber.
10. What tools will I need?
A screwdriver, an adjustable wrench and a pair of pliers. This assumes that your existing tap is easy to remove, if not then a basin wrench may be needed. If your power socket is in an adjacent cupboard a hole may be needed to be drilled to allow the power cable through.
11. Do I need any other parts?
No, the units come complete with all the fittings and pipes required.
If not already fitted, you may want to install isolating valves for the hot/cold water feed to the kitchen sink.
12. Will extra plumbing be required?
Not in most instances – The compact unit will fit usually into the cupboard under the sink and the pipe supplied will fit onto the existing cold and hot water feed.
13. Do I need an electrician?
No, as long as there is an accessible socket within the cable length it is a simple plug-and-fit system. If you need extra cable lengths these can be bought off the shelf from any DIY or electrical outlet.
Your Hot Water Tap Filter
14. What is the filter for?
The filter plays an important role in protecting your boiler tank, preventing limescale build-up that can affect your tank's performance, useable life and warranty. At the same time, the filter improves the taste of your water by removing small particles and unwanted minerals.
15. How long does the filter last and will I know it needs changing?
We estimate that the filter will need to be replaced every six months, but our tank includes a clever piece of patented technology that measures the water that passes through it, and it will turn red when it needs changing.
16. Does the filter provide cold, filtered drinking water?
For the 3-in-1 taps Avista and Athena, the single filter is designed only to prevent limescale build-up and damage to the tank, though it does filter particles and improve the taste of the boiling water held in the tank.
For filtered drinking water, please see the 4-in-1 taps Quantum and Platinum. They both come with a double filter that removes minerals, chemicals and bacteria for both the boiling water and cold water streams, improving both the odour and taste and providing crystal-clear drinking water.
17. Are the filters easy to change?
The filters are very easy to replace. To replace them, you can simply turn the water feed off and then they are a simple twist and remove for the outer casing and a screw fit to remove the filter head. The cartridge is then loose to remove. For more information, read our guide to changing your boiling water tap's filter.
18. Where can I buy a replacement hot water tap filter?
We sell affordable filter replacements right here at Hot Water Taps. When you sign onto our guarantee scheme we automatically will send you an email reminding you when your filter needs replacing, this will continue throughout the life of the product.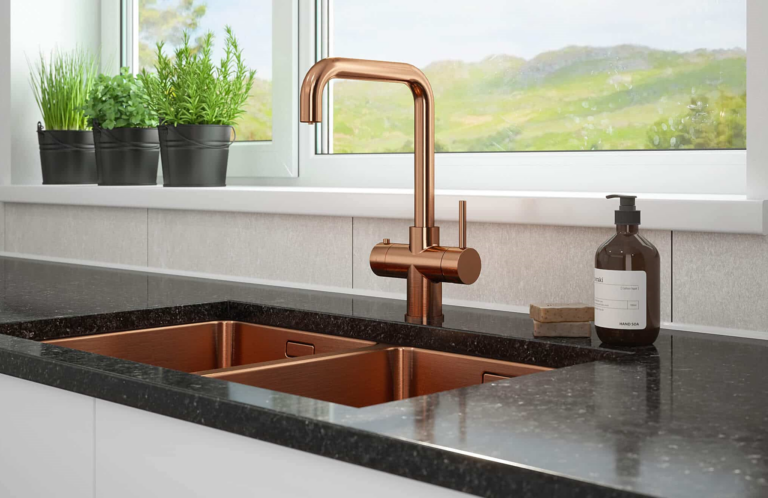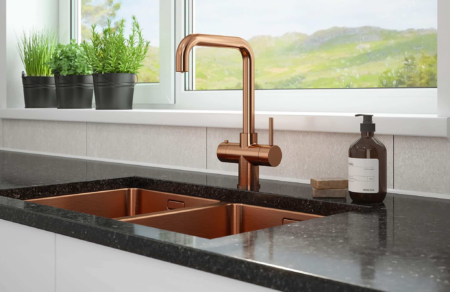 Buying from The Hot Water Tap Company
19. How long will it take to deliver my hot tap?
We always quote 2/3 days from receipt of the order, however, in many cases, your new boiling water tap may arrive within 24 hours.
If a 24-hour or guaranteed delivery time is required, please check our delivery additional charges or get in touch.
20. Is delivery free?
Yes, delivery for our full range of boiling water taps is free to mainland UK addresses.
For the Channel Islands, Isle of Man and Northern Ireland there may be a small additional supplement. Get in touch to speak with our team if you live in one of these locations.
21. Is there a cost to return it if I don't want it?
We offer a full 60-day return policy, so you can return your boiling water tap within 60 days for no added cost. Items must be returned in original packaging and in perfect condition, even if used.
Contact us directly for the returns address and send it back via DPD, Hermes or Royal Mail.
22. Can I have a VAT receipt?
All of our products are sent out with a full VAT invoice. If you lose your copy, get in touch with our team.
23. What guarantee/warranty am I offered?
We offer an unbeatable 5-year guarantee on the tap itself and a 2-year guarantee on the boiling water tank from the date of purchase.
Please read the guarantee enclosed with your order and don't forget to sign up by emailing guarantee@hotwatertap.com.
For more information, check out our other guides: