9 Kitchen Tile Ideas to Transform Your Cooking Space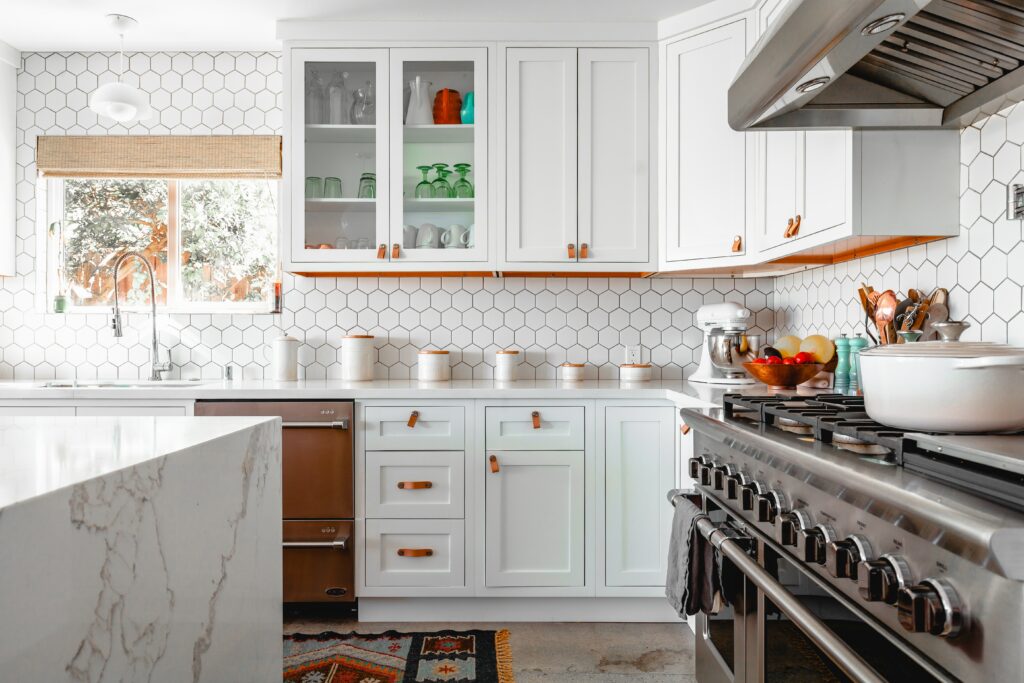 Whether your kitchen is a spacious open-concept design or small and cosy, adding tiles can completely transform the look and feel of the space. From backsplashes to floors, these nine ideas will give you inspiration for creating a beautiful and functional cooking area. Plus, with so many colours and styles to choose from, it's easy to find the perfect tiles that will match your existing decor. So get ready to start planning your dream kitchen!
Use different shades of one colour
When it comes to interior design, using a single colour can create a cohesive and stylish look. But what if you want to add a bit of interest to your space? One way to do this is by using different shades of the same colour. For example, if you're working with a blue palette, you might use light blue for the walls and darker shades for the furniture or accessories. This can help to add depth and dimension to your room, while still keeping things feeling unified. Of course, you'll want to be careful not to go overboard with this technique. Too many different shades can make a space feel scattered and chaotic. But used sparingly, it can be a great way to add some visual interest to your home.
Use vinyl kitchen tiles
These days, more and more people are opting for vinyl kitchen tiles - and it's no wonder why. Vinyl tiles are incredibly durable and resist staining and fading with ease. What's more, they're also easy to clean and maintain. Plus, they come in a wide variety of colours and styles to suit any taste. Whether you're looking for a classic white tile or a bolder pattern, you're sure to find vinyl tiles that fit your style. Best of all, vinyl tiles are relatively inexpensive, so you can save money while still getting the kitchen of your dreams. So if you're planning a kitchen remodel, be sure to give vinyl tiles a chance.
Mimic marble with marble-effect tiles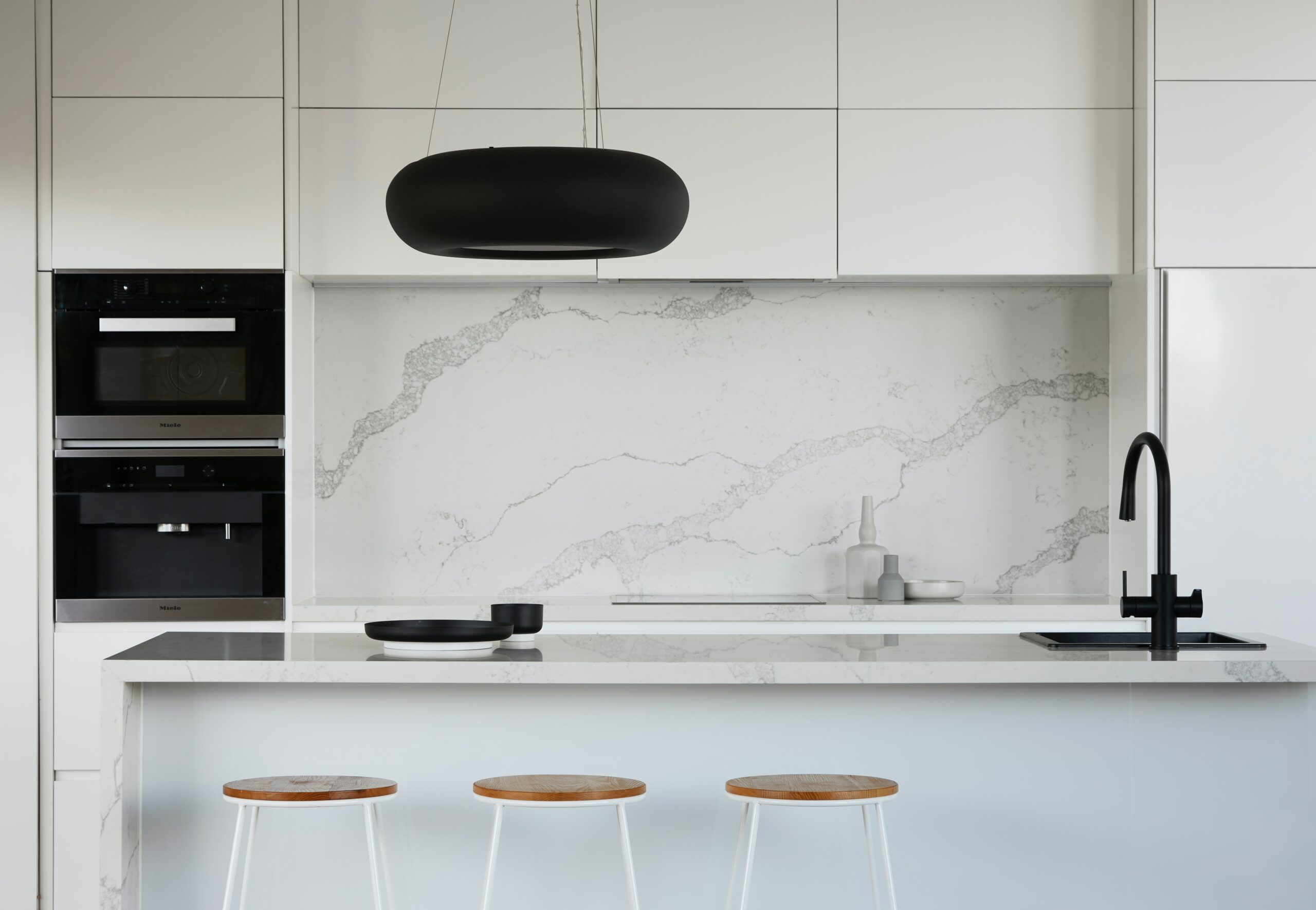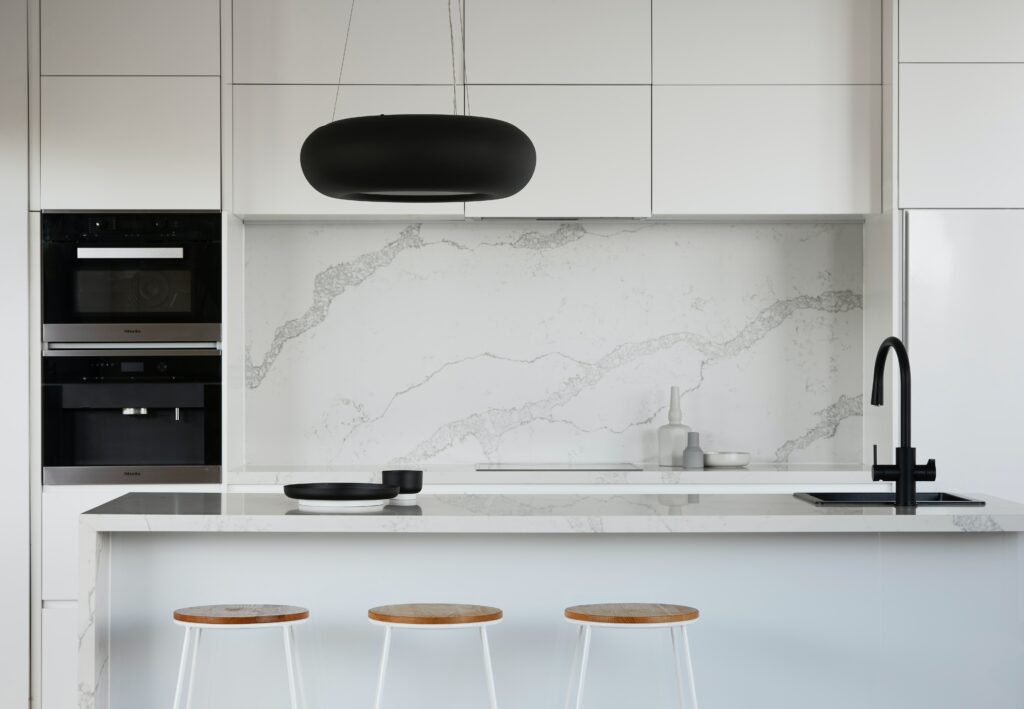 Black and white marble-effect tiles are a classic choice for kitchens and bathrooms, able to create an elegant floor, wall or backsplash without spending bags of cash on the real thing. Black marble-effect tiles are particularly striking when used in a monochrome scheme -creating a striking contrast against light-coloured walls. To bring out the marble effect, consider using black boiling water taps to highlight the beautiful veining you can find in white or black marble-effect tiles. Black and white marble-effect tiles are a timeless choice but if you want something with a little more colour, there are plenty of options out there. Consider using pink or green marble-effect tiles for a retro look or go for grey or beige tones for a more modern take.
Be playful with coloured tiles
Designers are increasingly finding ways to add playfulness and personality to interiors by incorporating coloured tiles. These vibrant accents can help to enliven any space, from a small powder room to a large open-plan kitchen. When used judiciously, coloured tiles can help to create a sense of cohesion and flow within a design. They can also be used to highlight specific areas or architectural features. And, of course, coloured tiles are just plain fun. So if you're looking for a way to inject some personality into your home, consider using coloured tiles in your next project. Some popular colours to consider are yellow, blue, pink and green.
Adventure with shape and pattern
The kitchen is often thought of as the heart of the home - a gathering place for family and friends, a space for cooking and entertaining. However, it can also be a place for adventure, exploration, and creativity. When it comes to design, there are no limits to what you can do in your kitchen. So why not have some fun with shape and pattern? Use geometric shapes to create a statement backsplash or floor, or go for bold colours and patterns on your cabinets. You can even experiment with different textures to make your kitchen pop. So get creative and let your imagination run wild. After all, your kitchen should be a reflection of your unique style.
Opt for classic metro kitchen tiles
Metro tiles are a classic choice that have remained popular in interiors for decades. They are the perfect finishing touch to any kitchen, whether you're going for a traditional or contemporary look. Metro kitchen tiles are another timeless option that can be used to create a stylish and functional kitchen backsplash. Matching metro tiles with chrome taps is a great way to achieve a classic and coordinated look in your kitchen. Metro tiles are available in a variety of colours and finishes, including gloss, matte, and even patterned options. So no matter what your style, you're sure to find metro tiles that suit your taste. Use them on a backsplash or go wild and use them on floors, walls, and even ceilings.
Break up big blocks of colour using white tiles
The kitchen is one of the most important rooms in the house, and it should reflect your style. If you love bold colours and patterns, then the kitchen is a great place to incorporate some playful colours. However, if you want to achieve a balance with colour, consider using white tiles to break up big blocks of colour. By breaking up big blocks of colour, white tiles can create visual interest in your kitchen, reflecting light and making the room appear both brighter and more spacious. Whether you opt for classic subway tiles or something more modern, white tiles are a versatile option that can help you achieve the perfect look for your kitchen - providing the perfect canvas for creative accent colours and patterns.
Stay on-trend with hexagon kitchen tiles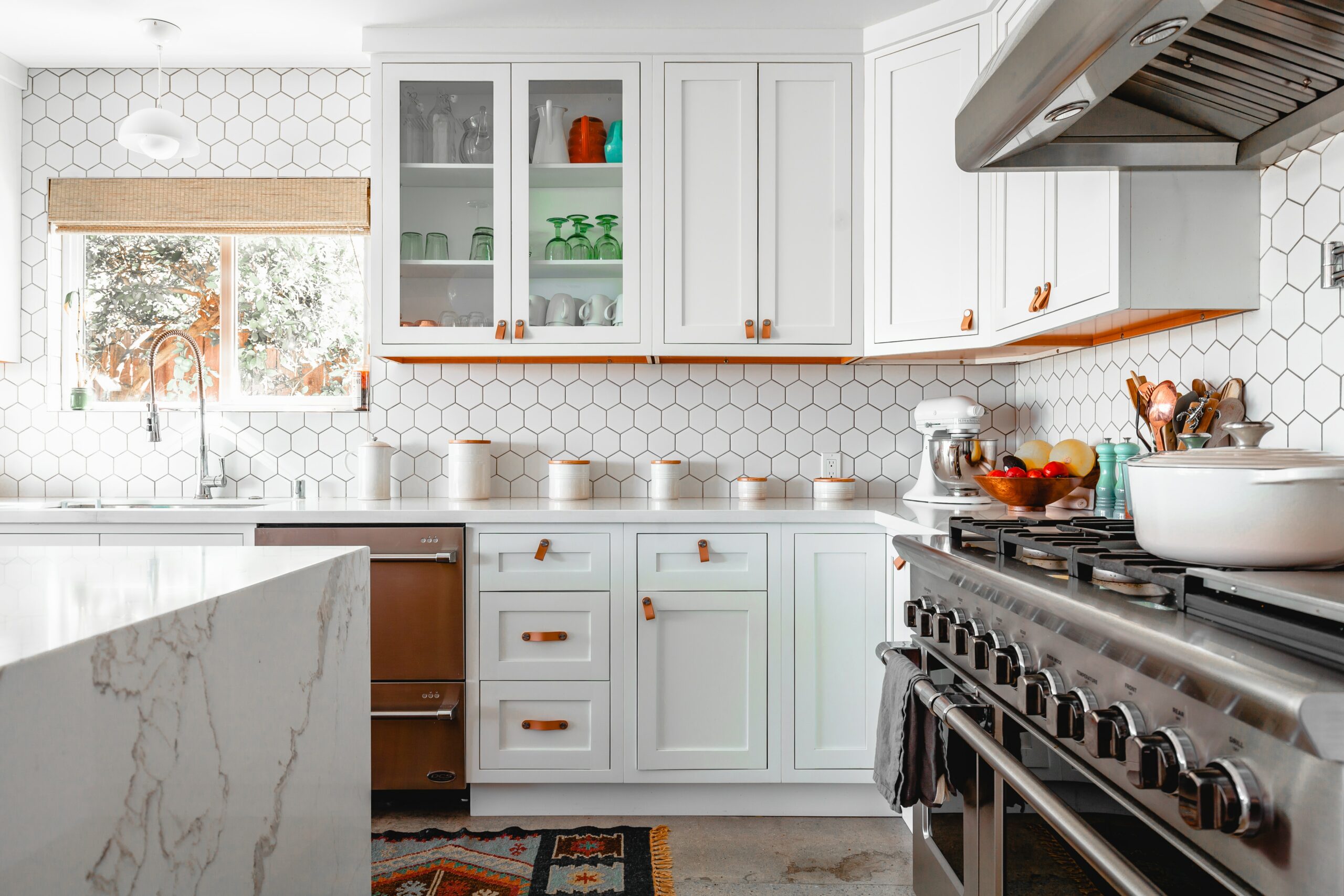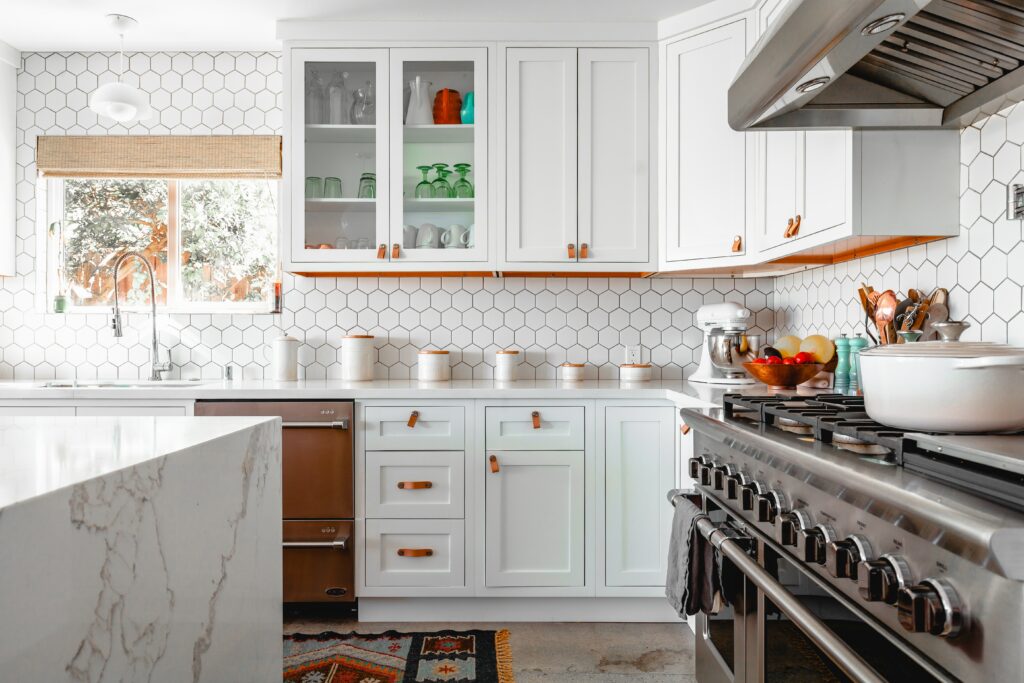 Plain metro tiles are a kitchen backsplash classic. They're clean, they're stylish, they come in endless colours and patterns… but sometimes, you just want something a little bit different. That's where hexagon kitchen tiles come in. This on-trend shape is perfect for adding a touch of visual interest to your space, without overpowering the rest of your kitchen design. And because they're available in so many different colours and styles, it's easy to find hexagon tiles that will complement your existing décor. Plus, they're easy to clean and maintain, so you can enjoy your new kitchen backsplash for years to come. So if you're looking for a small change that will make a big impact, consider giving hexagon kitchen tiles a try.
Match your floor and wall tiles
When it comes to kitchen design, there are endless possibilities. However, one important decision that you will need to make is what kind of tiles to use. For a coordinated look, you may want to match your floor and wall tiles. There are many ways to do this, but one popular option is to use the same tile for both surfaces. This can create a seamless look that is both stylish and functional. Another option is to use different tiles for the floor and walls, but choose ones that complement each other in terms of colour or pattern. Whichever route you decide to go, matching your floor and wall tiles is a great way to create a cohesive kitchen design.
FAQ
What type of tiles are best for a kitchen?
Any homeowner who has undergone a kitchen renovation knows that there are seemingly endless choices when it comes to picking out tiles. From modern glass tiles to rustic and whimsical ceramic ones, the options are seemingly endless. However, when it comes to durability and functionality, certain types of tiles are better suited for the kitchen than others. For example, porcelain and ceramic tiles are both extremely durable and resistant to heat, making them ideal for backsplashes and flooring. Glass tiles are also a popular choice for backsplashes, as they are easy to clean and can create a stylish focal point. Ultimately, the best type of tile for a kitchen depends on the overall design scheme and the specific needs of the space.
What colour tiles are best for a kitchen?
When choosing tiles for a kitchen, there are many factors to consider. Colour is one of the most important considerations, as it can help to create the desired mood and atmosphere in the room. While white tiles are a classic choice that can help to create a bright and airy feel, they may also show dirt and stains more easily. Cream or beige tiles are other popular options, as they provide a warm and welcoming feel. However, dark colours such as black or charcoal can also be used to create a dramatic look. Ultimately, the best colour for kitchen tiles depends on personal preference and the overall style of the kitchen.
Conclusion
There are many factors to consider when choosing kitchen tiles. From colour and pattern to material and texture, the options are seemingly endless. However, with a little bit of planning, it is possible to find the perfect tiles for your space. By considering the overall design scheme and the specific needs of your kitchen, you can narrow down the options and choose tiles that will create the perfect look for your home.
Find out more about kitchen design by reading our ultimate guide to kitchen renovations.
Related Articles from the same category: