Cashmere Kitchens: 9 Luxury Kitchen Design Ideas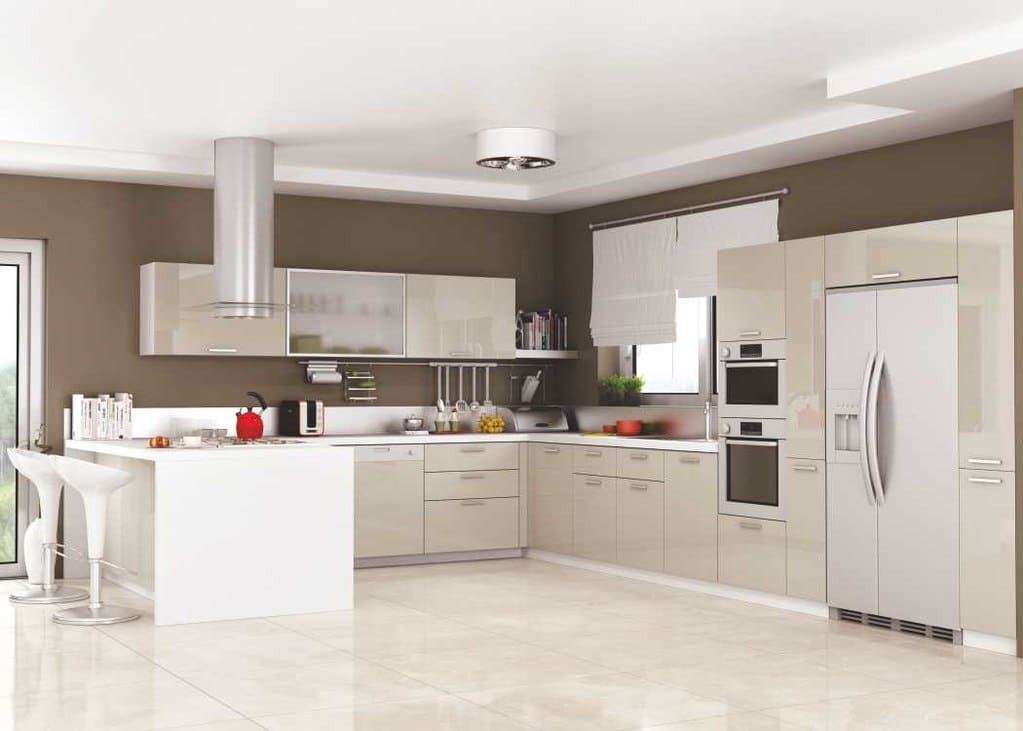 Imagine if you could have a kitchen that felt like a luxurious spa retreat, with all the functionality of a modern kitchen. With cashmere kitchens, you can have just that! We've gathered 9 of our favourite luxury kitchen design ideas to help inspire your renovation project. From sleek and contemporary to cosy and rustic, we've got something for everyone.
1. Use a marble backsplash
View this post on Instagram
When it comes to designing a kitchen, one of the most important considerations is choosing the right materials for the backsplash. A marble backsplash, for example, can add a luxurious and timeless touch to any cashmere kitchen. Not only does marble have an attractive natural aesthetic, but it is also highly durable and easy to clean.
Moreover, with so many different shades and finishes available, you can easily find a marble backsplash that complements any colour scheme or style of décor. Whether you're looking for a bold statement piece or you prefer more understated elegance, a marble backsplash is a perfect choice for your cashmere kitchen. So why wait? Give your cooking space a fresh new look with a sleek and sophisticated marble backsplash.
2. Pair cashmere with pale shades of green
When it comes to designing a kitchen, there are many different factors to consider. One of the most important is the overall colour scheme, as this helps to set the mood for your workspace and establish a cohesive aesthetic. Given this, I would recommend pairing cashmere with pale shades of green - whether in your cabinets, countertops, or other key elements.
The cool and understated tones of cashmere bring a sense of calm to any space and give it a clean, luxurious feel. By layering on lighter shades of green alongside this striking neutral, you can create an elegant and sophisticated kitchen that exudes warmth and comfort. Whether you're looking for a bold statement or a more subtle approach, cashmere and pale greens are sure to be a winning combination in your kitchen design.
3. Opt for pale metro tiles
View this post on Instagram
When it comes to creating the perfect kitchen space, there are many factors to consider. You need to take into account things like layout, lighting, and storage options to create an efficient and functional cooking area. But perhaps one of the most important aspects is choosing the right materials. The type of floors, countertops, cabinets, and wall tiles that you use can have a major impact on the overall feel and aesthetic of your kitchen.
One especially popular choice for kitchens these days is pale metro tiles. These small, versatile tiles come in a wide range of hues, from classic whites and greys to more playful shades of green and blue. They are also very easy to install, making them ideal for DIYers or anyone who wants a quick kitchen refresh. And thanks to their decorative yet understated look, pale metro tiles work well in both professional kitchens and more casual home spaces alike. So if you're looking for something that will give your space a contemporary feel without being too flashy or attention-grabbing, then metro tiles might be just what you're looking for.
4. Use cashmere textiles to complete the look
One of the most beautiful materials in the world is cashmere, with its silky softness and natural lustrous sheen. If you're looking to create a luxurious aesthetic in your kitchen space, then cashmere is a perfect choice. This plush material can be used in a variety of ways to accentuate your kitchen design, whether it's wrapping your cabinets or floors in plush cashmere fabric, or adding touches of this beautiful material through accessories like drapes or throw rugs.
No matter how you use it, the elegant texture and chic style of cashmere will help elevate any kitchen into a stunning space worthy of the finest homes. So why not give your kitchen the look and feel of luxury with cashmere textiles? You won't regret it!
5. Incorporate wood into your cashmere colour scheme
View this post on Instagram
When it comes to designing a cashmere kitchen, there are many different approaches that you can take. One popular choice is to incorporate wood into your colour scheme, which can create a warm and inviting space that is perfect for cooking and entertaining. Wood has a natural warmth and richness that complements the soft hues of cashmere, while its versatility allows you to use dramatic dark woods as well as light and airy finishes.
Additionally, wood is ideal for creating accent features such as worktops or shelving, making it an excellent choice for bringing added visual interest to your kitchen design. Whether you prefer solid wood or laminate finishes, no doubt incorporating wood into your cashmere kitchen will result in an elegant and functional space that you will love coming home to.
6. Embrace luxury design with gold kitchen appliances
There is no denying the appeal of a luxurious kitchen. With its sumptuous decor and beautiful, high-end appliances, a luxurious kitchen embodies the kind of quality and style that every home chef dreams of. One way to add a modern and sophisticated touch to your kitchen is to incorporate gold into your design scheme.
From touches of gold in your cabinet hardware to state-of-the-art dishwashers in gleaming gold finishes, there are countless ways to add some golden glamour to your culinary space. Whether you renovate your entire kitchen or simply refresh select elements, incorporating gold into your design is sure to elevate any space into one that exudes warmth, elegance, and luxury.
7. Install cashmere cabinets with dark handles
When designing a kitchen, choosing the right cabinets is crucial. On one hand, you want cabinets that are sturdy and functional, made from high-quality materials that will stand up to the demands of everyday use. But on the other hand, there is also an aesthetic consideration. After all, your kitchen is a focal point in your home, and it should look beautiful as well as functional.
One option that combines both function and style is cashmere cabinets with dark handles. These cabinets are made from a variety of materials, including wood and laminate, making them highly durable and long-lasting. At the same time, their dark colouring and clean lines create a modern look that brings sophistication to any kitchen space. Whether you're looking for timeless style or rustic charm, cashmere kitchen cabinets are a great choice for any home cook.
8. Enjoy timeless design with a marble worktop
Marble is a timeless material that has long been prized for its aesthetic appeal and durability. Its beautiful natural veining and cool, smooth surface create a look that is both elegant and understated, making it the perfect choice for any kitchen. A marble worktop can help to add style and sophistication to any space, enhancing the look of even the most modern and minimalist kitchens.
The veining in marble is the perfect accompaniment to a neutral colour palette, which makes it ideal for a cashmere kitchen. Either contrast the warm creamy colour of cashmere with a grey or black worktop or stick to a light theme with a cream or white marble worktop. Whichever way you pair your worktop to your cashmere scheme, this combination is the perfect fit for those wanting to design a truly high-end kitchen.
9. Try a stone worktop for a traditional finish
When it comes to designing the perfect kitchen, many different design elements come into play. One of the most important considerations is choosing your worktop material, as this will not only dictate the overall look and feel of your kitchen but also directly impact its functionality.
If you are looking for a traditional finish, a stone worktop could be a perfect choice. With its luxurious cashmere colour and smooth surface, a stone worktop can add a touch of understated elegance to any kitchen setting. Not only is this versatile material highly durable and low-maintenance, but it also offers many benefits for food preparation, such as superior resistance to heat and stains. So if you want to make a sophisticated statement in your cashmere kitchen, consider opting for a stone worktop.
Conclusion
There are many different ways to design a cashmere kitchen, but one thing is for sure: this luxurious shade can help to create a space that is both stylish and functional. From cashmere-coloured cabinets to marble worktops, there are endless possibilities for incorporating this beautifully warm colour into your kitchen design.Our range of boiling water taps comes in a full suite of colours and styles, including black, copper, chrome and gold. Shop our boiling water taps today.
Alternatively, find out everything there is to know about boiling water taps in our buyer's guide.
Related Articles from the same category: