Black & Gold Kitchens: 8 Ideas for a Luxury Cooking Space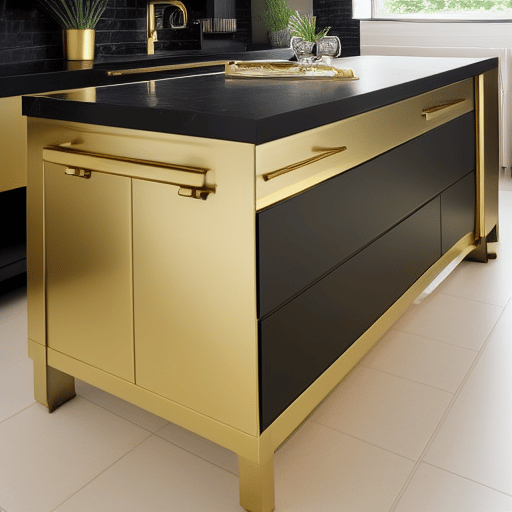 Are you dreaming of a luxurious cooking space that is black and gold? Whether your taste leans toward traditional or modern, we have got 8 stunning ideas to inspire you. From appliances to cabinetry, these kitchens will make any home cook feel like a professional chef. So what are you waiting for? Start browsing and get inspired!
Black and Gold Kitchens: A Match Made in Heaven?
When it comes to kitchen, there are endless possibilities. Some homeowners opt for a classic white kitchen, while others prefer a more modern look with sleek stainless steel appliances. However, one trend that has been gaining popularity in recent years is the black and gold kitchen. This unique combination can create a luxurious and sophisticated look that is perfect for entertaining. The key to pulling off this look is to choose quality materials. Black granite worktops and gold-tone hardware can add a touch of elegance, while dark wood floors provide a warm and inviting feel. With careful planning, a black and gold kitchen can be the perfect conversation starter for your next dinner party.
1. Pair Black Kitchen Cabinets with Gold Handles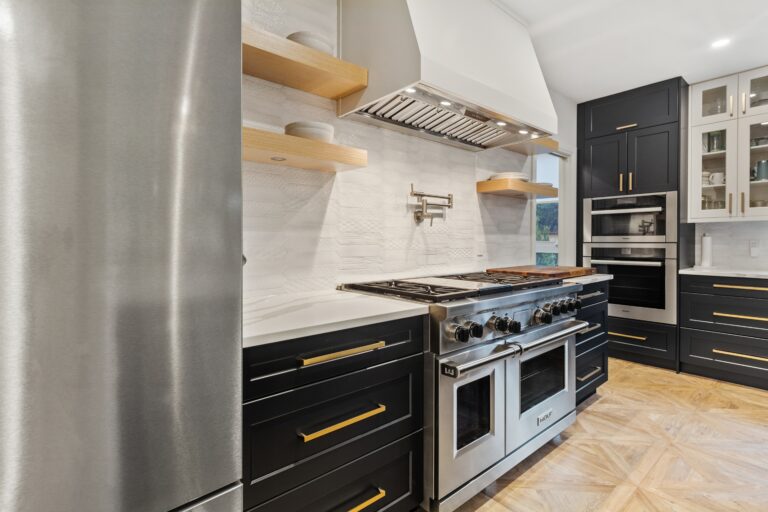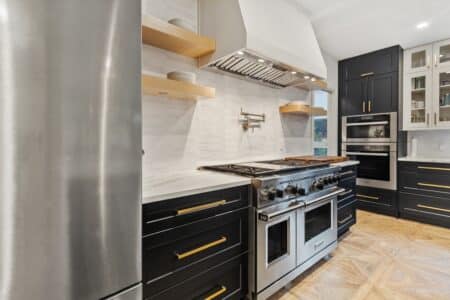 Black kitchen cabinets are a stunning addition to any kitchen, and pairing them with gold handles is a great way to add a touch of luxury. Gold handles can help to accentuate the black cabinets and make them stand out. They also add a touch of warmth, making the kitchen feel more inviting. When choosing gold handles, it is important to select a style that complements the overall design of the kitchen.
For example, if the kitchen has a modern aesthetic, then choosing sleek, simple handles would be ideal. If the kitchen has a more traditional look, then opting for ornate handles would be a better choice. Whatever style you choose, make sure it is in keeping with the overall look of the space.
2. Combine a Black Kitchen Sink with a Gold Tap
If you are looking for a way to add a touch of luxury to your kitchen, consider pairing a black kitchen sink with a gold boiling water tap. The deep, rich colour of the sink provides a beautiful contrast to the shining gold of the tap, creating an elegant and eye-catching focal point in your kitchen. Plus, the gold tap is practical as well as stylish: it provides instant boiling water at the touch of a button, making it easier than ever to prepare hot drinks or cook pasta. Whether you are starting from scratch or looking for ways to update your existing kitchen, combining a black kitchen sink with a gold tap is a simple way to add style and function to your space.
3. Use Black Marble Tiles with Gold Veins
Black marble tiles with gold veins have a luxurious look that can make a kitchen stand out. The deep black colour is perfect for creating a dramatic statement, while the gold veins add a touch of elegance. Tiles made from natural stone are also very durable, making them ideal for use in high-traffic areas like kitchens. When choosing black marble tiles, be sure to select a type that is suitable for floors as well as walls. Some types of marble are more porous and susceptible to staining, so it is important to choose a tile that will be easy to keep clean. With proper care, black marble tiles with gold veins can last for many years and continue to look beautiful.
4. Contrast a Gold Kitchen Splashback with Black Cabinets
A kitchen is one of the most important rooms in a house. It is where families gather to cook, eat and socialise. The kitchen is also one of the most visible rooms in the house, and its design can make or break the overall look of the home. When choosing a kitchen splashback, there are many factors to consider. One important consideration is the colour scheme. A gold kitchen splashback can provide a warm and inviting look, while black cabinets can give the room a more modern feel. Another consideration is the style of the kitchen. A traditional kitchen may benefit from a more classic splashback, while a contemporary kitchen may benefit from a more modern design. No matter what your taste, there is sure to be a kitchen splashback that will suit your needs.
5. Use White Floors and Walls to Brighten the Space
View this post on Instagram

Having a dark kitchen can be very dreary. You want to cook in a bright and cheerful space, not one that feels like a dungeon. If your kitchen is lacking in natural light, then you need to compensate for it with some strategic decoration choices.
One of the best ways to make a dark room feel brighter is to use white floors and walls. The light colour will reflect any available light and make the space feel more open and airy. In addition to being visually appealing, white floors and walls are also easy to clean and maintain. So if you are looking for a way to brighten up your kitchen, consider painting the walls and floor white. You will be surprised at how much of a difference it makes.
6. Illuminate with Gold Pendant Lighting
When it comes to kitchen lighting, pendant lights are a popular option. They can provide both task lighting and ambient lighting, and they come in a wide variety of styles. However, one type of pendant light that is often overlooked is gold pendant lighting.
Gold pendant lights add a touch of luxury to any kitchen, and they can be used to create a range of different looks. For example, a single gold pendant light can add a warm and elegant touch to an otherwise simple kitchen.
Or, a cluster of gold pendant lights can create a dramatic focal point over a kitchen island or table. Gold pendant lights are also a great way to add a touch of glamour to a more traditional kitchen. Whether you are looking for a little bit of luxury or you want to make a bold statement, gold pendant lights are always worth considering.
7. Top a Gold Kitchen Island with a Black Worktop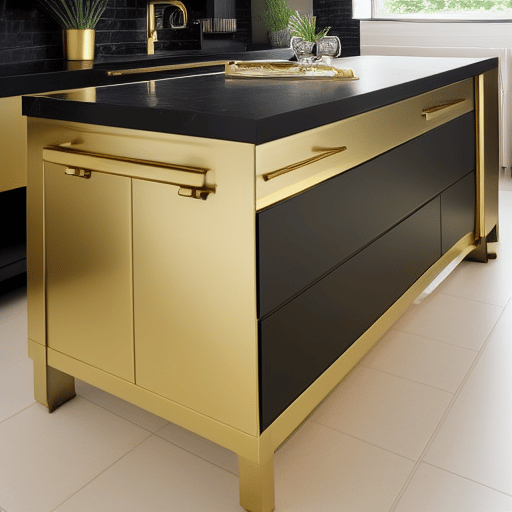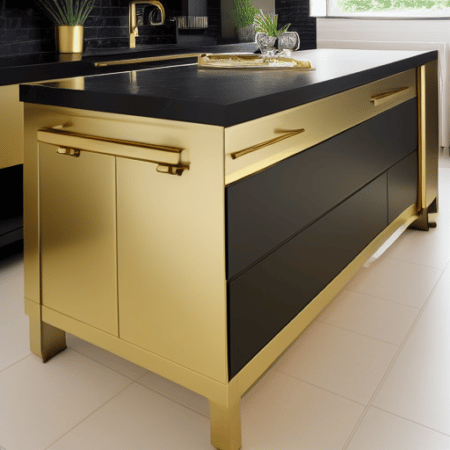 A kitchen island can be a great way to add extra storage and prep space to your kitchen. However, choosing the right materials for your island is essential to ensure that it looks its best.
For a chic and sophisticated look, consider topping your island with a black worktop. Black is a classic colour that will never go out of style, and it can help to create a feeling of sophistication in your kitchen.
Gold accents are also a great way to add a touch of luxury, and they can help to tie the room together. When paired with black, gold can create a stunning and elegant look. If you are looking for a way to add some pizzazz to your kitchen, consider topping your island with a black worktop.
8. Keep Things Cool with Under-Cabinet Lighting
If you are like most people, your kitchen is the heart of your home. It is where you cook meals, entertain guests, and spend time with your family. As such, it is important to have a well-lit kitchen that is both functional and stylish.
Under-cabinet lighting is a great way to add both form and function to your kitchen. It not only looks great, but it also provides much-needed illumination for tasks like cooking and food preparation. Under-cabinet lighting is available in a variety of styles and colours, so you are sure to find an option that matches your kitchen's décor. In addition, under-cabinet lighting is relatively easy to install, so you can enjoy the benefits of this versatile lighting solution without having to hire a professional.
Conclusion
So, if you are considering a black and gold kitchen design, we hope that this post has given you some inspiration. We think it is a great way to create a luxurious and modern look in your home. Just be sure to consider all of the different elements involved to create a cohesive design that pops! Have you tried using black and gold tones in your kitchen before? What was your experience like? Let us know in the comments below.
Ready to build the luxury kitchen of your dreams? Dive into our range of black or gold taps, or read more about boiling water taps in our buyer's guide.
Alternatively, get inspired with this hand-picked selection of blogs:
Related Articles from the same category: