Black & Gold Kitchens: 8 Ideas for a Luxury Cooking Space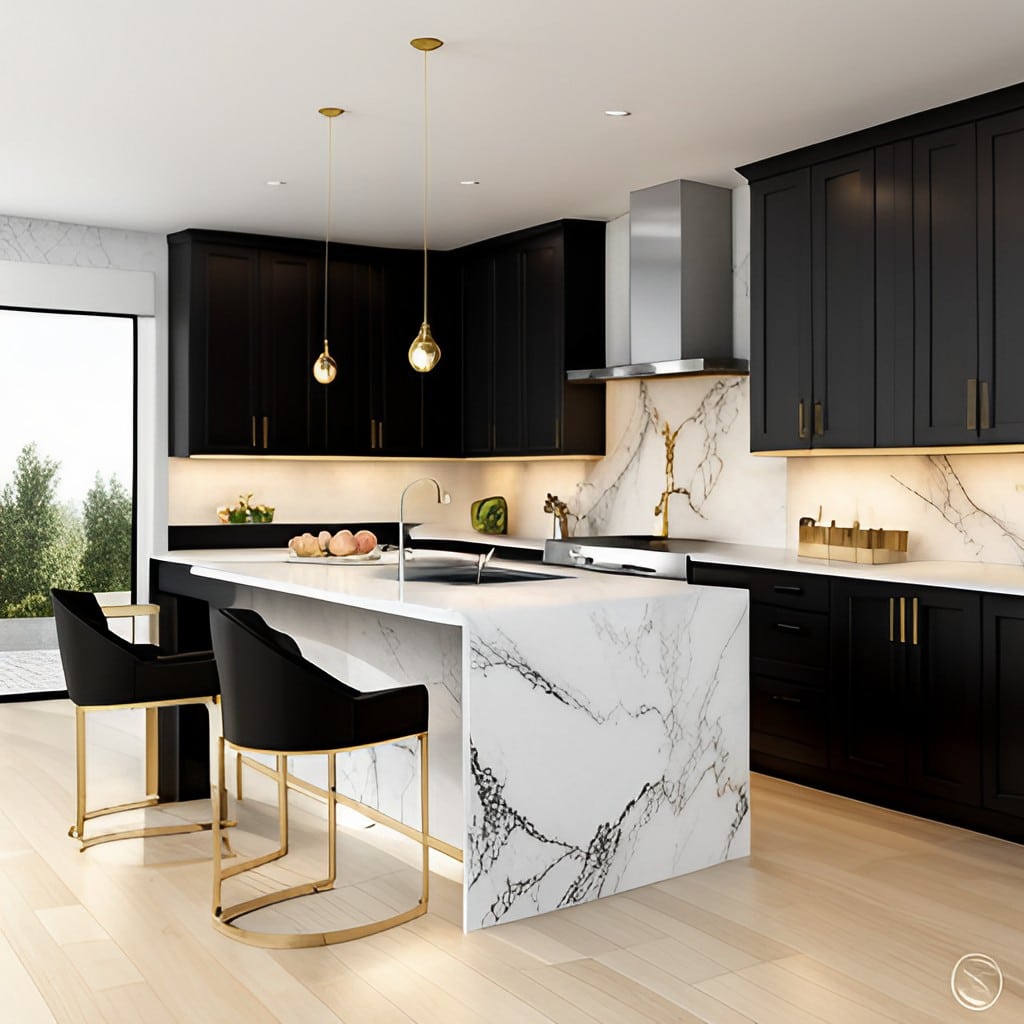 Have you ever imagined yourself in a lavish black and gold kitchen, cooking up a storm like a master chef? Whether you're a fan of classic elegance or sleek modern design, we've curated 8 breathtaking ideas to spark your creativity.
From top-of-the-line appliances to exquisite cabinetry, these kitchens are perfect for transforming your culinary space into a luxurious haven. So, are you ready to explore some stunning black and gold kitchen inspirations? Let's dive right in!
1. Combine Black Kitchen Cabinets with Gold Handles
Black kitchen cabinets make a striking statement in any culinary space, and teaming them up with gold handles is a brilliant way to inject an element of luxury. Gold handles not only accentuate the black cabinets, making them stand out but also introduce a touch of warmth, creating a more welcoming atmosphere. It's crucial to choose gold handles that match the overall design of your kitchen.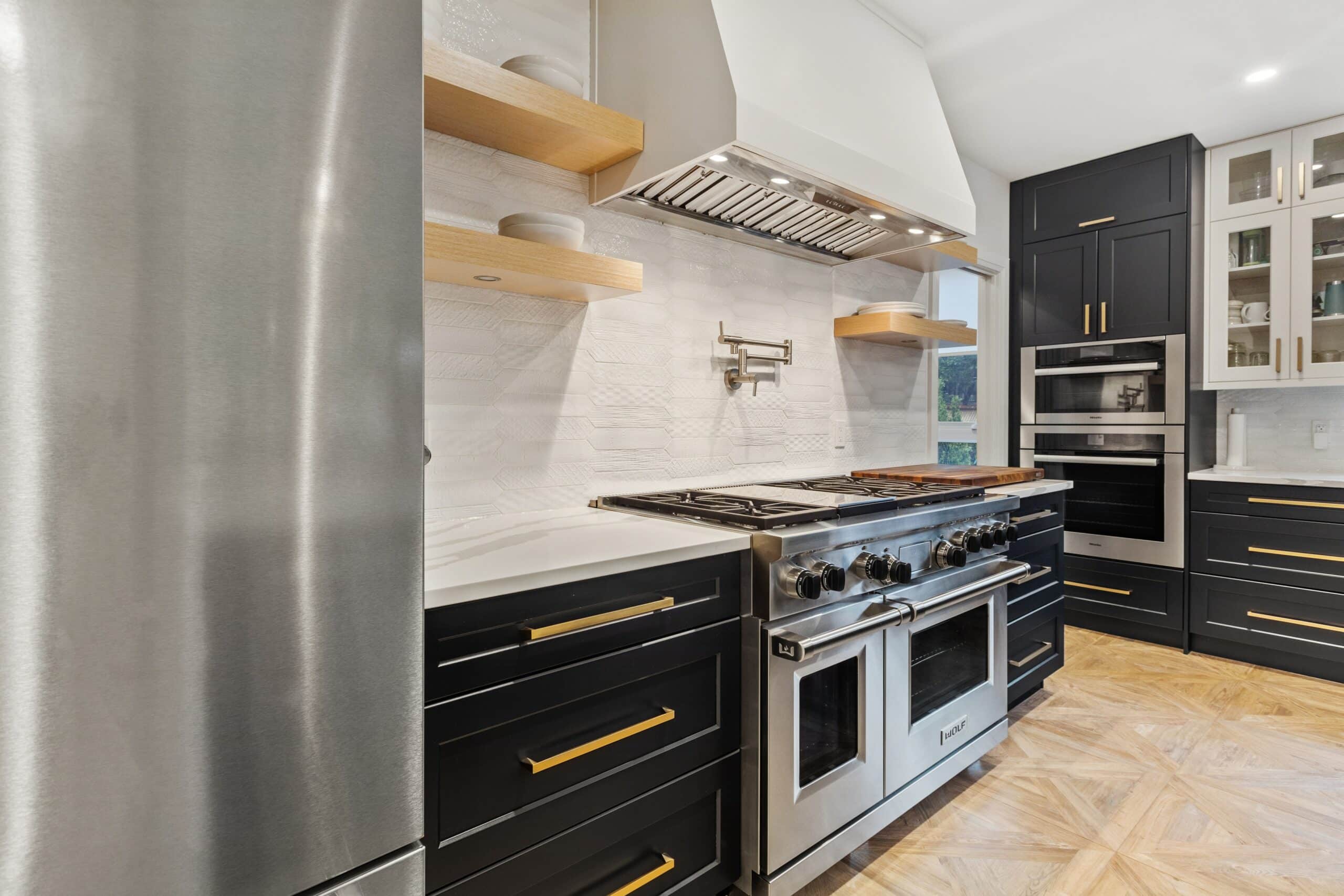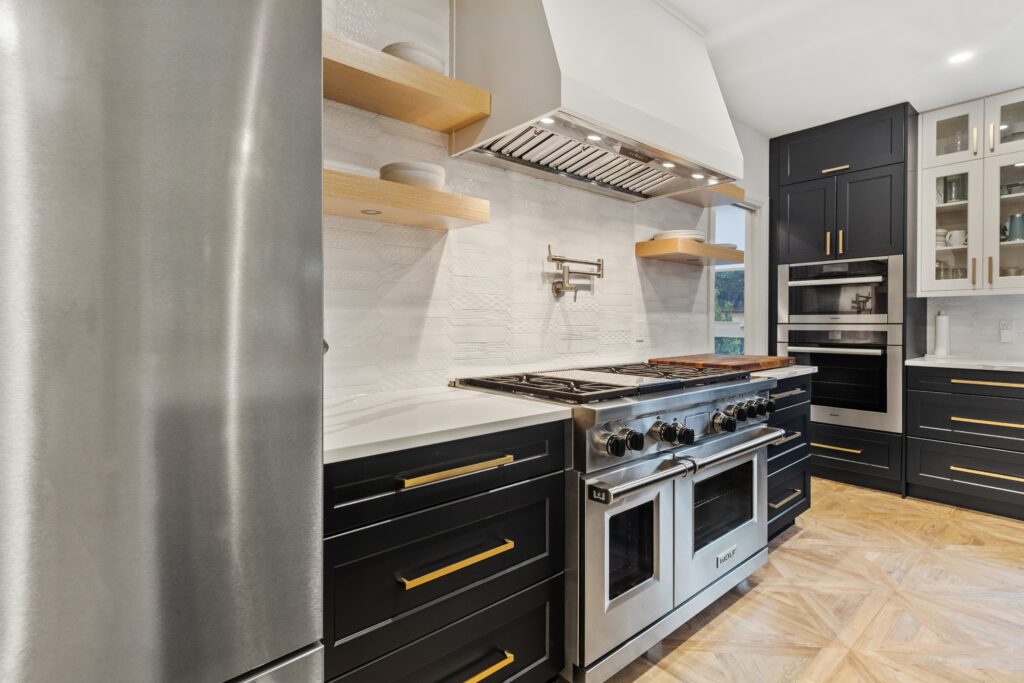 For instance, if you have a modern kitchen, opt for sleek, minimalist handles that seamlessly blend in. On the other hand, if your kitchen boasts a traditional vibe, consider selecting ornate handles that enhance its classic appeal. Whichever style you go for, ensure it harmonises with the overall aesthetic of your kitchen.
2. Combine a Black Kitchen Sink with a Gold Tap
Looking to add some pizzazz to your kitchen? How about pairing a black kitchen sink with a gold boiling water tap? The deep, rich hue of the sink contrasts beautifully with the shiny gold tap, creating an elegant and eye-catching centrepiece in your kitchen. And it's not just about the looks – the gold tap is super practical too! With instant boiling water at your fingertips, preparing hot drinks or cooking pasta has never been easier.
So, whether you're designing a brand-new kitchen or seeking ways to spruce up your existing one, combining a black kitchen sink with a gold tap is a surefire way to infuse style and functionality into your space.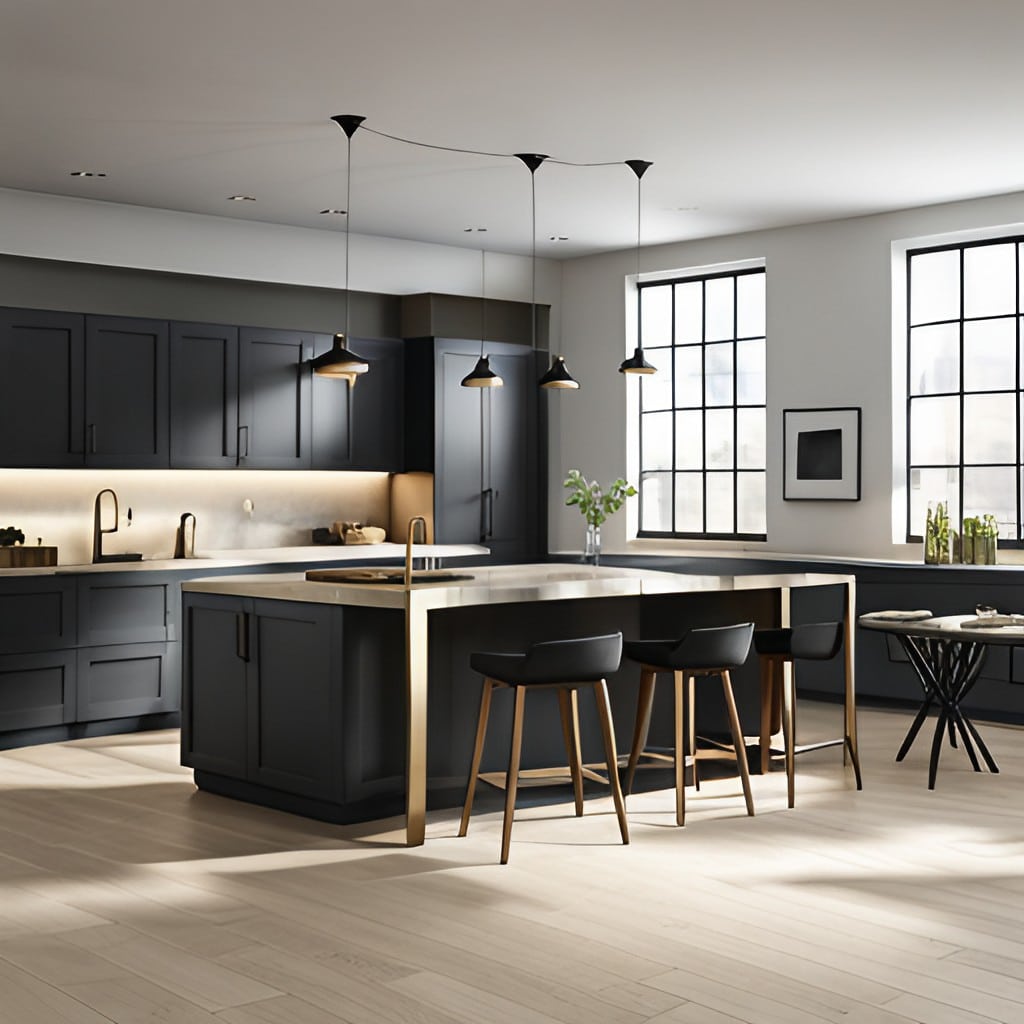 3. Use Black Marble Tiles with Gold Veins
Want to make your kitchen truly stand out? Consider using black marble tiles with gold veins. The deep black hue creates a dramatic statement, while the gold veins exude elegance. Plus, natural stone tiles are incredibly durable, making them perfect for high-traffic areas like kitchens. When picking black marble tiles, ensure they're suitable for both floors and walls.
Keep in mind that some types of marble are more porous and prone to staining, so choose tiles that are easy to maintain. If you take good care of them, these stunning black marble tiles with gold veins will last for years, maintaining their beauty and charm.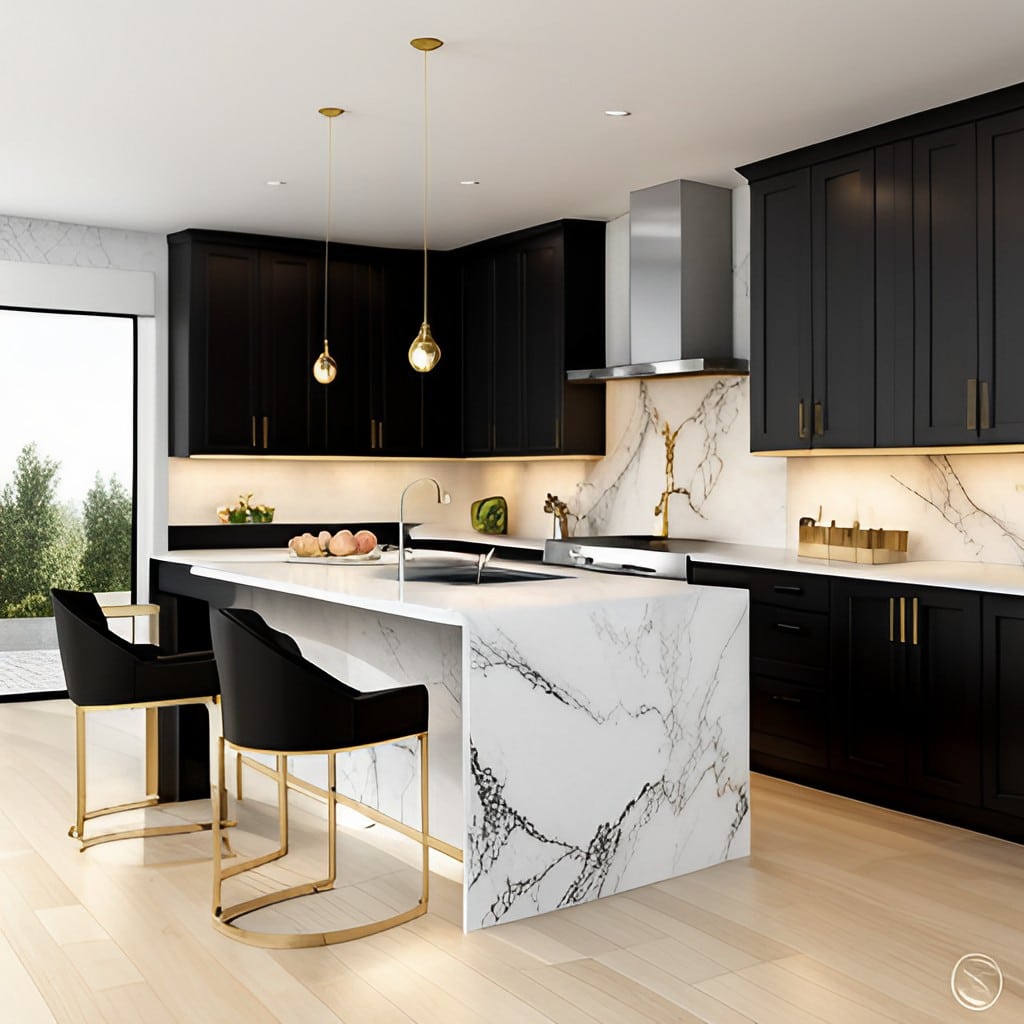 4. Create a Striking Look with a Gold Kitchen Splashback and Black Cabinets
The kitchen is the heart of every home, where families come together to cook, eat, and bond. As one of the most visible rooms in a house, its design can significantly impact the overall ambience. When selecting a kitchen splashback, there are several factors to weigh, such as the colour scheme and style.
Pairing a gold kitchen splashback with black cabinets can effortlessly strike a balance between warmth and modernity. While the gold splashback adds an inviting touch, the black cabinets lend a contemporary feel. The style of your kitchen also plays a role in your choice – a classic splashback might suit a traditional kitchen better, while a modern design would complement a contemporary one. Regardless of your preferences, you'll surely find the perfect kitchen splashback to meet your needs.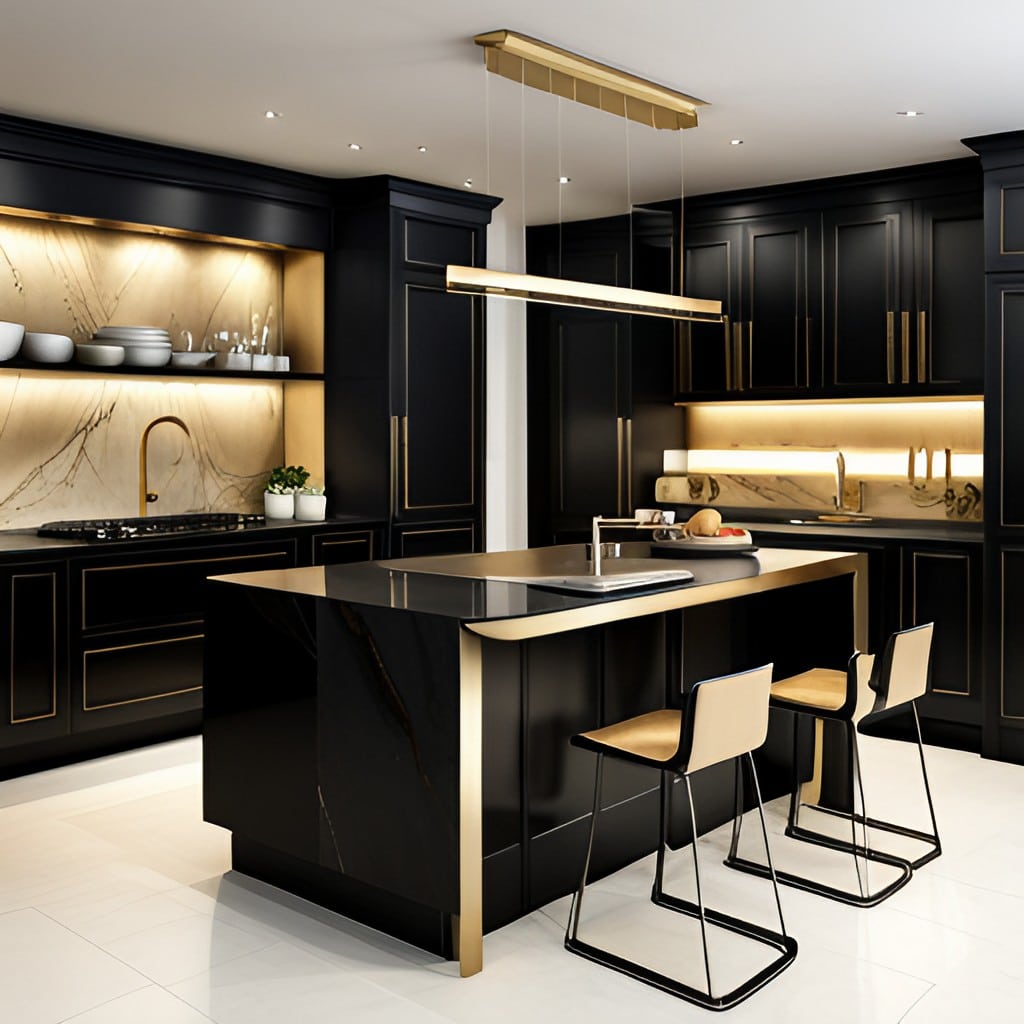 5. Brighten Up Your Kitchen with White Floors and Walls
Nobody wants to cook in a gloomy kitchen. A bright, cheerful space is what you need for an enjoyable culinary experience. If your kitchen is short on natural light, fear not! You can still create a well-lit atmosphere with some clever decorating choices.
One of the most effective ways to brighten a dark room is by opting for white floors and walls. The light colour reflects any available light, making the space feel more open and airy. Besides looking great, white floors and walls are also easy to clean and maintain. So, if you're searching for a way to illuminate your kitchen, give those walls and floors a fresh coat of white paint. You'll be amazed at the transformation it brings.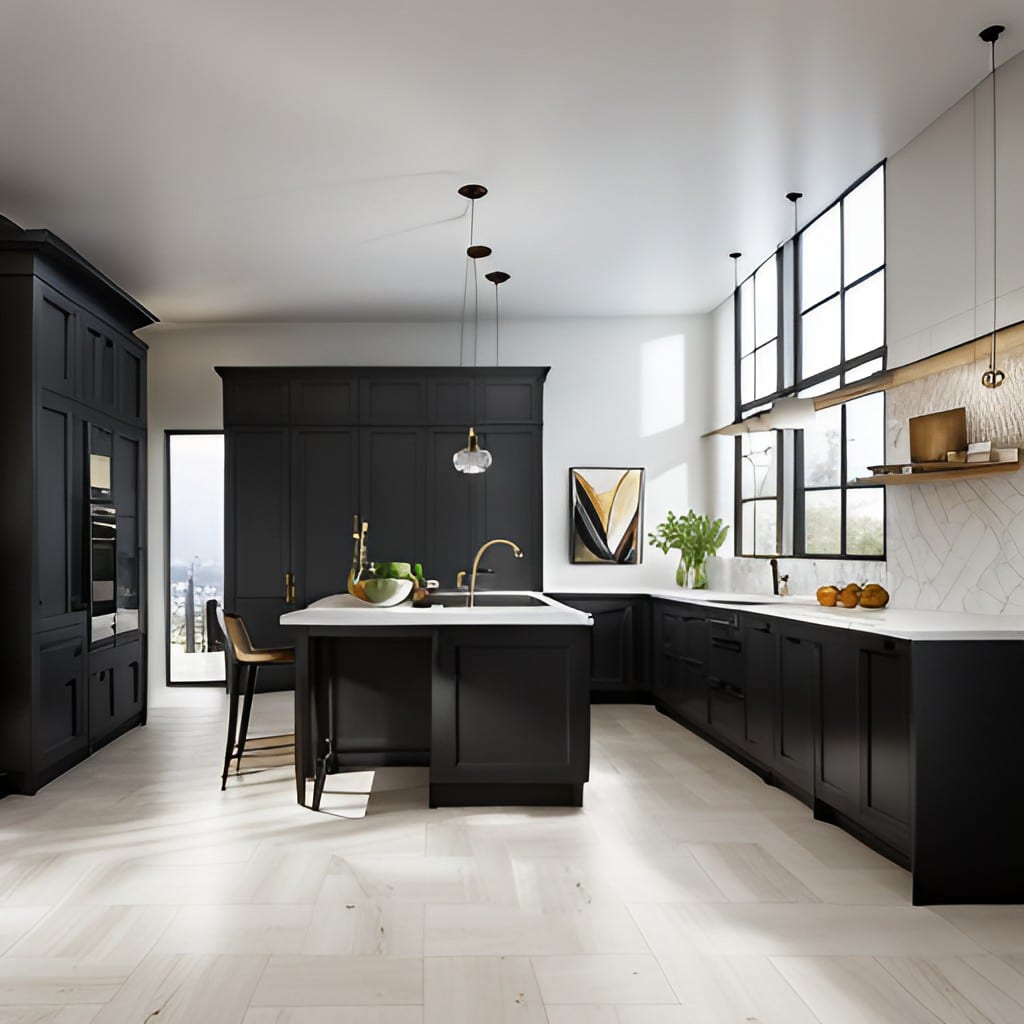 6. Illuminate with Gold Pendant Lighting
When it comes to kitchen lighting, pendant lights are a favourite choice as they provide both task and ambient illumination in a wide range of styles. Among these options, gold pendant lighting is an often-overlooked gem that deserves more recognition.
Adding a touch of luxury to any kitchen, gold pendant lights can be used to create various stunning looks. For instance, incorporating a single gold pendant light can introduce an elegant warmth to an otherwise simple kitchen.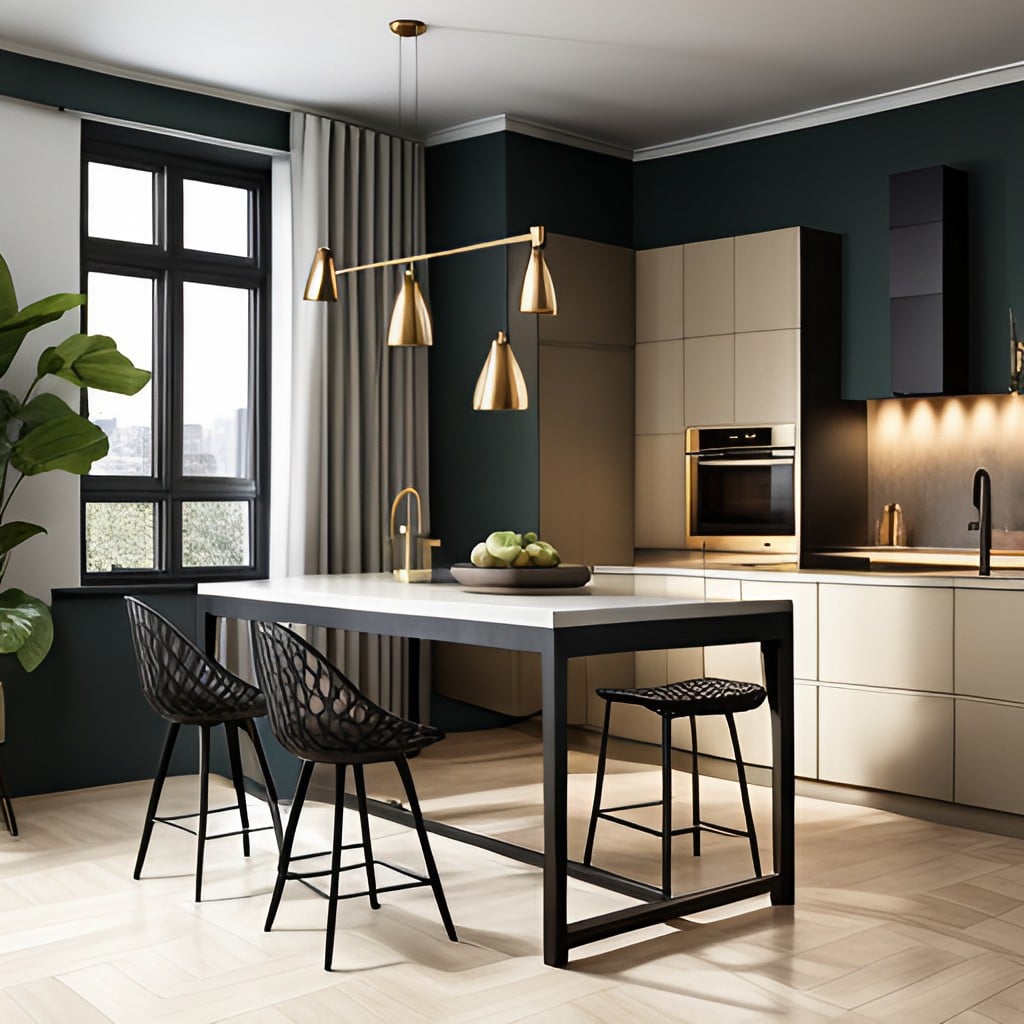 On the other hand, arranging a cluster of gold pendant lights above a kitchen island or table creates a striking focal point. These lights are also perfect for infusing glamour into traditional kitchens. So, if you're seeking a hint of opulence or a bold statement, gold pendant lights should be on your radar.
7. Elevate Your Gold Kitchen Island with a Black Worktop
A kitchen island not only adds extra storage and prep space but also enhances the overall aesthetic of your kitchen. Therefore, it's crucial to select the right materials for your island to ensure it looks stunning.
For a stylish and sophisticated appearance, consider adorning your gold kitchen island with a black worktop. Black is a timeless colour that never goes out of fashion, and it contributes to an air of sophistication in your kitchen.
Incorporating gold accents can also introduce a touch of luxury and help unify the room's design. When combined with black, gold creates a striking and elegant look. So, if you're seeking a way to infuse some flair into your kitchen, topping your gold island with a black worktop is a fantastic choice.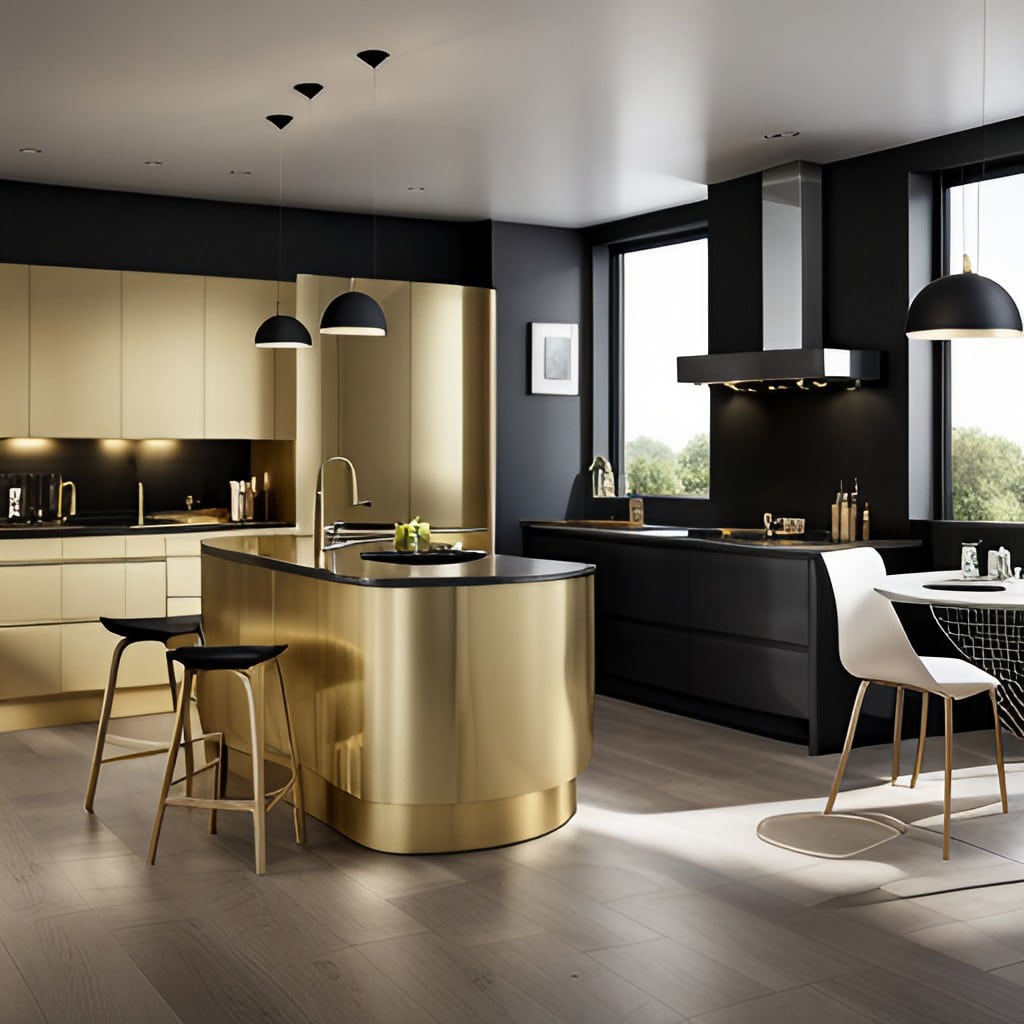 8. Keep Things Cool with Under-Cabinet Lighting
Complement your luxurious black and gold kitchen with under-cabinet lighting for both aesthetics and functionality. This versatile lighting option highlights the sophisticated colour combination while providing essential task lighting for cooking and food preparation.
Available in various styles and colours, under-cabinet lights can seamlessly blend with your kitchen decor. Easy to install, they elevate the space's appeal without the need for professional assistance. Invest in under-cabinet lighting to accentuate your elegant black and gold kitchen.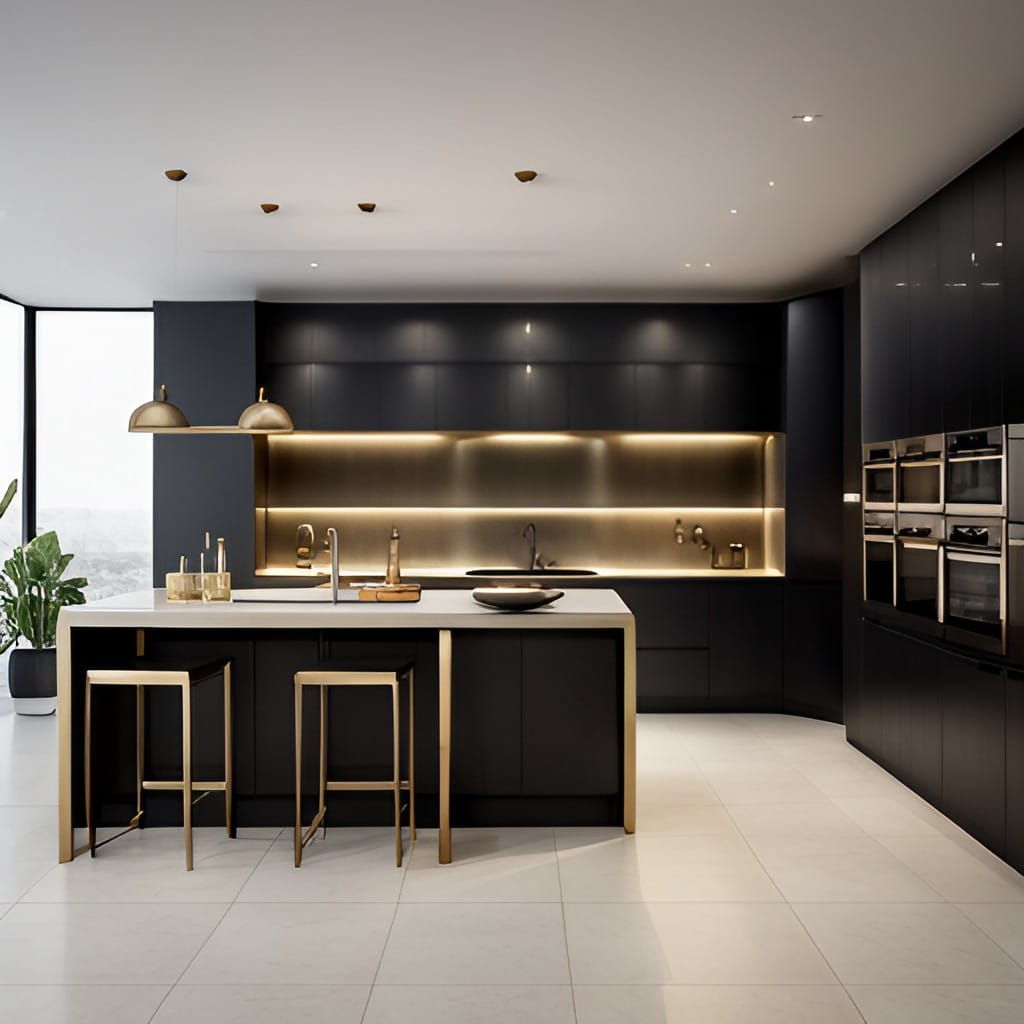 Conclusion
In conclusion, a black and gold kitchen design can transform your space into an elegant and modern area. We hope the ideas in this post inspire you to create a balanced and appealing kitchen. Remember to consider various elements, such as lighting and fixtures, for a cohesive design. As you begin your renovation project, explore our range of black or gold taps to create the perfect base accent to build upon. Keen to learn more? Check out our gold kitchen design guide.
Related Articles from the same category: