Gold Kitchens: 8 Hallmarks of Luxury Gold Kitchen Design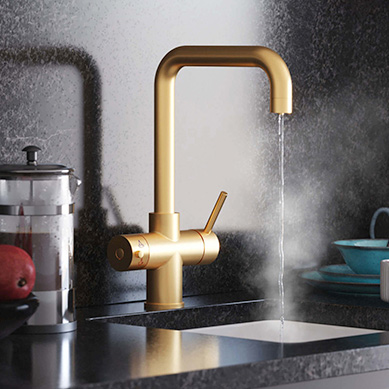 You may have seen homes with gold kitchens and thought to yourself, "Why would anyone want a kitchen that colour?" Well, the answer is simple: luxury. Gold kitchens are one of the hallmarks of luxurious design, and they add a touch of elegance and opulence to any home. If you are thinking of renovating your kitchen and want to inject a bit of luxury into the space, consider these eight hallmarks of gold kitchen design.
Why Use Gold in Your Kitchen Interior
When it comes to kitchen design, there are endless possibilities. You can go for a sleek and modern look or a cosy and traditional feel. But one trend that has been gaining popularity in recent years is the use of gold accents. From faucets and appliances to cabinets and light fixtures, a touch of gold can add instant luxury to any kitchen.
In addition to its aesthetic appeal, gold is also a practical choice for the kitchen. Its durability and easy maintenance make it ideal for busy families. And if you are looking for a little extra bling, gold is also a great way to add some personality to your space. So if you are ready to take your kitchen to the next level, consider using gold in your next design project.
1. Ooze Opulence with Gold Pendant Lighting
Why stop at gold cabinets when you can have gold pendant lighting too? Pendant lighting is a great way to add a touch of luxury to your kitchen, and choosing a golden hue will give the space an extra level of opulence. Whether you go for something understated or over-the-top, a few well-placed gold pendants can make your kitchen stand out. If you are not ready to commit to gold just yet, consider using it as an accent colour. A few pops of gold here and there can brighten up a space and make it feel more luxurious. So if you are looking to add a touch of glamour to your kitchen, do not forget about the power of gold pendant lighting.
2. Keep Things Light with Gold and White
View this post on Instagram

A well-decorated home should be a reflection of your style, and no two homes should look exactly alike. However, certain timeless design principles can help you create a chic and inviting space. One such principle is to keep things light by incorporating gold and white into your colour scheme. Gold is a warm and inviting colour that immediately adds a touch of luxury, while white helps to create a sense of spaciousness. When used together, these colours can brighten any room and make it feel more open and airy.
Furthermore, gold and white also look great when paired with other neutral colours like grey or beige. So if you are looking to give your home a fresh and modern update, consider using these two colours to create a light and inviting space.
3. Embrace Drama with Gold and Black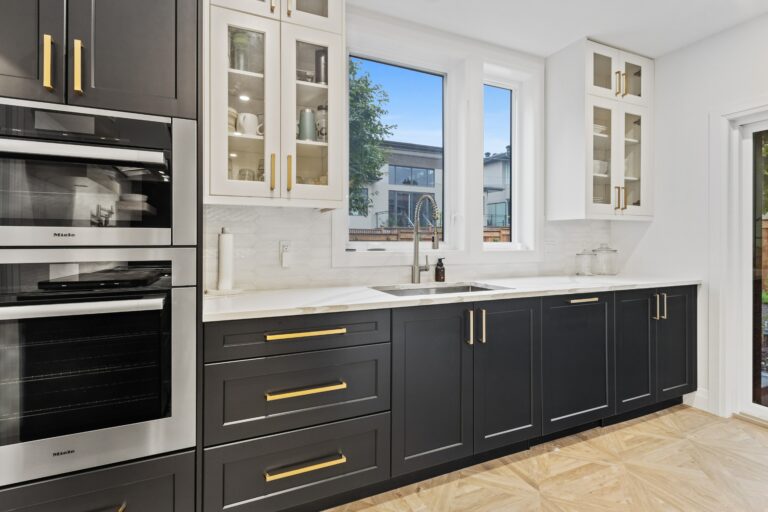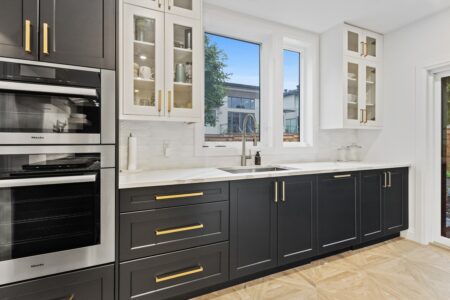 There's something about the gold and black kitchen that just oozes drama. Maybe it is the luxuriousness of the gold or the sophistication of the black. Either way, if you're looking to add a bit of drama to your kitchen, these two colours are the perfect way to do it.
Gold is the perfect colour for a kitchen because it's so versatile. You can use it as a subtle accent, or go all out with a golden kitchen island or cabinets. And because it's such a reflective colour, it helps to bounce light around the room and make it feel brighter and more spacious.
Black is the perfect partner for gold because it provides the perfect amount of contrast. Used sparingly, black can add a touch of elegance to your kitchen. But if you want to make a statement, go for black countertops or cabinets. Just be sure to balance the colours so your kitchen doesn't end up feeling too heavy or dark.
4. Opt for Luxury Gold Boiling Water Taps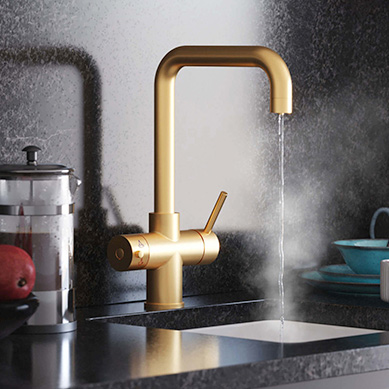 If you are looking for a luxurious and practical addition to your kitchen, consider investing in a gold boiling water tap. Not only does it add a touch of luxury to your space, but it is also incredibly practical. With a boiling water tap, you will never have to wait for the kettle to boil again. Simply fill up the tank and then dispense hot water whenever you need it. Whether you are making tea, coffee, or hot chocolate, a boiling water tap will save you time and hassle. Plus, it is sure to impress your guests. If you are looking for a kitchen upgrade that is both stylish and functional, opt for a gold boiling water tap.
5. Add Character with Gold Marble Worktops
If you are looking for a way to add a touch of luxury to your kitchen, consider installing gold marble worktops. Gold marble is a type of marble that is veined with streaks of gold. It is often used in high-end homes and businesses, and it can give your kitchen an air of sophistication and elegance.
However, gold marble can also be expensive, so it is important to get an estimate from a professional before you decide to install it in your kitchen. Even if you can't afford to install gold marble worktops, you can still add a touch of luxury to your kitchen by installing marble worktops in another colour. There are many different colours of marble to choose from, so you are sure to find one that matches your kitchen's decor.
6. Upgrade Everyday Chores with a Gold Kitchen Sink
Most of us do not spend a lot of time thinking about our kitchen sink. It is just a utilitarian fixture that we use for washing dishes, preparing food and cleaning. But why settle for basic when you can have luxury?
A gold kitchen sink is a perfect way to upgrade your everyday chores and give your kitchen a touch of elegance. Made from high-quality materials, a gold kitchen sink is built to last. And its eye-catching finish will make even the most mundane task feel like a special occasion. So if you are looking for a way to add a little luxury to your life, consider upgrading to a gold kitchen sink. You may never look at dishwashing the same way again.
7. Choose Dark Woods over Light
When it comes to choosing wood for your kitchen, you may be tempted to go with a light or natural finish. After all, light woods are often associated with brighter, more open spaces. However, there are several good reasons to opt for a darker wood instead.
For one thing, dark woods tend to be more durable and resistant to scratches and other types of wear and tear. In addition, they can help to create a more formal or sophisticated look in your kitchen. If you are unsure what type of dark wood to choose, some popular options include cherry, walnut, and mahogany. Whatever you decide, remember that dark woods can make a dramatic statement in your kitchen and help to create an inviting space that family and friends will enjoy gathering in for years to come.
8. Mix & Match Different Metals
As any chef knows, having the right tools for the job is essential for cooking a perfect meal. The same is true for designing a kitchen. From the layout to the appliances, every element of the kitchen needs to be carefully considered.
One area that is often overlooked is the choice of finishes, but this can be a critical design decision. For instance, mixing different metals can create a striking look that is both modern and elegant. Indeed, mixing metals is one of the hottest trends in kitchen design right now. While all-white kitchens are still popular, more and more homeowners are opting for a mix of metal finishes, from brass fixtures to stainless steel appliances. So if you are looking to add a touch of luxury to your kitchen, consider mixing and matching different metals. It is sure to make your kitchen stand out from the rest.
Conclusion
There you have it, eight hallmarks of luxury gold kitchen design. From gold marble worktops to brass fixtures, these features will add a touch of elegance and sophistication to your kitchen. So if you are looking to upgrade your cooking space, consider incorporating some or all of these features into your kitchen design. Bon appetit!
Ready to realise the gold kitchen of your dreams? Dive into our range ofgold boiling water taps or read more about boiling water taps in our complete guide.
Related Articles from the same category: