How to Change Your Boiling Water Tap's Filter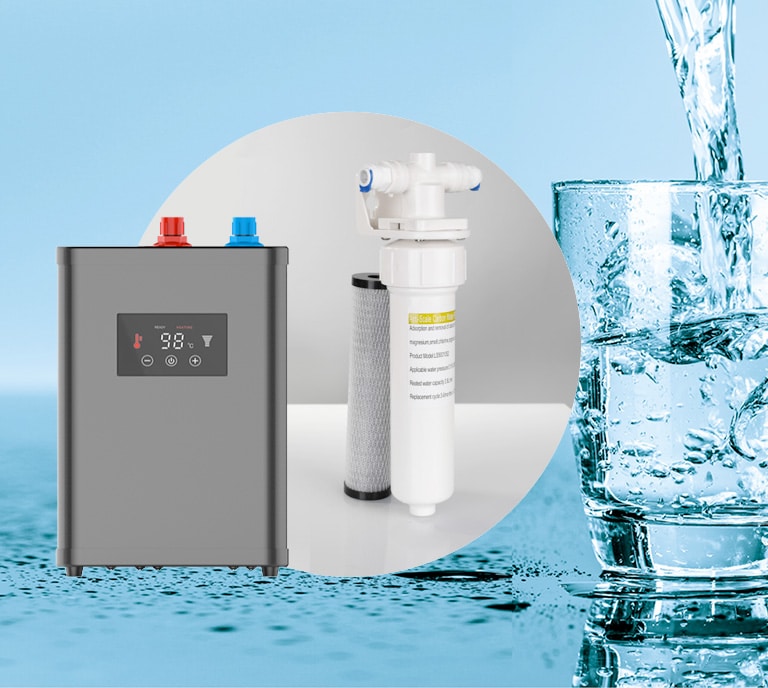 Every boiling water tap will come supplied with a carbon filter, which is designed to trap impurities and minerals and protect your tap's components from limescale and other mineral deposits, as well as deliver crystal-clear, filtered water on tap.
The filter you have will depend on whether you have a 3-in-1 tap or 4-in-1 tap, though the replacement works in the same way. The difference between these filters is that the 3-in-1 tap filter is designed to filter boiling water, while the 4-in-1 tap filter is designed to filter both boiling water and chilled cold water.
How to Change the Filter
Turn off the isolation valve.
Switch the boiling water tank off at the power source.
Pull down the filtered water handle on your tap to release any pressure.
Unscrew the filter cartridge and carefully remove the carbon filter from the inside. Dispose of it responsibly in your bin or recycling centre.
Take the new carbon filter out of its packaging and slide it into place, making sure that it fits snugly.
Replace the filter cartridge and tighten it back in place by hand.
Turn on the isolation valve, followed by the boiling water tank.
Finally, pull down the filtered water handle for a few seconds to allow any trapped air to escape.
Your tap is now ready for use!
How Regularly Should You Change Your Filter?
It's recommended that you change your filter every 6 months, although those living in a hard water area may need to replace it more regularly. If you notice a decrease in boiling water pressure or taste any impurities in the filtered water then it could be time to replace your filter before the recommended timeframe.
How much will it cost?
Our filters are just £39.95 - other brands may cost more.
Why Should You Change Your Tap's Filter?
Keeping your tap's filter clean and free from any impurities is essential for preserving the tap's components from limescale and other mineral deposits. By regularly changing your filter you can ensure that you enjoy crystal-clear, purified boiling water on tap whenever you need it.
Forgetting to replace your boiling water tap's filter may also void its warranty.
For more information and to buy a filter replacement for your boiling water tap, click here. Alternatively, get in touch with our team to find out more.
Related Articles from the same category: