Should You Turn Your Boiling Water Tap Off? Here's What to Know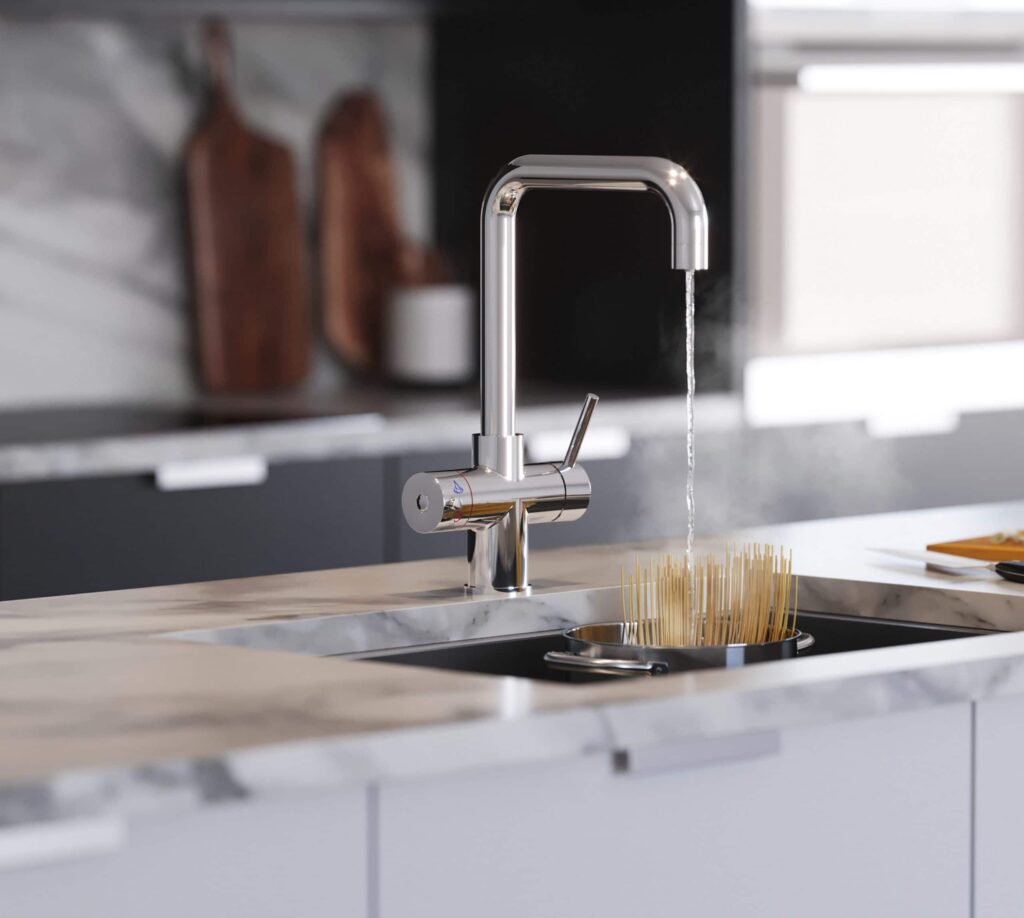 Boiling water taps have become a game changer in our daily lives, haven't they? From brewing a cuppa to speeding up your morning routine, these nifty devices bring convenience right to your fingertips.
In this blog post, we'll dive into the pros and cons of turning off your boiling water tap, helping you make the best decision for your home and lifestyle. So, let's get started!
Should You Turn Your Boiling Water Tap Off?
You might be wondering if you should leave the boiler tank of your boiling water tap on overnight, right? Well, it's actually more energy-efficient to keep it running, as it takes more power to reheat the water from a cool temperature than to simply maintain its warmth. However, there are a couple of exceptions:
If you're jetting off on holiday for more than a week or so
If the room housing the tank is about to get seriously chilly (i.e. below freezing)
Besides the two exceptions above, there's really very little reason to switch your tap off. If safety is a concern, you can rest assured that our tanks constantly monitor water temperature and switch off in the case of a fault.

So, what exactly is a boiling water tap?
Imagine having instant boiling water at your fingertips – that's what a boiling water tap brings to your modern family home. No more waiting for the kettle to boil or a pan to heat up, these taps make blanching veggies, cooking pasta or noodles, and brewing tea and coffee a breeze.
These nifty gadgets are gaining popularity in home kitchens, thanks to their sleek design and cutting-edge technology. They heat up in a flash, with minimal noise or fuss. Plus, they come with safety features like childproof lock systems to prevent any accidental scalds from hot water. And let's not forget the temperature control settings that guarantee the perfect cuppa every time. What's not to love?
You can read more about our boiling water taps here.
Advantages of a boiling water tap
For all you home cooks out there, this clever gadget is an absolute game changer. Not only does it make whipping up hot drinks like coffee or tea a piece of cake, but it's also a lifesaver for meal prep that calls for boiling water (think soups, pasta, and more). In busy family homes, a boiling water tap saves precious minutes every day, whether you're rinsing veggies, boiling eggs, or cooking up some noodles.
And guess what? Some boiling water taps, like our 4-in-1 models, even come with a filtered cold water feature. That means you get crisp, cold drinking water on demand, too! How brilliant is that?

The cost of running a boiling water tap
You might be thinking, "Surely boiling water taps must be expensive to run?" Well, you're in for a pleasant surprise! They actually cost around 4-10p a day, or between £1-£4 a month. That's pretty much what you'd spend on boiling a kettle a few times daily, so it's unlikely to make a dent in your energy bills.
And let's not forget the savings on gas when you no longer need to heat pans of boiling water on the hob. With the boiler tank storing enough hot water for even the most demanding cooking needs, it's a win-win situation!
Health and safety concerns
Of course, safety is a top priority when it comes to boiling water taps. While they're designed with safety in mind, it's crucial that you use your tap responsibly, just like you would with a kettle. Hot water can cause nasty burns if mishandled, leading to skin injuries, infections, and scarring.
But don't worry – our boiling water taps come with a child-safe spring lock that also turns off the tap when you step away from the sink. This nifty feature ensures you won't have to fret about scalding accidents, giving you peace of mind while enjoying your hot water tap's benefits. The spout itself is also insulated to prevent its surface from becoming hot to the touch, and the tank monitors the system's temperature to prevent overheating.
How to Maintain a Boiling Water Tap
Boiling water taps are a dream come true when it comes to convenience, and the good news is they require minimal maintenance. However, like any appliance, they need some TLC to keep performing at their best over time. Here are a few tips to help you maintain your boiling water tap:
Check connections: Regularly inspect the connections to ensure they're fully tightened.
Replace filters: Swap out the filter every 6 months to prevent scale buildup, which can impede water flow.
Clean the tap: Gently clean the tap with a mild detergent solution and buff it dry using a microfibre cloth. This ensures your tap stays looking great while maintaining hygiene.
Avoid harsh cleaners: Steer clear of bleach or abrasive scrubbers, as these can damage your tap's finish.
Our boiling water taps are not only affordable and durable, but they also save you precious time every day. Want to learn more about how a boiling water tap works? Dive into the world of instant hot water and discover the advantages for yourself!
Related Articles from the same category: