Hot Water Tap Showdown: Athena vs Minerva 3-in-1 vs Franke Fusion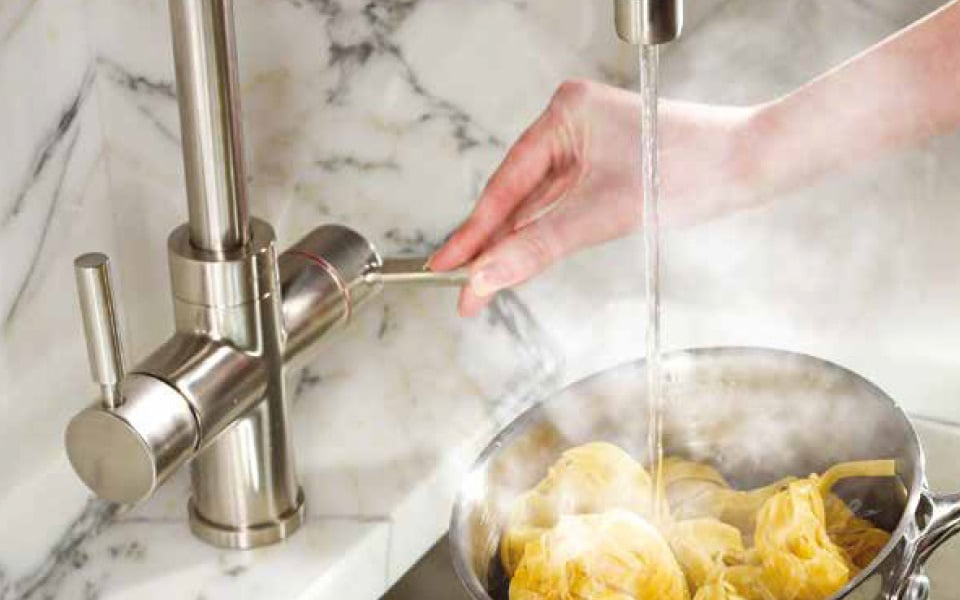 Kitchen taps have come a long way in the past few decades. With access to increasingly advanced technology, taps have evolved to make our way of living more convenient than ever. Taps that dispense boiling water are a particularly popular choice for new builds, extensions and renovations, allowing homeowners to access piping hot water instantly, instead of waiting for the kettle or a stove-top pan to boil. But with a growing number of brands on the market, knowing which hot water tap to choose can be overwhelming.
Today, we're saving you precious time by sharing a straightforward, side-by-side comparison of three top models: our Athena tap, the Quooker Fusion and the Franke Minerva 3-in-1.
Price
Budgets are an unavoidable aspect of home planning, so let's see how these taps might fit into yours. 
| | |
| --- | --- |
| Tap | Price (as of July 2022) |
| Athena | From £369 |
| Quooker Fusion | From £1,150 |
| Franke Minerva 3-in-1                        | From £1,092 |
Of the three, the Athena tap is by far the most affordable, with the Fusion and Minerva 3-in-1 taps requiring homeowners to fork out around three times as much. If your budget is limited or you have multiple taps to buy, the Athena could be the best option for you.
Finishes
If you're passionate about creating a cohesive look throughout your home, being able to choose from a variety of different looks can be a dealbreaker. Let's see how customisable each tap is:
Tap
Finishes

Athena

Swan or D Neck: Chrome, Brushed Nickel, Matt Black,

Brushed Gold or Copper 

Quooker Fusion

Swan or D Neck: Polished Chome, Stainless Steel, Black,

Patinated Brass or Gold

Franke Minerva 3-in-1                        

Chrome
While the Athena and Fusion taps come in 10 or 12 different looks, respectively, the Minerva 3-in-1 is available in just one shape and colour: Chrome. While chrome appliances are still popular in home design, if you want to stand out then the Minerva 3-in-1 may not be the best choice. 
It's also worth noting that changing the appearance of the other two models from their standard 'Chrome' look will come at an added cost. The Quooker Fusion's most expensive finish (Gold) will add an extra £870 to your bill. The Athena's most expensive finishes (Matt Black, Brushed Gold or Copper) will add an extra £30 to your bill.
Boiler size
The boiler size will dictate how much hot water can be drawn at a time without the need to reheat. Let's see how our competitors stack up:
| | |
| --- | --- |
| Tap | Boiler size |
| Athena | 2.4L |
| Quooker Fusion | 3L, 7L (+£270), COMBI (+300) |
| Franke Minerva 3-in-1                        | 5L |
The biggest of the three standard tanks is the Minerva 3-in-1, which comes with a 5L, horizontal tank. The Fusion tap follows with a 3L standard tank, with the ability to upgrade to a 7L for £270. Finally, the Athena tap comes with a 2.4L tank, which is still able to deliver 5-6 cups of boiling water at a time. With only 4 minutes required for the boiler to reheat, a higher capacity tank would only be needed for a particularly large household. If that sounds like you, the Fusion or Minerva 3-in-1 taps could offer that.
Water types
A tech-savvy tap can transform your everyday cooking and cleaning, providing different types of water in an instant. Here we can look at which taps offer what:
| | |
| --- | --- |
| Tap | Can dispense |
| Athena | Cold, hot, boiling (98°C) |
| Quooker Fusion | Cold, hot, boiling (100°C) + sparkling (CUBE upgrade for £1,150) |
| Franke Minerva 3-in-1                        | Cold, hot, boiling (100°C) |
All three can dispense cold and hot water through a mixer, along with boiling water - though the Athena's is 98°C vs the Fusion and Minerva's 100°C. This two-degree difference is designed to prevent spitting and save energy, though some argue that water has to be 100°C to be truly 'boiling'. Despite that, for almost every use in the kitchen, 98°C is more than hot enough. The Fusion tap can also dispense sparkling and cold filtered water with the addition of its 'CUBE' add-on, which will foot an extra £1,150 onto your bill. 
Warranty
Coming home to a faulty tap can create unwanted stress, which is why a warranty cover is so important. All of the taps in our comparison offer a warranty, but let's see how long:
| | |
| --- | --- |
| Tap | Warranty |
| Athena | 5 years for tap, 2 years for boiler |
| Quooker Fusion | 2 years |
| Franke Minerva 3-in-1                        | 2 years |
The Fusion and Minerva 3-in-1 hot water taps come with a standard 2 years warranty. The Athena, however, extends this by three years, offering a 5-year warranty for its tap, and 2 years for the boiler. While manufacturing issues are rare these days, faults can still spring up on taps from established brands - which is why a longer warranty can offer extra peace of mind.
Today's analysis has hopefully shed some light on the differences when it comes to boiling water taps. With more information at your fingertips, it should be easier to make an informed decision when it comes to buying. If the Athena tap stands out to you, find out more by heading to the dedicated Athena taps page. Watch the video below to learn how easy it is to install Athena at home:
Related Articles from the same category: