Hot Water Tap Showdown: Comparing Quantum, Nordic Twin & 4N1 Touch Taps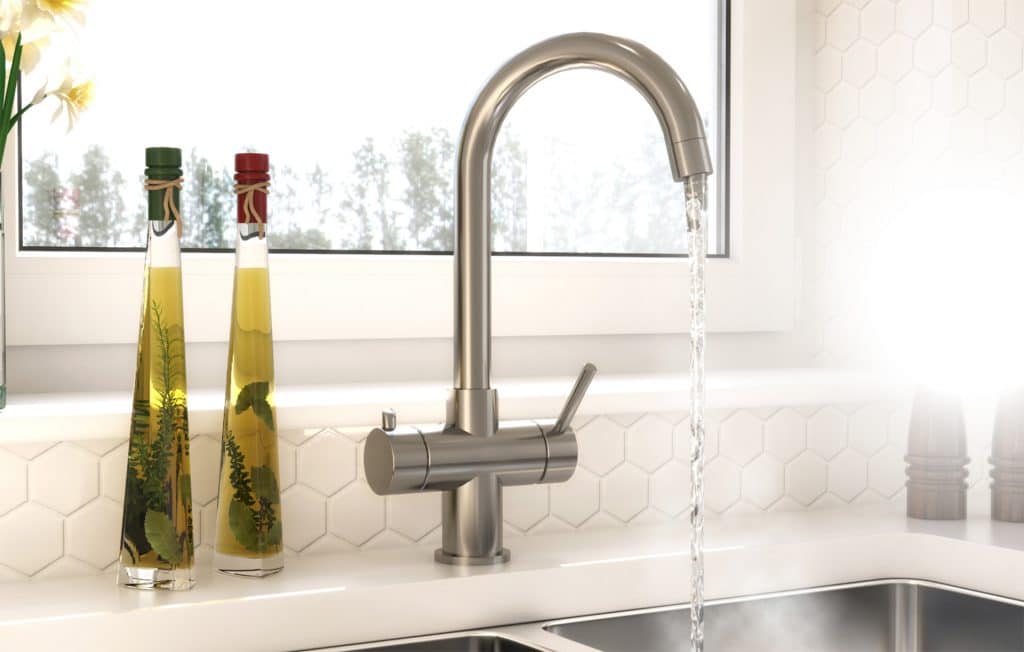 There's plenty to think about when designing a modern kitchen. From functionality to aesthetics, every aspect comes with a multitude of methods and looks. Your kitchen is the heart of your home and has a vital role to play in cooking and cleaning, which is why it pays to prioritise functionality when it comes to your taps. 
Taps are becoming increasingly sophisticated, offering more features than ever before - and today we're cross-examining some of the top products on the market: our Quantum tap, Quooker's Nordic Twin Taps and the Insinkerator 4N1 Touch.
Price
When you're renovating, upgrading or designing a kitchen, you've likely set a budget aside for each aspect. With that in mind, let's see how the options weigh up:
| | |
| --- | --- |
| Tap | Price (as of July 2022) |
| Quantum | From £469 |
| Insinkerator 4N1 Touch | From £1,149 |
| Quooker Nordic Twin Taps                        | From £1,200 |
There's little question as to which tap comes out on top when it comes to affordability. At less than half the cost of the others, the Quantum model is as budget-friendly as you can get when it comes to boiling water taps. If you are looking to install multiple taps, the price of 4N1 and Nordic Twin Taps could quickly add up, so consider how much you're willing to spend.
Finishes
Aesthetics also matter in your kitchen, so here you can see what finishes and designs each model offers:
| | |
| --- | --- |
| Tap | Finishes |
| Quantum                               | D-Shape: Matt Black | J-Shape: Matt Black, Brushed Nickel, Chrome or Copper |
| Quooker Nordic Twin Taps | Square (D-Shape) or Round (J-Shape): Polished Chrome or Stainless Steel |
| Insinkerator 4N1 Touch     | J-Shape, U-Shape or L-Shape: Chrome, Velvet Black or Stainless Steel |
There are plenty of customisation options when it comes to shape and colour. Both the Quantum and 4N1 Touch offer the fashionable black boiling water taps that have become the darlings of interior design. All in all, the Insinkerator has the most options: 9, compared to Quantum's 5 or the Nordic Twin Tap's 4. 
But these choices come with an added cost. The Insinkerator's most pricey finish - 'Velvet Black' - is £167 more than its standard 'Chrome' finish, while the Nordic Twin Tap's 'Stainless Steel' finish adds an extra £240 to the final bill versus 'Polished Chrome'. Quantum's priciest finish - 'Matt Black' - is only £39 more than its least-expensive 'Chrome' finish.
Boiler size
Your boiler's capacity will decide how much hot water you can access in one go. Usually fitted below your sink, it will maintain a constant reserve of hot water, ready for you to use instantly when required. Let's take a look at the stats:
| | |
| --- | --- |
| Tap | Boiler size |
| Quantum | 2.4L |
| Quooker Nordic Twin Taps                        | 3L, 7L (+£270), COMBI 7L (+£300) |
| Insinkerator 4N1 Touch | 2.5L |
In terms of the standard boiler, the Quooker Nordic Twin Taps take the edge with a 3L tank. You can upgrade to a 7L tank, though this will cost you an added £270. Following closely behind, the 4N1 and Quantum models are neck and neck with 2.5L and 2.4L tanks, respectively. 
A 2.4L tank will produce 5-6 cups of hot water at a time without the need to reheat, which only takes around 4 minutes. Unless you're in a particularly large or busy household, this tank will have plenty of capacity for your cooking and cleaning needs.
Water types
All three taps in our comparison can dispense multiple types of water, but let's compare what they can (and can't) do:
| | |
| --- | --- |
| Tap | Can dispense |
| Quantum | Cold, hot, boiling, filtered |
| Quooker Nordic Twin Taps                        | Cold, hot, boiling + filtered & sparkling with CUBE (+£1,150) |
| Insinkerator 4N1 Touch | Cold, hot, boiling, filtered |
The Quantum and 4N1 Touch offer 4-in-1: cold, hot, boiling and filtered, straight out of the box. The Nordic Twin Taps offer three water types straight out of the box: cold, hot and boiling, with the option to add filtered and sparkling at an extra cost of £1,150. If budget isn't an issue for you, the Nordic taps win here. However, cost-conscious homeowners will be pleased to see the other models offer four great functions at no extra cost.
Safety features
Boiling water is no doubt a danger if handled incorrectly, however, each model has its own child-safety mechanism to prevent little hands from turning on the tap, which is possibly why boiling water taps are shown to be safer than kettles. So whether you have 1 youngster or 10, you can rest assured that these taps are unlikely to cause accidents. Read more about boiling tap safety here.
Warranty
Nobody wants the stress of a faulty tap, which is why warranties can be a crucial lifeline. They also demonstrate confidence in the manufacturer's build quality. Let's look at the warranties for our three models:
All three offer a warranty period, though the Quantum and 4N1 both come with a lengthy 5 years warranty for the tap and 2 years for the boiler. On the rare occasion that something goes wrong, that means you're covered by the manufacturer for longer when it comes to sourcing spare parts.
The case has been made, but which hot water tap leads the pack? Offering state-of-the-art features at an unbeatable price, our Quantum tap can fit into the most modest of budgets. We firmly believe that having a modern kitchen shouldn't cost an arm and a leg, so head over to our Quantum tap page and find out more. Alternatively, compare our full range of boiling water taps in our tap comparison guide.
Related Articles from the same category: