Black Kitchens: 10 Tempting Ideas for Dramatic Kitchens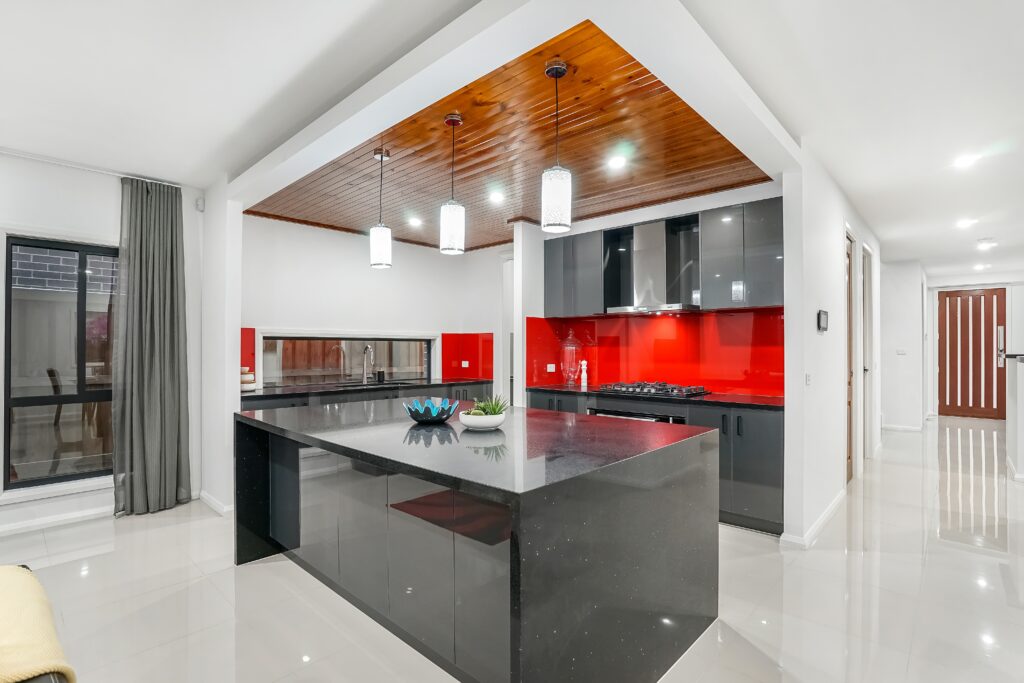 Are you considering a black kitchen for your home? If so, you're in luck! Black kitchens are all the rage right now and offer a wealth of design possibilities. From sleek and modern to warm and rustic, there's a black kitchen style for every taste. Check out these 10 tempting ideas for dramatic kitchens. You just might find the perfect inspiration for your dream kitchen!
The Rise of Black in Kitchen Interior Design
For years, white has been the go-to colour for kitchen design. But lately, there's been a shift towards using darker colours in this space. And one of the most popular choices is black. Black can add a sense of sophistication and sophistication to a kitchen. It also can make the space feel more intimate and inviting. And while it may require a bit more care when it comes to cleaning, the results are well worth it. If you're considering using black in your kitchen, here are a few tips to help you get started.
First, consider pairing black with other colours. White is always a classic choice, but you could also try using grey or even navy blue. Second, don't be afraid to mix and match different finishes. A glossy black countertop can look stunning next to a matte black backsplash. Finally, don't forget the accessories! Black goes great with stainless steel or copper accents. So if you're looking for a way to give your kitchen a fresh new look, consider using black in your design.
1. Go All Out with Black Kitchen Cabinets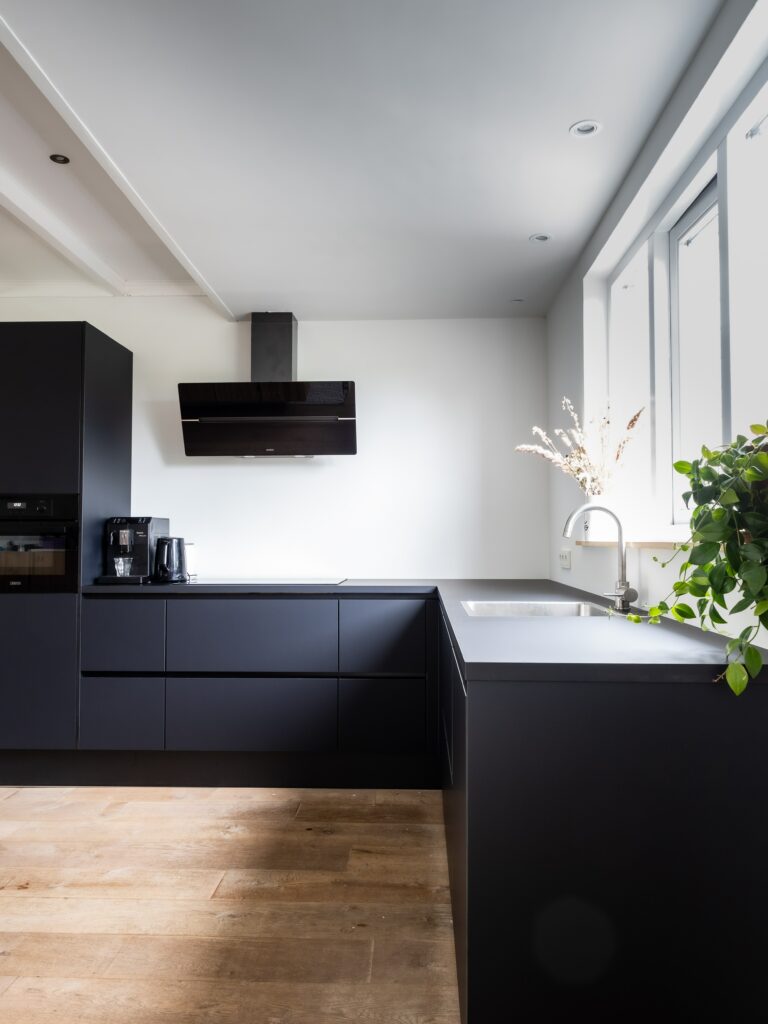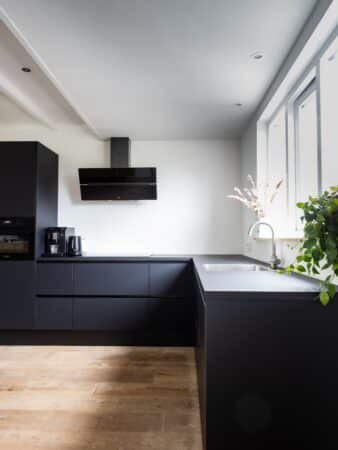 If you're looking for a dramatic look in your kitchen, go all out with black kitchen cabinets. Black is a classic colour that will never go out of style, and it's the perfect backdrop for showing off your culinary creations. Whether you pair them with white countertops and subway tile backsplashes or go for a more monochromatic look, black cabinets are sure to make a statement. And if you're worried about them making your kitchen feel too dark, just add some strategic lighting to brighten things up. With their timeless appeal and striking visual impact, black kitchen cabinets are the perfect way to add some drama to your cooking space.
2. Cook in Style with Black Kitchen Worktops
Black kitchen worktops are a chic addition to any home, and they have become increasingly popular in recent years. Not only do they look great, but they are also extremely practical. Black worktops are easy to keep clean, and they resist heat and scratches. In addition, they are very versatile and can be used in a variety of different styles of kitchens. Whether you want a classic or contemporary look, black worktops can help you achieve the perfect finish for your kitchen. So if you're looking for a way to add some style to your cooking space, consider investing in black kitchen worktops.
3. Pair Black with Gold Accents
When it comes to kitchen design, black and gold are a classic pairing. Black cabinets provide a bold and elegant look, while gold accents add a touch of luxury. If you want to create a black and gold kitchen, here are three ways to do it
Black cabinets with gold hardware
This is a classic kitchen look that never goes out of style. Gold hardware adds a touch of luxury to the black cabinets, and the two colours work together to create an elegant and classic kitchen design.
Black countertops with gold fixtures
Another way to pair black and gold in the kitchen is to use black countertops with gold fixtures. This creates a stunning contrast that is sure to impress your guests. Gold fixtures also add a touch of luxury to the black countertops, making this a great option for a luxurious kitchen design.
Black backsplash with gold accents
A black backsplash is a great way to add depth and dimension to your kitchen. Gold accents can help to bring out the beauty of the black backsplash, and the two colours work together to create an elegant and stylish kitchen design.
4. Go Monochrome with White Floors and Black Walls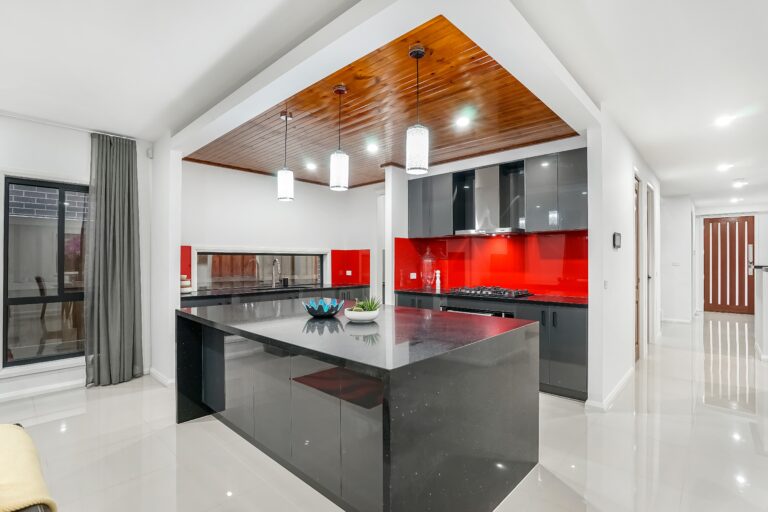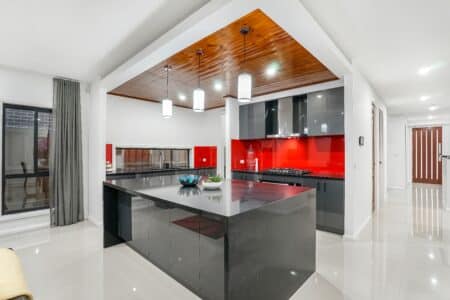 If you're looking for a truly unique kitchen design, why not go monochrome? White floors and black walls are a trend that is both modern and sophisticated. It can be difficult to achieve the perfect balance between the two colours, but when done right, the results are stunning. A white floor will help to bounce light around the room, making it feel brighter and more open. Black walls can create a sense of drama and make your kitchen feel more intimate. The key is to experiment with different shades and textures to find the right look for your space. With a little bit of effort, you can create a kitchen that is both chic and stylish.
5. Create Character with a Marble Splashback
A kitchen is not complete without a backsplash. Not only does it protect the wall from spills and splatters, but it also provides an opportunity to add style and personality to the space. A marble backsplash is a classic choice that can create an elegant look, but it's also surprisingly versatile.
For example, a white marble backsplash can brighten up a dark kitchen, while a black marble backsplash can add a touch of drama. In addition, marble comes in a variety of patterns and colours, so you can find the perfect match for your style. Whether you're going for classic or contemporary, a marble backsplash is a great way to add character to your kitchen.
6. Throw in Wooden Kitchen Chairs and Accessories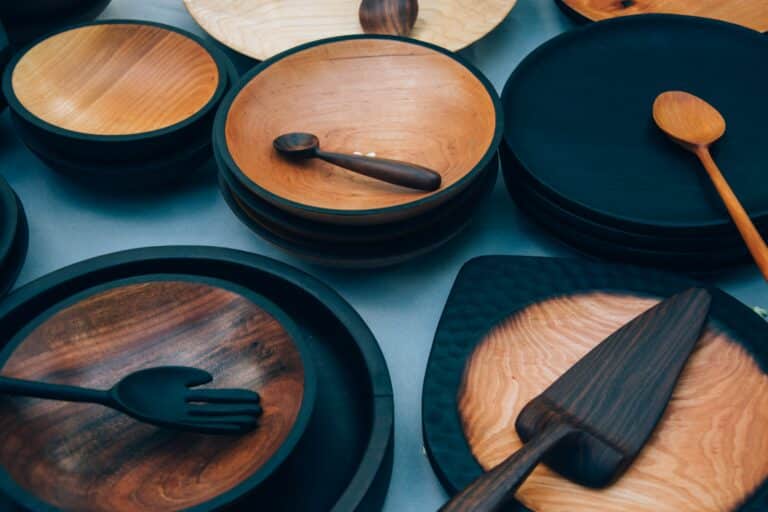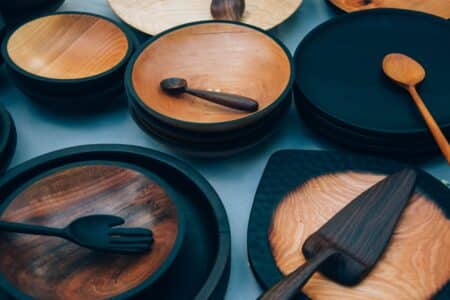 Most people think of the kitchen as a place for cooking and entertaining. However, the kitchen can also be a great place to relax and unwind. One way to create a warm and inviting atmosphere in the kitchen is to add some wooden furniture and accessories. Wooden chairs and stools provide a comfortable place to sit, while wooden cutting boards and serving utensils add a touch of rustic charm. In addition, plants and flowers can brighten up the space and make it feel more welcoming. With a few simple changes, the kitchen can quickly become one of the most relaxing rooms in the house.
7. Illuminate the Space with Unobstructed Windows
Any cook will tell you that natural light is an important aspect of any kitchen. Not only does it provide a better view of the food you're preparing, but it also makes the space feel more open and inviting. When designing a kitchen, be sure to include plenty of windows to let in the light. Avoid obstructions like cabinets or appliances that could block the sunlight and make the space feel darker. With ample windows, your kitchen will be filled with natural light and energy, making it a more enjoyable place to cook and entertain.
8. Use Black Appliances and Accessories
Black appliances are perfect for creating a stylish and cohesive look in your kitchen. A black boiling water tap can be a great addition to your kitchen if you want to make a statement. Black rubber mats can help protect your floors from spills and splatters. Black dish towels can add a pop of colour to your counters. And black oven mitts can help you avoid burns when you're cooking. Whether you're looking for a black fridge, black stove, or black microwave, there are plenty of options to choose from. So don't be afraid to experiment with black in your kitchen. It can make a space pop.
9. Layer Gloss & Matt Black Tones
Gone are the days of stark white kitchens. These days, homeowners are opting for a more sophisticated look by layering black tones. Gloss and matt black finishes can be used to create a unique layered effect that is both stylish and practical. Gloss surfaces are easy to clean, making them ideal for high-traffic areas such as the kitchen. Matt black surfaces, on the other hand, provide a more subtle look that is perfect for creating a dramatic contrast. By combining these two finishes, you can create a kitchen that is both beautiful and functional.
10. Keep Things Warm with Copper Kitchen Accessories
As anyone who has ever cooked a meal knows, thermal energy is essential for cooking. This is why copper has long been a popular material for kitchen accessories. Copper is an excellent conductor of heat, meaning that it can quickly and evenly transfer heat to food. In addition, copper is also very durable, making it ideal for pots and pans. Copper accessories are not only functional, but they can also add a touch of elegance to any kitchen. Thanks to their shiny surface, copper pots and pans often look like new, even after years of use. Whether you're looking for a new frying pan or a stylish new kettle, copper kitchen accessories are a great choice.
Ready to embrace the dark side? Dive into our range of black boiling water taps or find out more about boiling water taps in our ultimate guide.
Related Articles from the same category: