Are Grey Kitchens Here to Stay? Our 2023 Guide to Grey Kitchens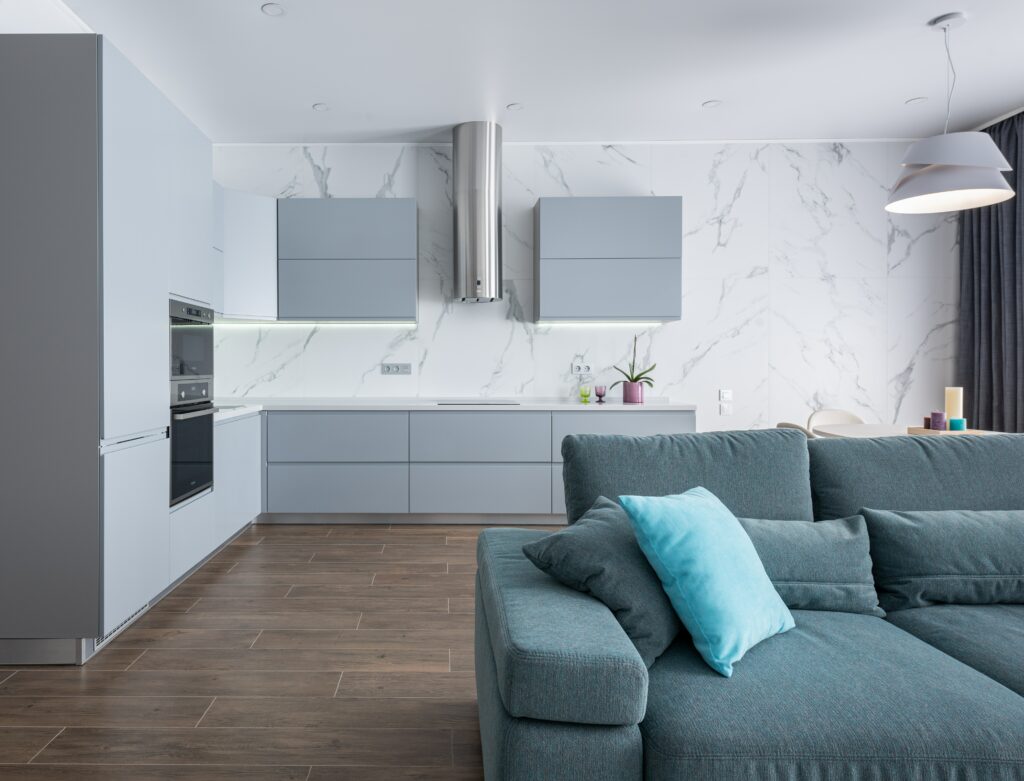 Grey kitchens have grown in popularity over recent years and show no signs of going out of style anytime soon. From warm, greige palettes to deep charcoal tones, grey kitchen designs bring a timeless cool that makes these spaces perfect for all tastes.
Whether creating an ultra-modern look or embracing vintage charm and patina, this in-depth guide will help you understand the trends and considerations for grey kitchen design so you can craft your dream space right up through 2023!
The Basics of Grey Kitchens
Grey kitchens have become increasingly popular over the past few years due to their timelessness and versatility. If you are thinking about jumping on the grey kitchen bandwagon, there are some basic things that you need to consider. The first thing is the grey shade; cool greys pair well with modern, contemporary spaces, while warmer greys lend a cosier, classic feel.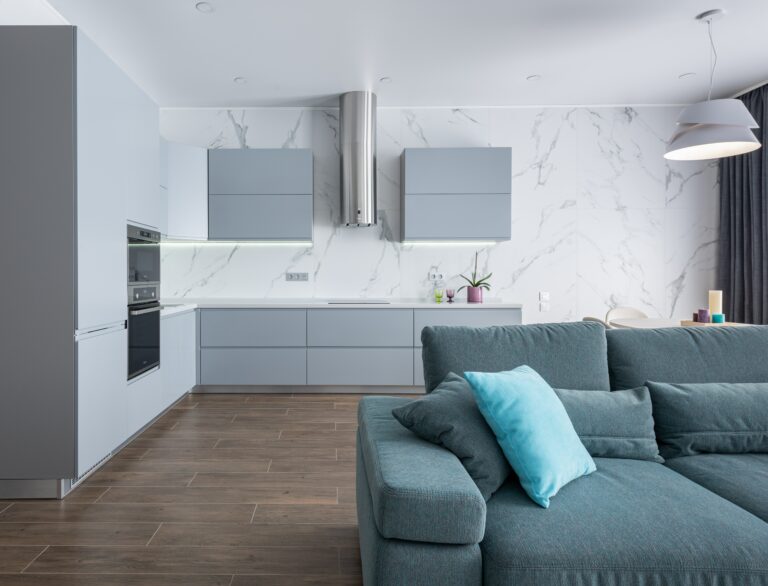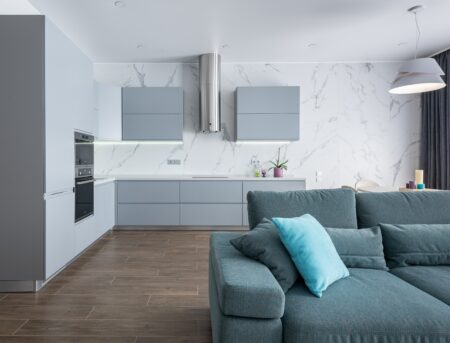 Another thing to consider is how much grey you want; one-coloured cabinets in one hue may be subtle and sophisticated, while two-tone kitchens offer more contrast and visual interest. Be sure to pick a good grey paint or tiles that won't fade over time, as maintaining your colour will be key to achieving a stylish outcome. Lastly, don't forget the finishing accents - adding small pops of colour or patterned wallpaper can elevate your kitchen design even further.
What Makes a Grey Kitchen Timeless?
A grey kitchen is a classic way to bring a balanced and timeless taste to your home. Grey can be soothing but also add an atmosphere of sophistication. The neutral tones provide a great opportunity for creativity in your kitchen; adding graceful touches of other colours, such as bright splashes of pastels, will warm up the environment and create life in what could otherwise be a minimalist room.
The shape can also change the look of any kitchen, so consider adding interesting or unexpected elements to your space, like glass walls for ethereal vibes or open shelving for contemporary and chic charm. Creating a functional living space with this neutral and calm colour provides a comfortable yet stylish area that will last time.
New Trends and Ideas for 2023
The start of the new year, 2023, has changed kitchen trends and ideas. The biggest trend growing in popularity is storage solutions that use otherwise wasted space. For example, corner drawers and hidden compartments are popping up in kitchens nationwide. This helps keep worktops and shelves organised while providing plenty of functionality.
Another trend this year is the utilisation of more natural materials like wood and stone for worktops rather than opting for plain, monochromatic surfaces. Adding these textures to your kitchen brings a unique, elegant feel without sacrificing an ounce of style.
Top Tips for Designing a Grey Kitchen
If you're ready to upgrade your kitchen and give it a fresh look, consider designing with grey. Grey is versatile, timeless, and classic, allowing homeowners to create modern yet inviting spaces. Start by choosing the right shades of grey or even introducing contrasting colours. Be creative with your tile choice, whether opting for interesting patterns or modern monochromes. Selecting the right appliances will help keep your grey kitchen looking stylish - think sleek stainless steel and black finishes.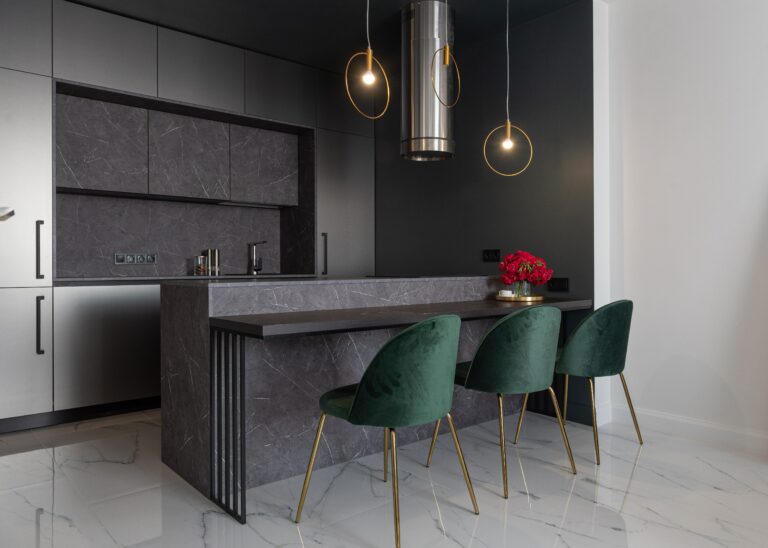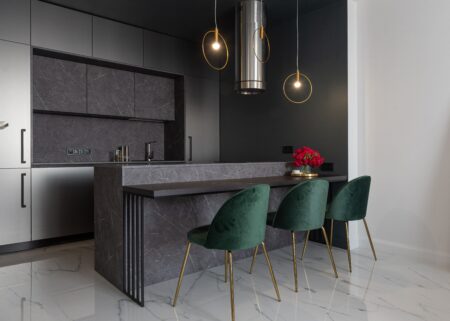 With an appropriate lighting plan, you can make your grey kitchen come alive - ensure that all task areas are illuminated brightly enough for comfort and efficiency. Finally, accessorize using subtle tones to add layers of texture and pops of visual interest!
Popular Types of Grey Kitchens
Grey kitchens have become increasingly popular due to their timeless aesthetic and ability to fit many tastes. You can choose from a few different grey kitchen styles, including contemporary, countryside chic and industrial-style kitchens. For a modern take on this classic shade, opt for a contemporary kitchen featuring sleek surfaces, neutral tones and understated accents.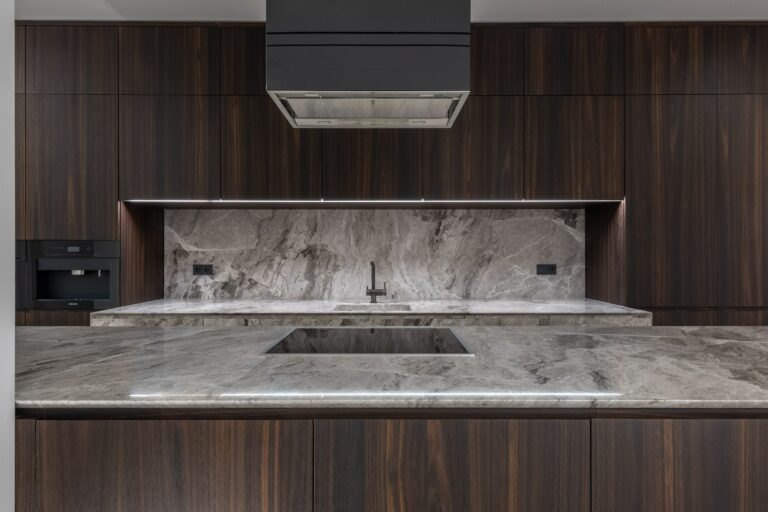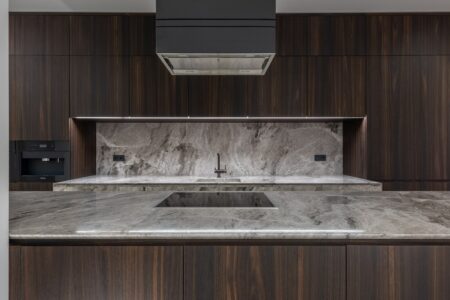 If you'd rather go for something more earthy and traditional, consider a countryside style: natural materials like exposed brick, wooden worktops, and muted colours like greys and blues create a cosy atmosphere. Last but not least is the industrial-style kitchen which combines vintage decor elements with metal surfaces, open shelving and concrete walls for an urban look.
How to Decorate Your Grey Kitchen
If you want to create more warmth and energy in your grey kitchen, there are a few clever ways. First, add pops of colour through fresh plants and colourful decorations. Consider brightening up dark grey walls with fun prints and art pieces – these can easily be switched out as often as you'd like for a fresh new look each time.
Another idea is to spice up your flooring by adding an area rug or other textured material that adds boldness and style. For example, an intricately designed Persian rug will bring texture and great visual contrast against the otherwise slate-coloured walls or floors. Last, don't underestimate the power of lighting – natural light in particular! Bigger kitchen windows or French doors can help enliven the space.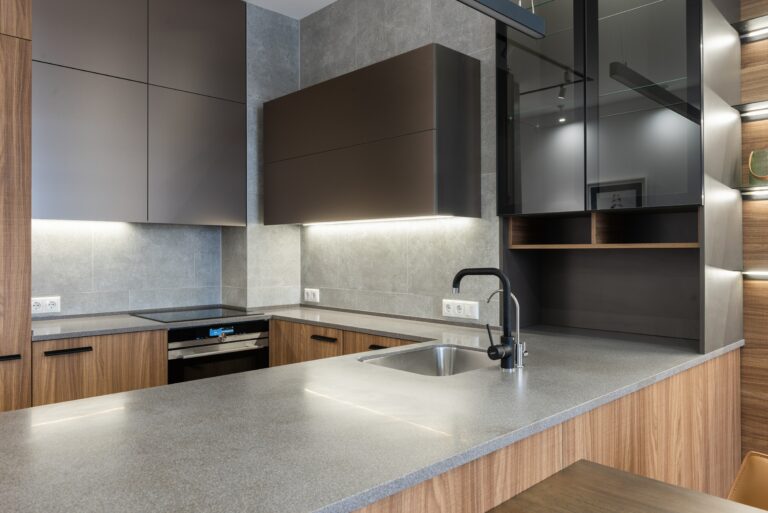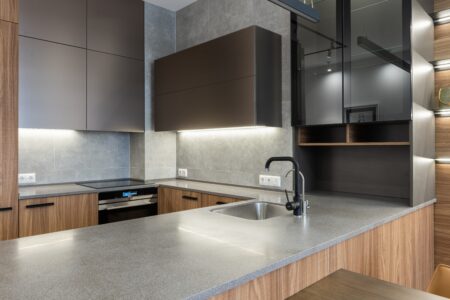 Working Colour Into Your Grey Kitchen
Working colour into your grey kitchen is a great way to give the space a unique personality while creating a soothing atmosphere. Whether you choose bold, vibrant colours or subtle shades, introducing even a few elements of colour will make a big difference in visually livening up your kitchen.
You can start by simply painting your lower cabinets in a cloudy blue and introducing bright pop of colour through accessories like multi-coloured striped towels and placemats, vases, or decorative plants. Even if it's just one wall featuring art prints in different hues, injecting just a little bit of colour will help to take your grey kitchen from dull to delightful.
Maximising the Impact of Your Grey Kitchen
Grey is the perfect kitchen colour for a timeless, classic, warm aesthetic. Different metal finishes can bring a sense of contrast and interest to the overall scheme to maximise the impact of your grey kitchen. Variations in brushed, aged, burnished or matte brass, copper or chrome will not only help create different aesthetics but also provide different levels of drama or softness suitable for different communal spaces.
For example, embracing matte bronze tones with contemporary cabinetry is ideal for creating an intimate atmosphere. Utilising different metal finishes to create an interesting combination of textures will help you create an unforgettable grey kitchen look.
Best Materials for a Luxury Grey Kitchen Makeover
When it comes to luxury kitchens, grey is an elegant and timeless colour that can bring sophistication and class to any home. Various materials are available for luxury kitchen makeovers in shades of grey, from natural wood cabinets to sleek marble countertops. Steel appliances offer a contemporary look that pairs well with light and dark shades of grey.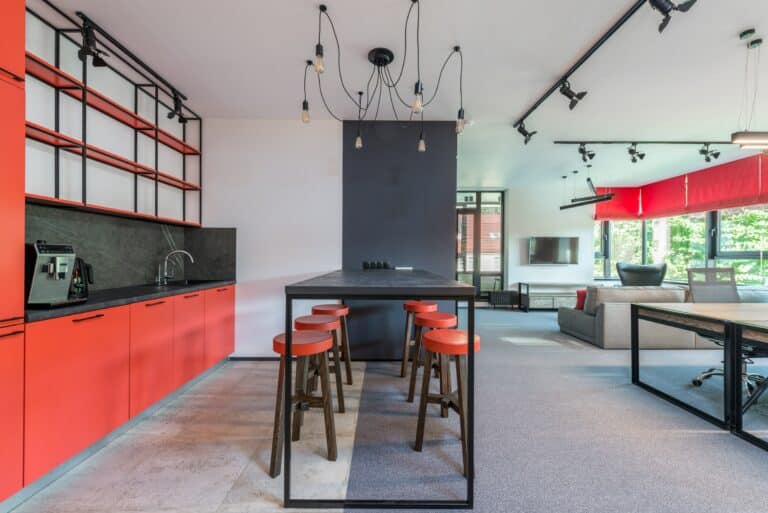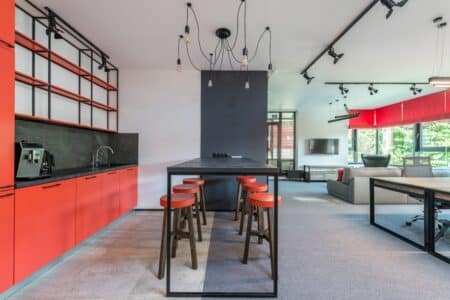 For additional luxury features, choose black quartz for the backsplash or luxury veined granite countertops. Brushing metal hardware to your doors and drawers will combine everything for a luxury look. With the right combination of materials, you can refresh your luxury grey kitchen.
Easy Ways to Refresh your Grey Kitchen
If you've lived with the same grey kitchen for much longer than you'd care to admit, it may be time to make a few refreshes. Bringing in new decor can help reinvigorate your space without replacing any major appliances or fixtures. Consider changing your window treatments for something bright and colourful, or hang some simple greenery on the walls. Adding a unique backsplash or painting the cabinets can also make a difference.
Another easy idea is to accessorize; swap out drab textiles like dish towels and oven mitts for something bold and fresh, or introduce new metals or finishes. With a few simple changes, your grey kitchen will be ready for a total style revival!
Making it Modern: Combining Textures in Grey Kitchens
Modern kitchens are a great way to create a sense of modern style and sophistication. With the addition of different textures in a grey kitchen, you can easily make it modern and chic. Many textures, such as marble countertops, glass tiles for the backsplash, luxuriously textured tile around the stove, and unique patterned wallpaper on the walls, can modernise your kitchen space.
You can combine elements from these various materials to create an eye-catching modern look in your kitchen. With a thoughtful combination of textures, modern grey kitchens can become the trendiest and most fashionable place to cook delicious meals.
Conclusion
Grey kitchens have become a versatile way to bring style into any home. Whether you prefer them modern, with glossy surfaces, or classic and more subdued, they are sure to highlight the personality of your kitchen refreshingly. Grey kitchens offer plenty of texture possibilities, making them look sophisticated and providing timeless charm.
They can set a pleasant atmosphere by calibrating the shade accordingly without being too bold or distractive. Therefore, if there was ever an answer as to whether grey kitchens are here to stay in 2023 – it is a resounding yes!
Our boiling water taps come in a huge range of luxury finishes - perfect for a grey kitchen - from gold to matt black. Find out more about how a boiling water tap works.
Related Articles from the same category: