Luxury Kitchen Design Trends: 2023 Edition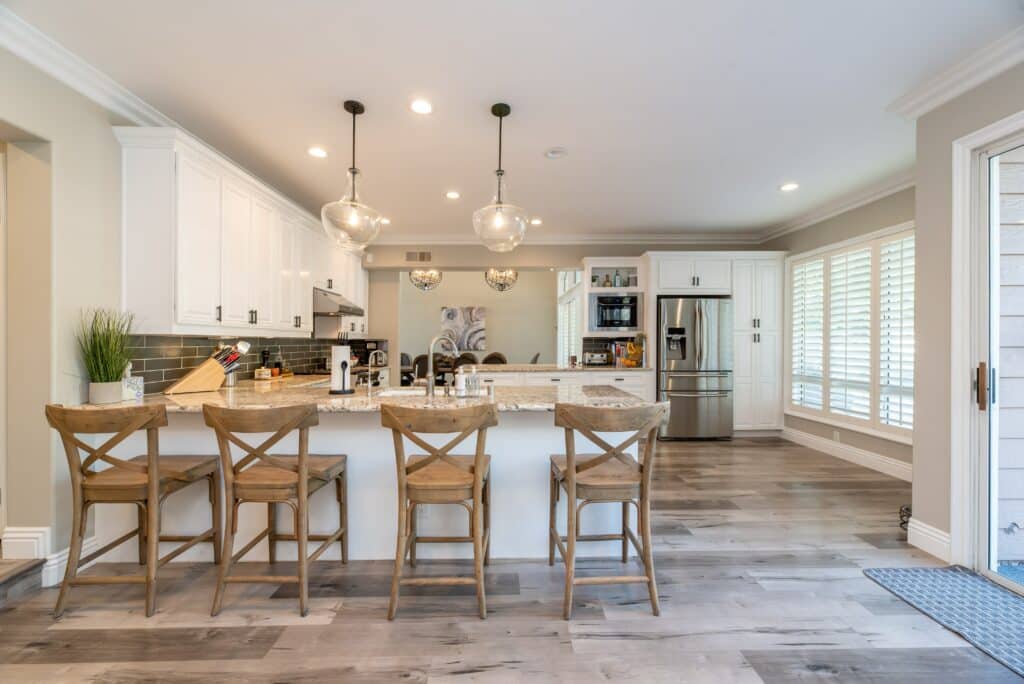 With the new year fast approaching, now is the perfect time to start researching and planning for 2021 kitchen renovation projects. It's always fun to explore design trends – especially when it comes to updating one of the most important rooms in your home. This article will take a deep dive into some of the luxury kitchen design trends we predict will be making waves in 2023.
From bold colours and statement-making finishes to modern materials, this article covers all you need to know about creating a luxurious space that reflects your unique style. Dive deeper with us as we navigate through exquisite details, the best appliances, lighting advice and more.
1. Scandinavian Design
If you're looking to bring a fresh, modern style to your kitchen, the Scandinavian design is a perfect choice. In this popular interior design, the movement that originated in the 1920s, minimalism and functionality are key. Utilising natural materials like wood and stone along with light hues and simple accents is essential for creating an aesthetically pleasing Scandi-style kitchen.
You can also implement clever storage solutions such as open shelving or floating cabinets to brighten up the space without compromising on style. Whether you prefer a sleek rustic look or a contemporary chic motif, with Scandinavian design principles you can create an elegant yet practical kitchen for every occasion,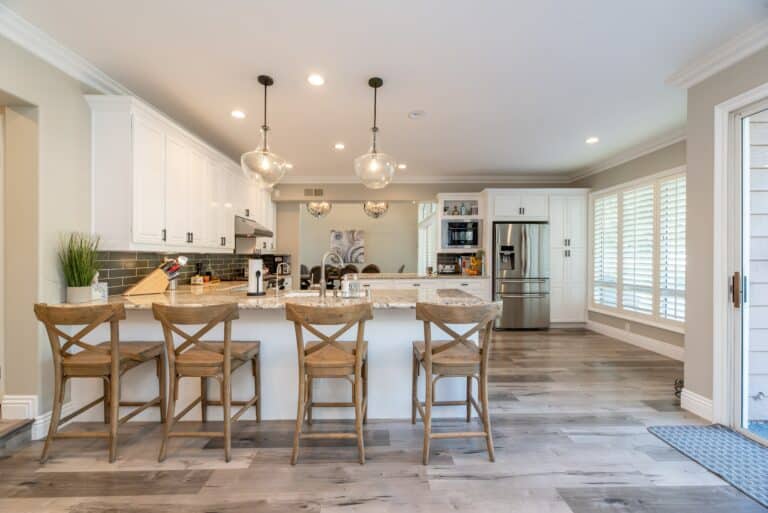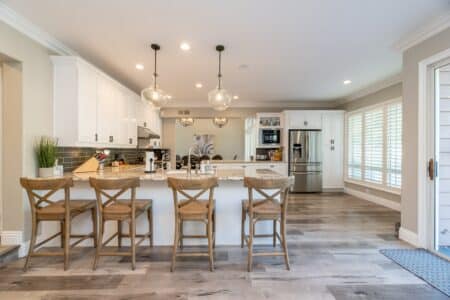 2. Minimalist Kitchen Design
Minimalist kitchen design is the perfect way to introduce modern style and sophistication into any home. The sleek and clean lines add a classic look without sacrificing functionality. By selecting cooler colours like whites and greys, light bounces off the surfaces and enhances the space while creating a calming ambience.
Incorporating texture with natural elements such as wood finishes, woven baskets, or glass in a grey kitchen can liven up a minimalist kitchen design while providing optimal storage solutions. Furthermore, utilising reflective surfaces throughout the space with mirrors or steel provides contrast against muted tones for an undeniably chic outcome.
3. The Open Plan Kitchen
An open plan is a great way to make the most out of small spaces and create a modern kitchen. By eliminating walls, you're allowing natural light in, making the room look bigger and brighter. You also gain a much larger living space when an oversized island or dining area is added into the mix.
This setup allows family and friends to converse easily while cooking or watching TV and gives ample space for entertaining. Open-plan kitchens offer convenience and practicality while unifying the style of your home in one connected area. With its many advantages, it's no wonder why this layout has become the standard in modern homes today.
View this post on Instagram
4. High-Contrast Colour Palette
High-contrast colours such as black and white, navy and deep grey, or even bolder hues like cherry red paired with crisp whites can make a luxury kitchen design statement. If you're feeling adventurous, add an accent wall of dark marble tiles or use shades of teal to bring out the best in light-coloured cabinets.
Alternatively, if you prefer a softer hue, try using pale shades of pink or light blues for a subtle yet stunning effect. Either way, the luxury kitchen design possibilities are endless with a high-contrast colour palette.
View this post on Instagram
5. Coloured Marble
Incorporating coloured marble into a kitchen can provide an amazing and luxurious look. Not only is it aesthetically pleasing, but it adds style and sophistication as well. Marble of different colors can add flair to a standard kitchen or support other design aspects like tile backsplashes, countertops, and flooring. The natural beauty of marble blends beautifully with many other materials like wood, metal, stone and ceramic. The added benefit is that marble is tough and durable for everyday use in the kitchen. With care, coloured marble can be enjoyed for years, helping to make your kitchen the envy of all who enter!
View this post on Instagram
6. Modular Countertops
Kitchen remodelling plans are incomplete without a plan for countertops, and modular countertops offer unparalleled versatility. With modular countertops, you can mix and match colour, material, texture and shape to create the perfect combination for your kitchen. No matter how complex or large the area that you need to cover, the modular design of these countertops makes installing them a breeze compared to other more traditional designs.
In addition to ease of integration and installation, modular countertops often come with warranties that provide long-term protection against defects in construction or materials. With such an impressive array of functional benefits as well as value-added service guarantees, opting for modular countertops when remodelling your kitchen is an excellent choice.
7. Architectural Lighting
The kitchen is an essential part of a home; it serves as the workspace and gathering spot for family meals. Architectural lighting brings out the beauty and functionality of a kitchen while creating an atmosphere. Adding layers of light allows you to set the mood depending on what type of activity is taking place.
View this post on Instagram
Whether it be prepping dinner under bright task lighting or enjoying a meal under warm, dimmed recessed lights, customising lighting in your kitchen fits both your lifestyle and aesthetic needs. With architectural lighting, you not only have more control over the way your kitchen looks but also how functional it is with luxurious features such as automatic switches. Illuminate your space with an element that allows for creative expression while also optimizing practicality - architectural lighting in kitchens!
8. Light-Coloured Wood
Light-coloured wood is a hot trend for kitchens, bringing in a cosy and calming atmosphere. From cabinets and countertops to floors and furniture, incorporating natural wood into kitchen spaces gives off an inviting yet sophisticated style that can easily be adapted to meet any personality or preference.
It expresses a modern spin on vintage craftsmanship while adding a simple touch of luxury. In addition, light-coloured wood helps make smaller kitchen spaces look significantly more open and airy. All in all, this trend provides the ideal solution to transform kitchens into stylish and inviting spaces – perfect for entertaining guests or simply winding down after a long day!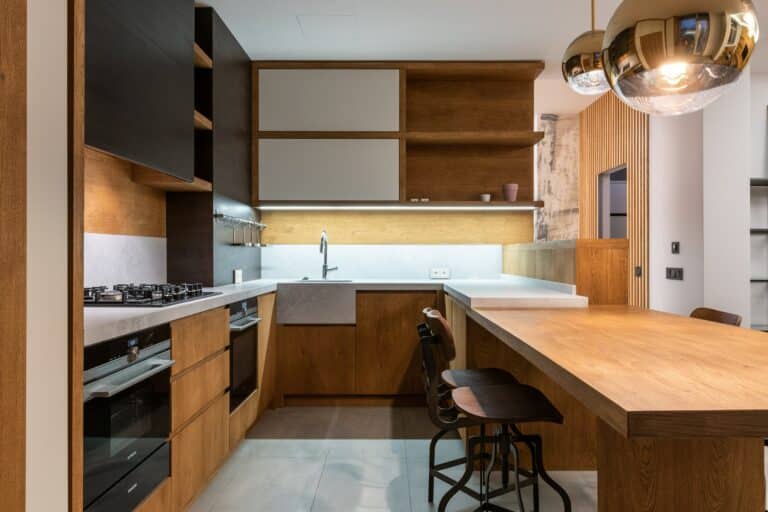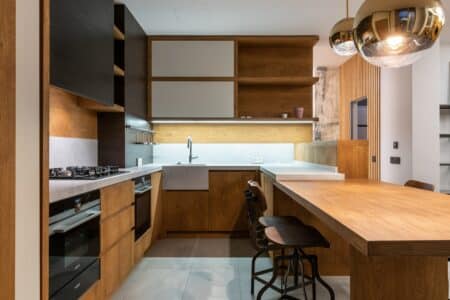 9. Smart Home Technology in the Kitchen
Smart home technology has revolutionized many parts of the home, but few spaces have seen as much of an impact as the kitchen. With modern technology, users can monitor and adjust their ovens from work or school, set timers from down the hall, and even purchase ingredients via a voice assistant.
This technology not only makes meal prep easier than ever before, but it also offers unparalleled convenience to those looking to expand their culinary capabilities. It is possible to save time and effort if you upgrade your kitchen with the right appliances. From being able to research recipes quickly online to receiving updates if there's an issue with your appliance, smart home technology firmly demonstrates its value in the kitchen every day.
10. Creative Kitchen Storage Solutions
Finding the right kitchen storage solution for your kitchen can make all the difference in efficient meal preparation. Fortunately, there are many creative options available to suit almost any budget or lifestyle. For those on a budget, options such as hanging wall organizers and wire baskets can provide extra space without breaking the bank.
View this post on Instagram
Overall cabinets and shelves are great ways to store dry food goods, pots and pans, dishes, and assorted cooking items. Another creative idea is to incorporate hooks into the walls or backsplash area of the kitchen. This allows you to hang dish towels, oven mitts, measuring cups and more in a visible location but with minimal effort. With a bit of thought and creativity, you will be able to find the perfect kitchen storage solution for your needs!
11. Bespoke Finishes for Cookware and Utensils
For any aspiring chef or household cook, their cookware and utensils are essential items - so why not make them as unique as possible? Thanks to the wonderful world of bespoke finishes, cooks can create the perfect look for their cookware set. Seemingly small details such as coloured handles or a patterned base can provide the finishing touch to fine cooking tools. For working professionals in the industry, bespoke finishes can also be used to add a unique flourish to commercial kitchen display ranges; allowing them to stand out from competitors. With so many finishing options available – from enamelling to silkscreening – bespoke finishes for your cookware and utensils could just be the secret ingredient you need to take your cooking game up a notch!

12. Brushed Gold Hardware
Brushed gold hardware is a popular way to make a kitchen stand out. Replacing traditional appliances, taps, and cabinet handles with gold taps or other equivalents, it's a small change that can bring a big impact on a kitchen's style and sophistication. From gold taps for the sink to gold cabinet handles, brushed gold hardware instantly updates the look of any kitchen. Gold-coloured appliances are also available for further accents and contrast to add even more class and elegance. Whether subtle or bold, brushed gold hardware is an easy and fashionable way to upgrade your kitchen in a flash.
Conclusion
Kitchen design trends of 2023 certainly embrace a luxurious aesthetic. With evolving technology, varying materials, and diverse décor choices – there is something out there to suit any style preference. From statement wallpapers and wall tiles to the finest kitchen appliances, now is the time to explore adding a touch of luxury to your own kitchen.
Stunning countertops, cabinets and islands are a great way to add value to your home while providing you with a more enjoyable experience in the kitchen. Keep up with the latest trends in luxury kitchen design so that you can create a space you'll love for years to come.
Finally, although details may vary from place to place, we can all get inspired by the luxury kitchen designs of 2023 and be poised for beautiful creations filled with luxurious features displayed in an elegant ambience.
Our boiling water taps come in a huge range of luxury finishes - from gold to matt black. Find out more about how a boiling water tap works.
Related Articles from the same category: