8 Stunning Kitchen Cupboard Colour Combinations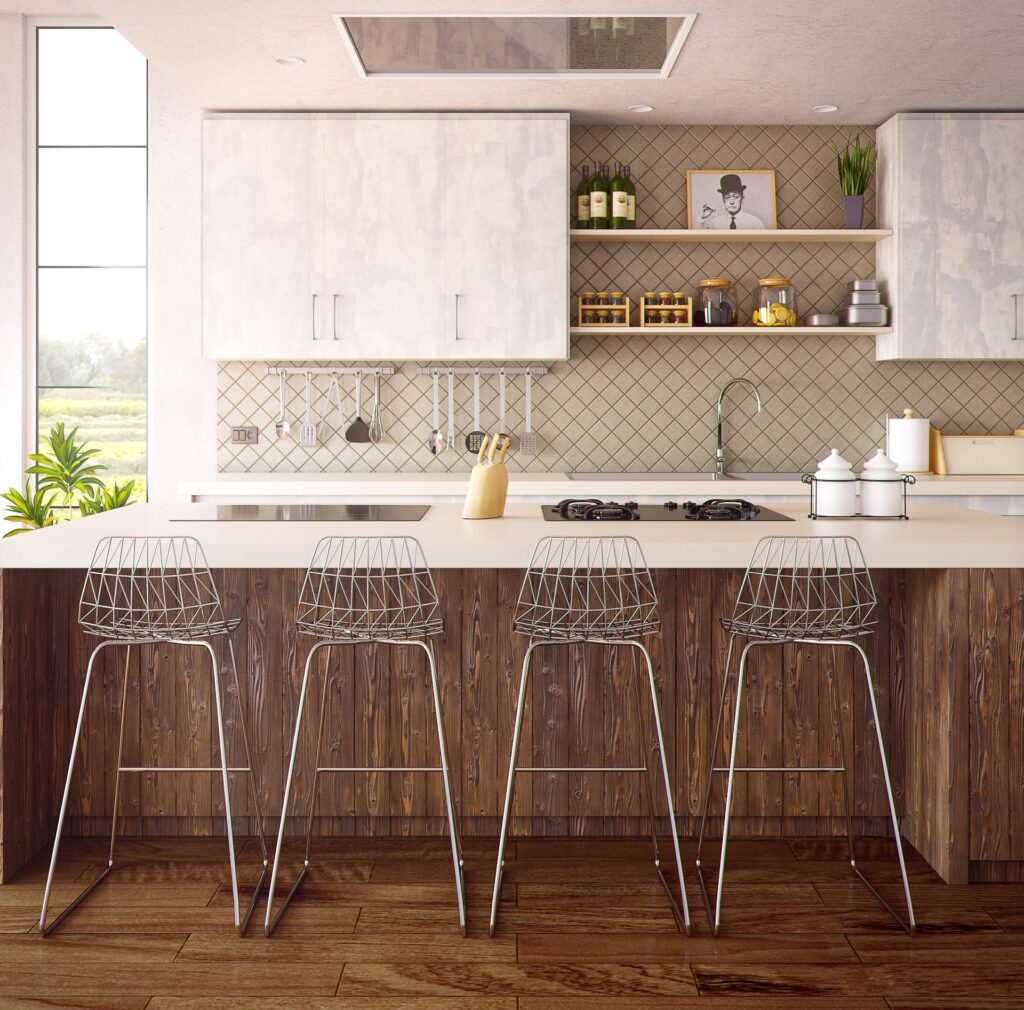 If you're considering a kitchen renovation, you may be wondering what colour to paint your kitchen cupboards. There are many stunning combinations to choose from, and it can be hard to decide which one is right for you. In this post, we'll take a look at eight of the most popular options.
1. Opt for blush pink kitchen cupboards
View this post on Instagram
In today's modern kitchens, there is an increasing focus on function as well as style. Gone are the days of cramped, dark spaces that simply exist to support other areas of the home. With so many living spaces now extending into the kitchen, it is more important than ever to create a beautiful and functional cooking space.
One way to do this is by opting for blush pink kitchen cupboards. These cabinets lend a soft, delicate touch to any kitchen, creating a soothing atmosphere while also providing plenty of storage and workspace.
2. Choose a tried and true classic with dark navy cabinets
View this post on Instagram
Dark navy is a tried-and-true colour in kitchens across the country, thanks to its dramatic appearance and ability to complement a spectrum of colour schemes. Popular pairings for navy worktops include cream worktops, gold cabinet handles and accents, and even patterned tiles.
3. Amp up the drama with black kitchen cupboards
View this post on Instagram
With its sleek, sophisticated look and moody aesthetic, a black kitchen is a perfect way to create an eye-catching, dramatic space. Whether you're going for a modern aesthetic with clean lines and minimal adornments, or you prefer the homey appeal of farmhouse style, a black kitchen is sure to be the focal point of your home.
4. Create an elegant look with blue-green kitchen cabinets
View this post on Instagram
When it comes to designing a beautiful and functional kitchen space, there are many important factors to consider. You'll need pieces that are both functional and stylish, such as high-quality appliances, spacious storage solutions, and comfortable seating. But perhaps one of the most impactful design elements you can choose is your cabinets. A flourish of blue-green kitchen cabinets can add instant elegance to any kitchen. Not only do these versatile cabinets have a beautiful colour that complements almost any decor style, but they also help to heighten visual appeal while providing needed storage space.
5. Go for a lighter shade with sage green kitchen cupboards
View this post on Instagram
For most people, their choice of cabinet colour is one of the first decisions they make when renovating a kitchen. While a traditional kitchen might have dark wood or black cabinets, a more modern approach might involve using lighter shades like sage green or light blue.
Not only do these colours create a fresh and airy aesthetic in the kitchen, but they can also help make small spaces feel bigger and more open. Whether you're renovating an old kitchen or starting from scratch with new construction, choosing a light shade for your kitchen cupboards is an excellent way to make a big impact.
6. Paint cabinets mint green for a light and airy look
View this post on Instagram
One of the simplest and most effective ways to breathe new life into an old kitchen is to paint the cabinets a bright and refreshing mint green colour. This light and airy shade will instantly make your kitchen feel more open and airy, while also elevating your décor with a fun pop of colour.
Additionally, if you aren't quite ready to fully commit to painting all of your cabinets green, simply paint the ones that are most visible to get that same refreshed feeling without going overboard. So next time you're looking for a simple way to spruce up your kitchen, be sure to consider painting your cabinets mint green – it's an easy yet impactful way to achieve a stylish and inviting space.
7. Combine white and wood in your kitchen
View this post on Instagram
When it comes to designing a kitchen, there are endless possibilities for creating a space that perfectly suits your needs and tastes. Whether you prefer traditional styles with lots of ornate detailing or something more sleek and modern, there is no wrong answer when it comes to kitchen design. One trend that continues to gain popularity is the use of white and wood in kitchen spaces. These two contrasting colours can be arranged in a variety of ways to create an eye-catching and stylish look.
8. Pick dark grey cabinets for a contemporary look
View this post on Instagram
When it comes to choosing kitchen cabinets, there are a lot of different factors to keep in mind. You need to think about the overall style and aesthetic of your kitchen, as well as the colour and material of the cabinets themselves. For a contemporary look, many people opt for dark grey cabinets. This versatile colour can fit easily into several different design schemes, making it a great choice for almost any kitchen.
Additionally, dark grey is easy to match with other materials in your kitchen - whether that's stainless steel appliances or marble countertops. So if you're looking for sleek and modern cabinets that will stand the test of time, then you should consider going with dark grey. With its clean lines and sophisticated vibe, this timeless shade is sure to impress all your guests!
FAQs
What paint and primer should you use on kitchen cabinets?
When it comes to painting kitchen cabinets, there are a few things to consider. First of all, you will need to choose the right type of paint and primer. While many people think that standard paint will be adequate for this task, you may want to opt for specialised kitchen cabinet paint instead. This will help to ensure a smooth and durable finish that is specifically designed for more humid conditions, such as those found in kitchens.
Furthermore, if your cabinets have any existing stains or damage, you should consider using a special cabinet primer in addition to your kitchen cabinet paint. By choosing the right painting supplies and taking the time to apply them properly, you can give your kitchen cabinets a gorgeous new look while also protecting them from wear and tear over time.
Which cabinet colours are popular in 2022?
When considering what colours to paint a kitchen or bathroom cabinet, most people tend to default to neutral tones like beige, grey, or white. And while these colours certainly have their place in modern design, they are by no means the only options available. Designers predict that more and more homeowners will be turning to bolder choices in the coming years.
Rich jewel tones like red or blue are often considered too bold for major pieces like cabinets or floors, but these bright hues can be quite luxurious and elegant when used sparingly in small amounts. Others may prefer more understated shades like forest green and royal purple, which both offer a touch of elegance without feeling too flashy or dramatic. Whatever your tastes may be, there is sure to be a cabinet colour that's perfectly suited for your home and style in 2022 and beyond.
Which kitchen cabinet colours are best for a small kitchen?
If you're working with a small kitchen space, designing your ideal kitchen can be challenging. One important consideration is which colours to use for your kitchen cabinets – different colours can make a big difference in terms of both visual appeal and functionality.
For a small kitchen, it's generally best to choose light or neutral colours for the cabinets. Light colours help to keep the space feeling open and airy, whereas darker colours can create an oppressive feel that makes the space feel cramped. White or cream-coloured cabinetry is particularly well suited for small kitchens, as it allows you to incorporate subtle pops of colour through artwork or accessories while maintaining a bright and comfortable feel overall.
If you want something with more visual impact, other neutrals like grey or beige can also work well in smaller spaces by providing symmetry and making the room feel larger. Ultimately, it all comes down to finding the right balance between style and functionality.
Conclusion
So, if you're looking to give your kitchen a makeover, consider one of these eight stunning kitchen cupboard colours. With such a wide range of possibilities, there's sure to be something that will suit your taste – and your home. Which combination are you going to choose for your kitchen?
Our boiling water taps come in a plethora of styles and finishes to suit any kitchen colour palette. From black to gold, copper to chrome, our innovative taps are designed to suit any contemporary interior. Alternatively, tuck into more of our designer's guides:
Related Articles from the same category: