Sink Dilemma: Choosing the Perfect Material for Your Kitchen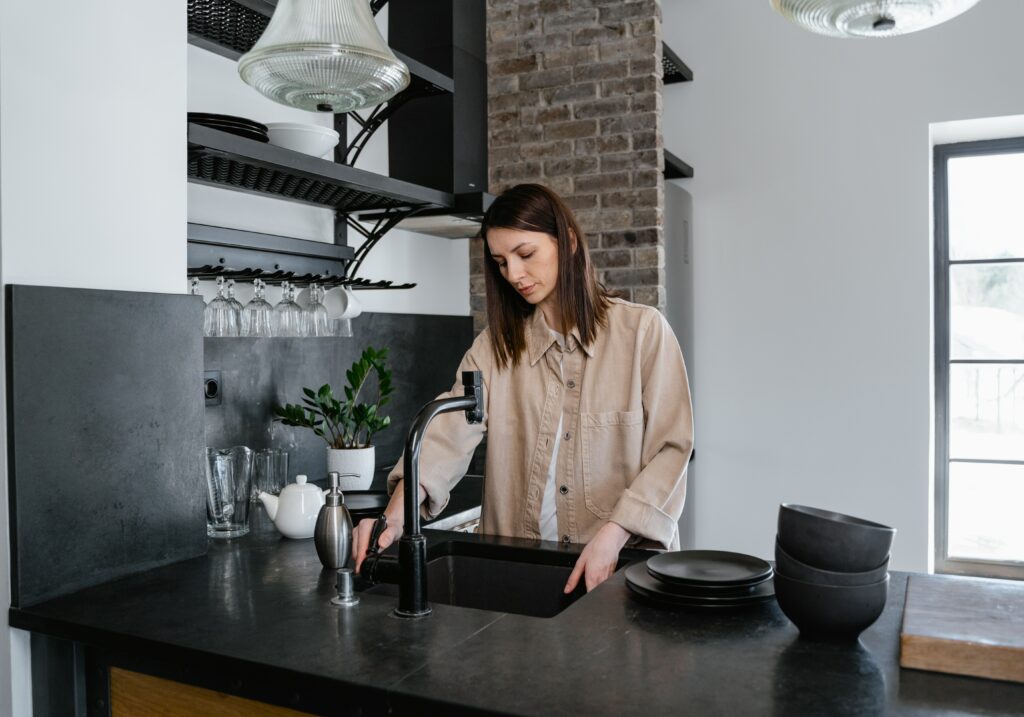 If you are thinking of remodelling your kitchen and looking for the perfect sink material to match the rest of your décor, you have come to the right place. With many different materials available today, deciding which suits your taste and budget cannot be easy.
We are here to make this decision easier by giving you a rundown on each material's pros and cons, including stainless steel, composite granite, solid surface, fireclay ceramic and cast iron sinks. So if you are ready to decide to add a new sink feature in your kitchen, read on!
Factors to Consider
There are various factors to consider when selecting the perfect kitchen sink. Different materials can provide different benefits; stainless steel is resistant to staining and cracking, while copper can help enhance bacteria-fighting properties. On the other hand, ceramic is incredibly durable and can cope with the high temperatures of a busy kitchen.
Other factors to consider are size, shape, space and even your budget. Depending on the size of your kitchen, you may want to opt for an under-mount sink rather than an inset sink as it provides more countertop space. On the other hand, if you are on a budget, it's best to opt for the cheaper stainless steel or composite granite sinks.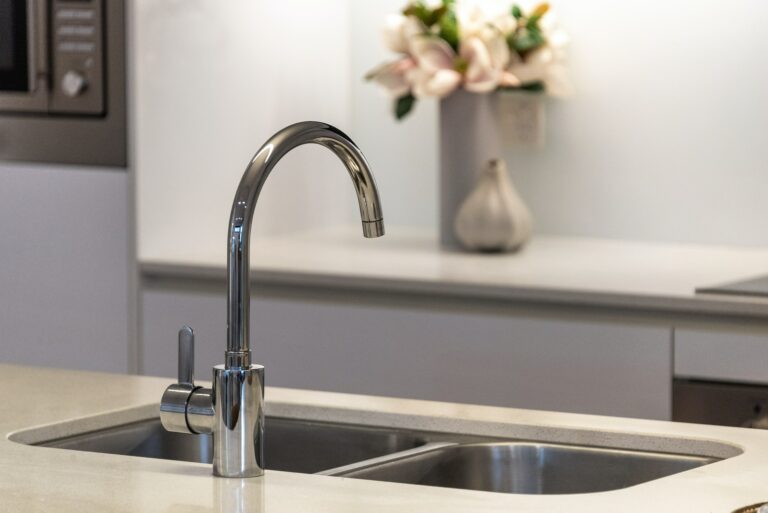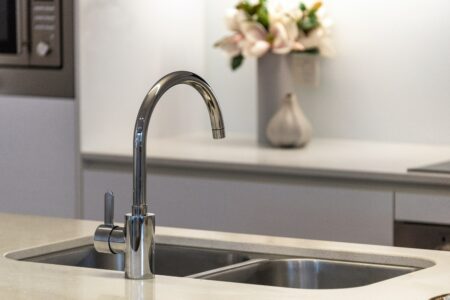 The overall style of your kitchen should be considered, too; if you want a modern look, a glossy acrylic sink might fit in nicely with the decor, whilst a traditional space could aptly accommodate something like cast iron or stone. Regardless of your tastes, with careful selection, it is possible to find a kitchen sink that meets all of your needs.
Durability and Maintenance
Finding the perfect kitchen sink can be daunting, but the most critical factors are durability and maintenance. Regarding typical kitchen use, some materials stand up better than others; stainless steel is a popular choice for its robustness and resistance to wear and tear. Copper is also very durable and known for its antibacterial properties, plus it adds a distinctive look to your kitchen space. Porcelain is classic and usually easy to find. However, porcelain needs more repairs over time because of its less resilient material.
The best material for your kitchen sink ultimately depends on personal preference, but maintenance is also important. Cleaning and upkeep are the most important aspects of keeping a sink in good condition; stainless steel and porcelain, in particular, require regular cleaning to keep them looking their best. Composite granite sinks offer exceptional durability and low-maintenance cleaning.
Aesthetics and Style
When choosing the perfect material for your kitchen sink, aesthetics and style are just as important as practical matters. While porcelain, stainless steel and granite are all excellent choices and offer plenty of durabilities, the colours, shapes and textures available can make for a unique design statement or tie into the existing decor of your kitchen. If you are looking for something different, composite stone materials are gaining popularity due to their ability to mimic natural stone while offering stronger scratch and heat resistance.
For those with a more contemporary setup, acrylic sinks come in various colours and can withstand everyday wear and tear without becoming dull or discoloured. Whatever sink you choose, careful consideration of how it will fit in your kitchen's design should be taken into account, along with its ability to meet your daily needs.
Eco-Friendliness
When choosing the perfect material for your kitchen sink, eco-friendliness should be an essential consideration. Not only will you want a reliable and durable material that is long-lasting and aesthetically pleasing, but also one that explores environmental issues and considers its effect on air, water, soil and waste disposal. By considering the environment when selecting the right material for your sink, you can offset some of the inherent energy use of materials during manufacture and in its entire life cycle, helping protect natural resources while also cutting costs in the long run.
Eco-friendly materials range from recycled stainless steel and porcelain to bamboo or plant-based composite sinks. All these materials offer an optimal balance between durability and reduced energy consumption over their lifecycle. You will have plenty to choose from if you keep eco-friendliness in mind when finding the perfect kitchen sink for your home and lifestyle!
Cost
When selecting the perfect material for your new kitchen sink, cost should be a factor in your decision. Depending on your chosen material, prices range wildly, from budget-friendly options like stainless steel and acrylic to luxury materials like copper or fireclay. While it may be tempting to jump at a bargain price, many times, this can lead to disappointment down the road when a cheaper material starts showing signs of wear and tear due to frequent use.
To ensure that you get the best value for your money, determine how often you will use the sink and how much wear it will accumulate over time before committing to any material. This way, you can rest assured that whatever material you choose is beautiful and can stand up against your kitchen's demands successfully.
Stainless Steel
When deciding on the best material for a modern kitchen sink, stainless steel is an excellent choice.
Pros
Stainless steel is quickly becoming the go-to option for modern kitchen sinks. There are some definite pros to using this type of sink material. Stainless steel is straightforward to clean and maintain, as it resists corrosion and staining. It is extremely durable and stands up well against everyday wear and tear. Plus, stainless steel is highly affordable compared to other sink materials, making it an excellent choice for anyone on a budget who also wants a stylish kitchen sink.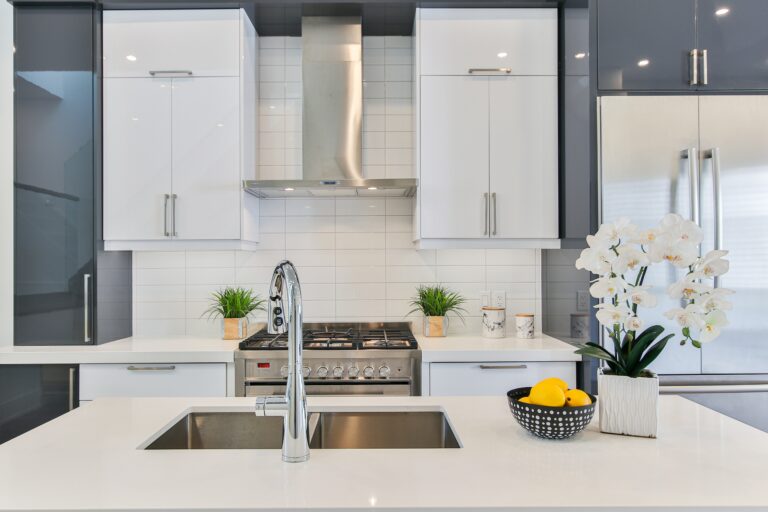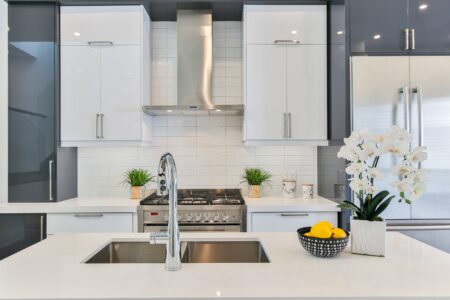 Cons
Installing a stainless steel kitchen sink can be quite appealing due to its sleek, modern look, but in many cases, this material comes with more drawbacks than benefits. As a relatively soft metal, stainless steel will scratch and dent pretty easily and often shows water stains and smudges over time that are very difficult to remove. Keeping the sink free of bacteria and mould can also be problematic, as traditional cleaning products will damage the finish. Finally, when exposed to acidic food or harsh cleaners, stainless steel can rust. Using stainless steel for your kitchen sink requires careful maintenance to keep it looking beautiful and lasting long-term.
Cast Iron
You do not want to make a mistake when choosing the perfect material for your kitchen sink. That is why cast iron is such an ideal choice - not only is it incredibly durable, but it is also easy to clean and aesthetically pleasing.
Pros
Cast iron sinks require extra care and maintenance, but their rust and chip-resistant construction makes them worthwhile. They are resistant to most temperatures, too, which is why they are often used as one of the most popular materials for kitchen sinks. With proper care and maintenance, a cast iron sink can offer years of reliable use that can withstand wear and tear in your busy kitchen.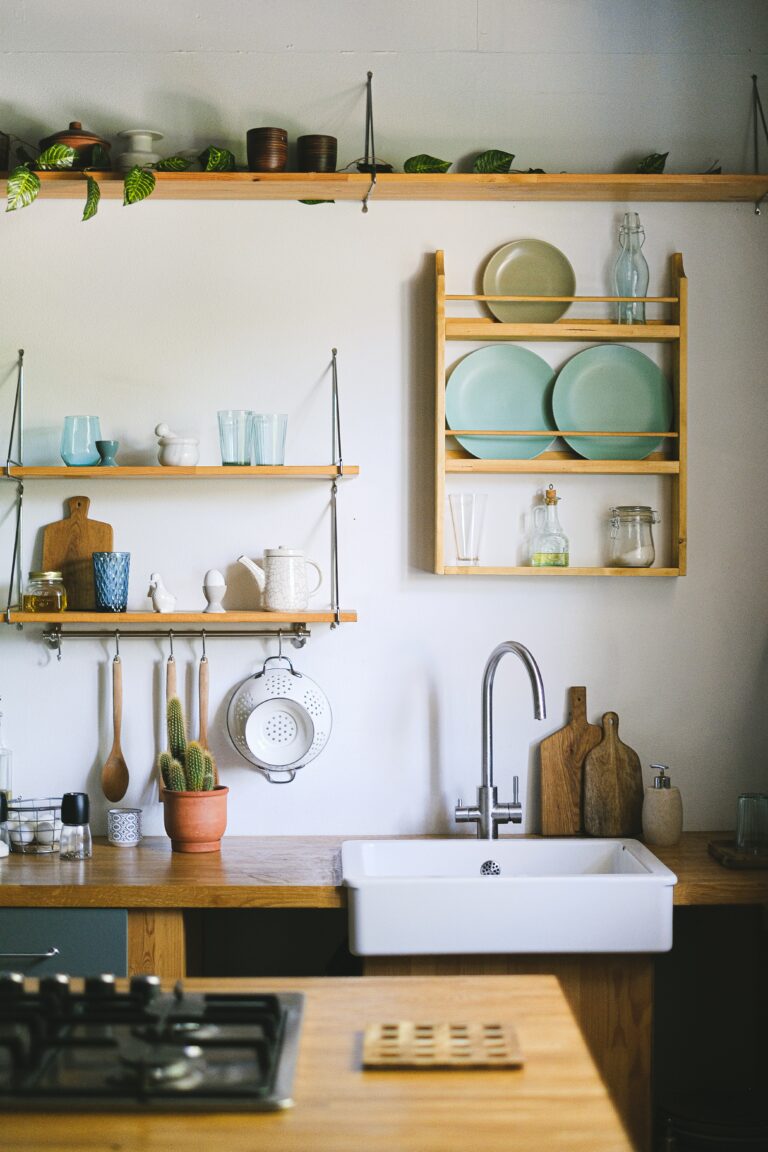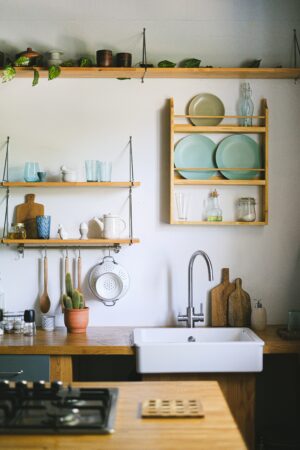 Cons
Although cast iron can create a beautiful feature in the kitchen, there are some definite drawbacks to consider when installing a cast iron sink. It is relatively heavy so it may require extra bracing support in your cabinets and countertops. These sinks are also more expensive than most alternatives and are hard to repair if any damage does occur. In addition, these materials need regular care and maintenance to prevent rusting and unsightly staining. Finally, finding a model that perfectly matches your style can be challenging since designs can be more limited compared to other materials.
Ceramic
When it comes to a kitchen sink, ceramic is often the ideal material.
Pros
With its white, glossy finish that resists bacteria growth and its hardy, chip-resistant surface, ceramic can last for years without showing signs of wear - making it an excellent option for those looking to make their kitchen more appealing while ensuring they have something that will stand up to everyday use. Additionally, ceramic is easy to clean and provides a timeless look that remains in style year after year.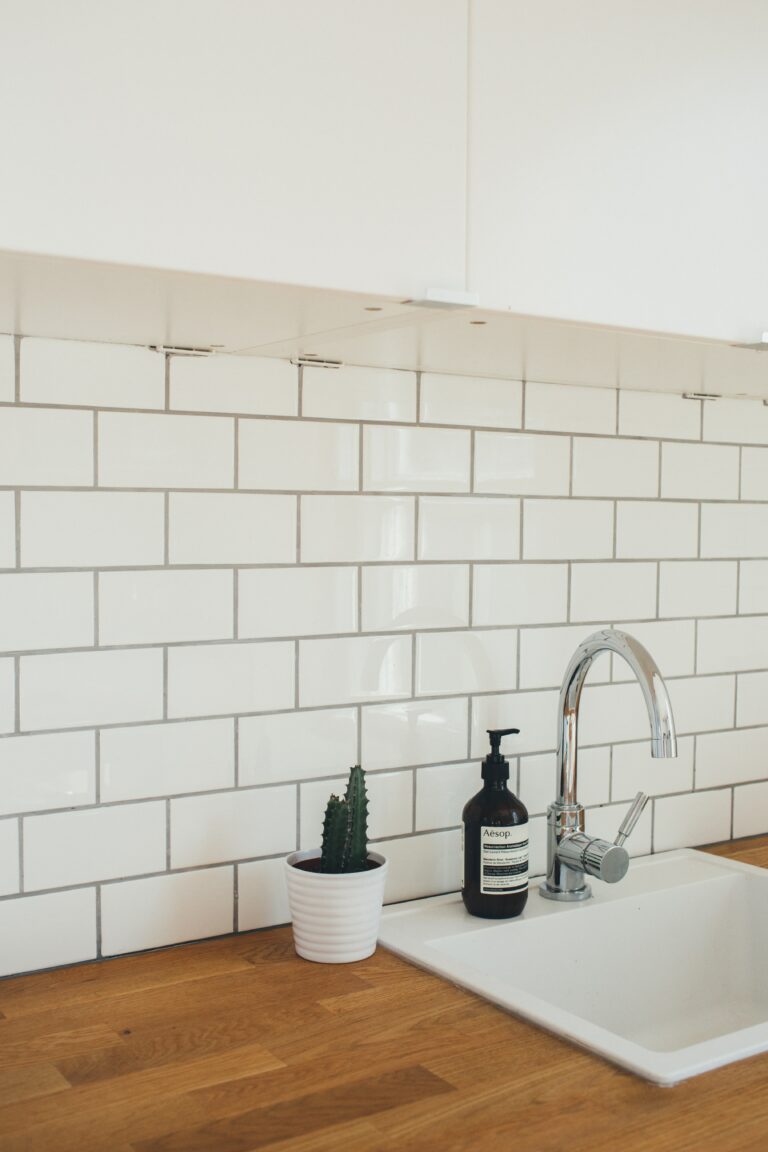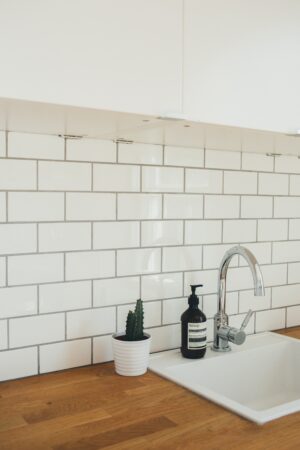 Cons
Ceramic kitchen sinks can be quite noisy when dishes are placed in the sink or water is running - after all, ceramic does not absorb sound as some other materials do. Ceramics can also crack and chip easily if you are not careful with what utensils or dishware you place inside.
Granite Composite
If you are looking for durability and chic style in your kitchen sink material, consider granite composite.
Pros
The benefits of granite composite sinks are many. For one, they don't absorb bacteria or odours, making them an ideal choice for those who live in busy homes. Granite composite also resists stains better than other materials, which makes clean-up easier and faster. This also makes them a good choice if you're looking for a long-lasting quality sink. What's more, granite composite is almost indestructible and won't chip, dent or scratch over time.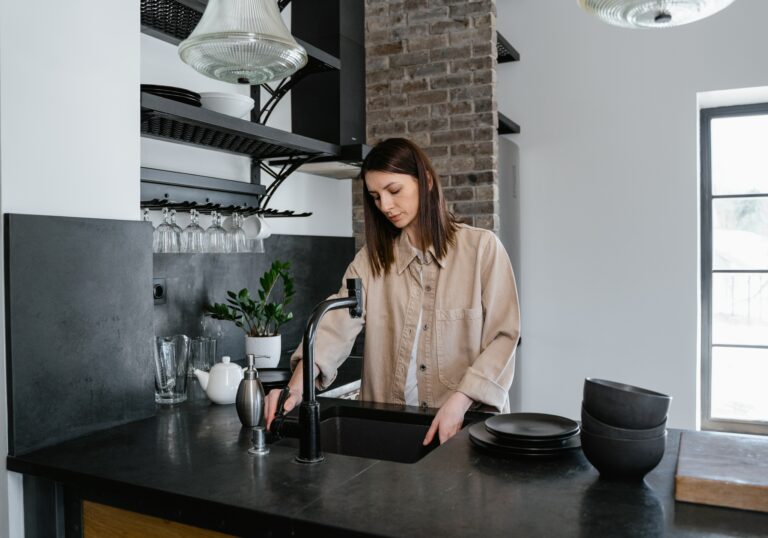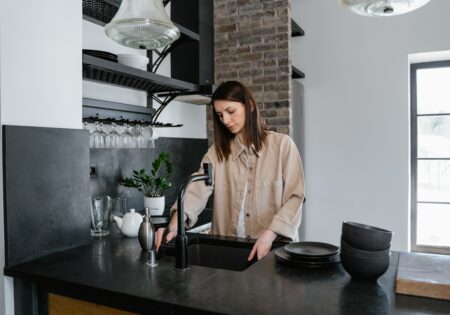 Cons
Although granite composite looks sleek and modern, using it for a kitchen sink may not be the best option. Granite composite is incredibly heavy, which can cause a strain on your countertops or cabinetry over time if it's not adequately secured.  Additionally, granite composite sinks can be more expensive than other materials, and they need to be resealed regularly.
Copper
Since antiquity, copper has been used in kitchens and bathrooms, making it a classic material that is unlikely to fall out of style any time soon.
Pros
Copper sinks are naturally hygienic and bacteria-resistant, making them perfect for busy kitchens. Copper is also a soft material that won't chip or crack when dishes and utensils are placed in the sink. Plus, copper adds an elegant touch to any kitchen with its beautiful shiny finish that will patina over time for an eye-catching, vintage look.
Cons
Copper is a soft metal that easily scratches and discolours with general wear and tear. To counteract this, regular wax or mineral oil coatings must be applied to help maintain the patina finish and ultimately protect the copper from further damage. Moreover, copper is expensive compared to other sink materials like stainless steel, so you may want to weigh your options before investing in a copper sink.
Conclusion
When selecting a kitchen sink material, it's essential to consider the pros and cons of each one. Granite composite can offer exceptional heat, stain and water resistance but is expensive and difficult to repair. Copper offers beauty and durability; however, it is soft and will require regular maintenance to keep it looking its best. Ultimately, your choice of sink material will depend on the style and budget of your kitchen project.
Our boiling water taps are the ideal upgrade for a new kitchen sink, saving you time at home every single day. Find out more about how a boiling water tap works.
Related Articles from the same category: