Which Boiling Water Tap Should I Choose? (Costs, Features & More)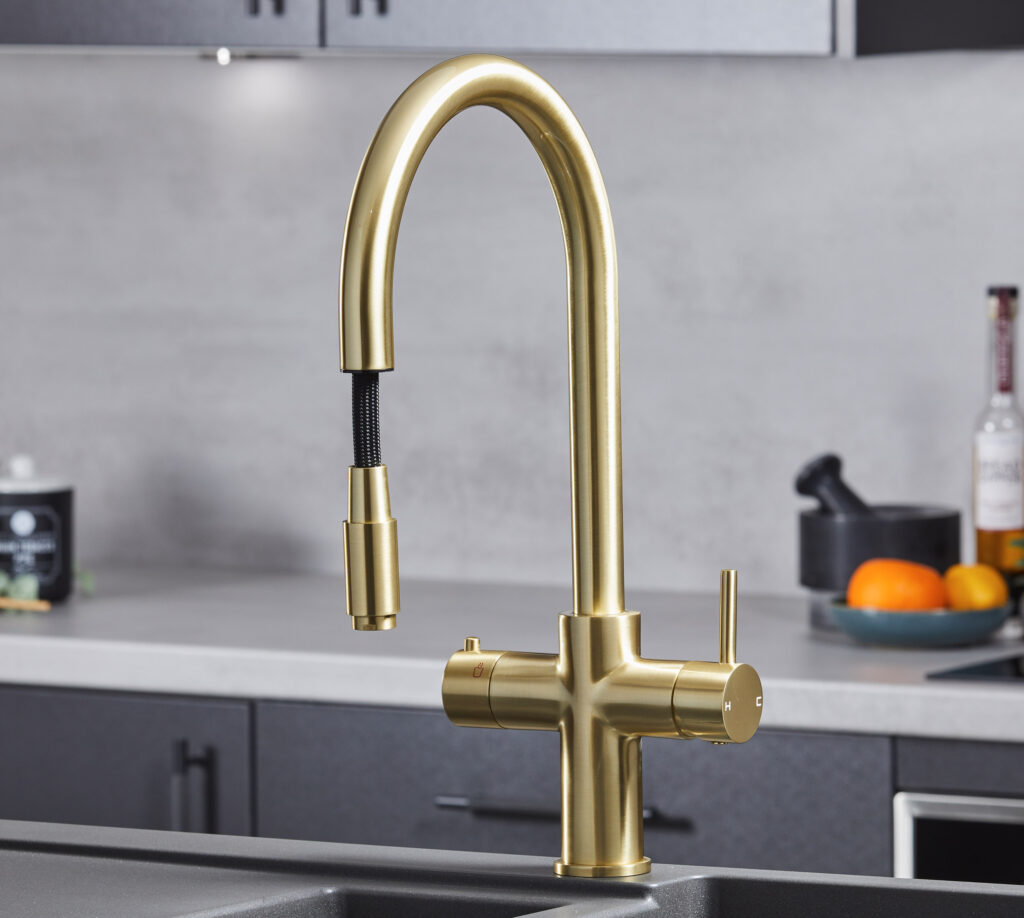 Boiling water taps are swiftly becoming the latest must-have gadget in contemporary kitchens across the UK. With their promise of instant hot water, they offer a blend of practicality and style that's hard to resist. The market is bursting at the seams with a plethora of options, each with its unique features and aesthetics, making the choice simultaneously exciting and daunting.
Just look at the number of people searching 'boiling water tap' on Google and you can quickly see their explosion in popularity:


In this blog post, we'll navigate together through this maze of boiling water taps. We'll delve into popular models, their distinctive features, safety aspects, and durability considerations. Together, we'll turn the complex task of choosing the right boiling water tap into an enjoyable exploration.
The Benefits of a Boiling Water Tap
There's a reason boiling water taps (also called hot water taps) have rapidly become the must-have appliance in the UK kitchen. Boiling water taps bring a myriad of benefits to your kitchen, including:
Convenience: With just a simple twist or push, these taps deliver steaming hot water instantly, eradicating the wait time associated with traditional kettles.
Efficiency: They only heat the exact amount of water you need, reducing energy consumption and hence, are more eco-friendly.
Space-saving: By eliminating the need for a kettle, you have more worktop space for your culinary activities.
Safety: Taps often include safety features such as child locks and cool-to-touch technology, reducing the risk of accidental burns.
Style: Available in a range of designs and finishes, boiling water taps add a touch of elegance to any kitchen, complementing your modern appliances.
Versatility: Besides providing boiling water, some models offer additional features like delivering filtered and chilled water, making them a 3-in-1 or 4-in-1 solution.
In the sections that follow, we'll delve deeper into the types of boiling water taps available, helping you choose the perfect fit for your kitchen.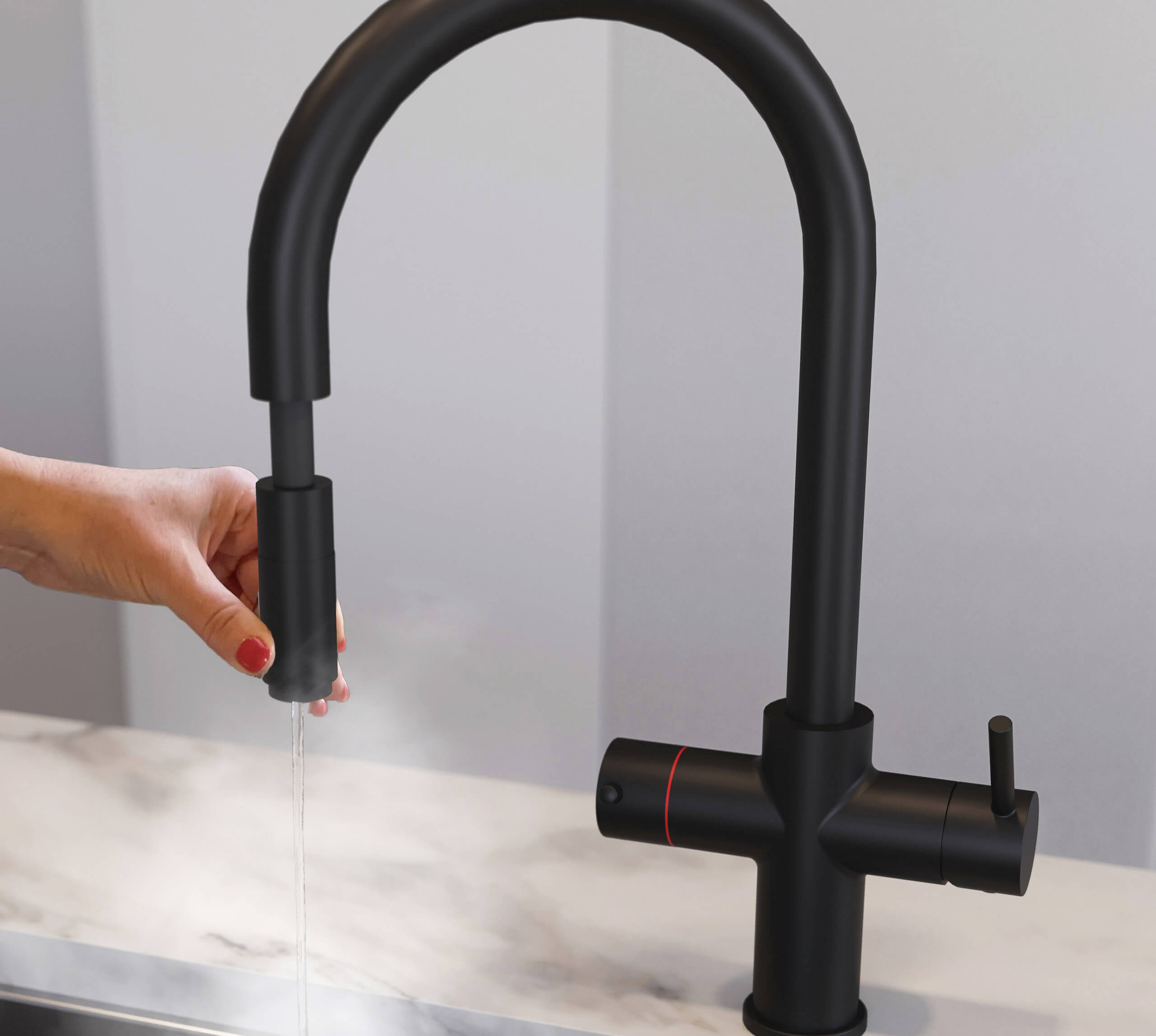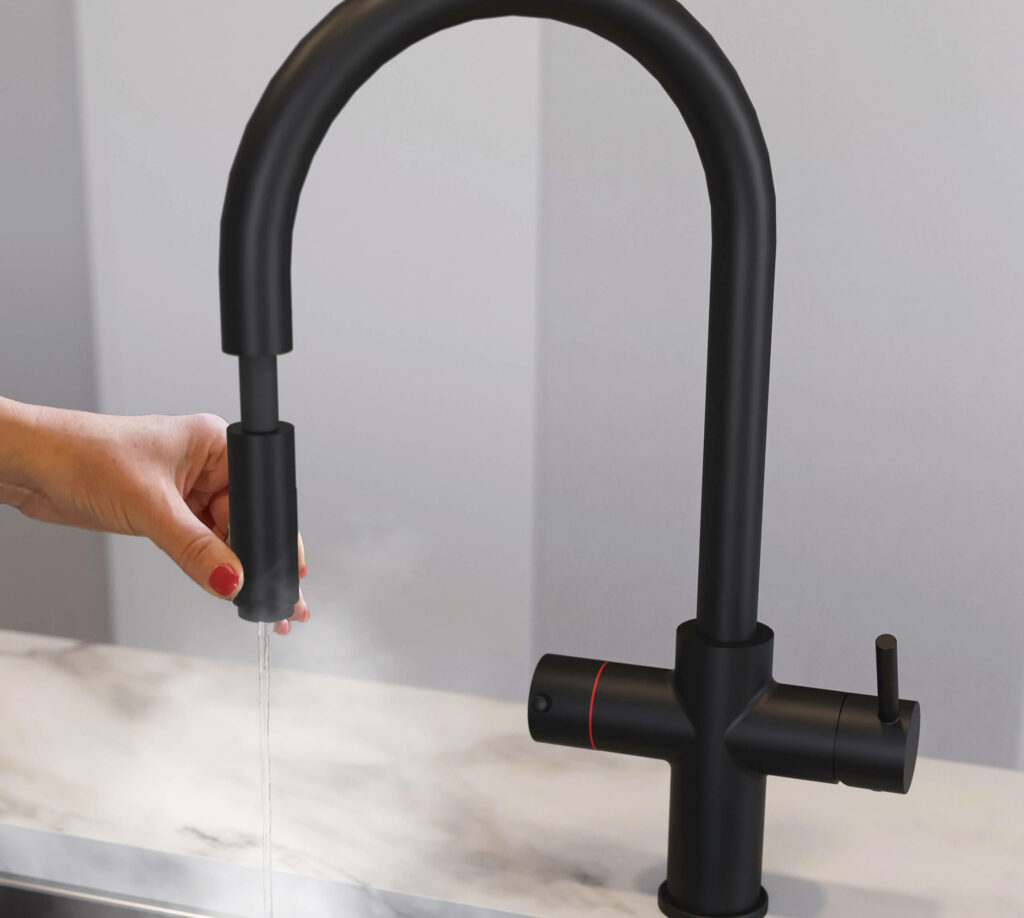 Different Types of Boiling Water Taps
Boiling water taps come in three main types: boiling-only, 3-in-1, and 4-in-1 taps. Each has unique functionalities designed to cater to different needs and preferences.
Boiling-Only Taps: As the name suggests, these taps deliver only boiling water. They're a great choice if you primarily require hot water for beverages or cooking and already have separate taps for cold and regular hot water. Boiling-only taps are generally the most affordable of the lot, however, you still require a regular mixer tap, which can make them impractical - particularly in smaller kitchens.
3-in-1 Taps: These taps offer a step up in functionality. A 3-in-1 tap delivers cold, hot, and boiling water from a single spout, eliminating the need for separate taps. This multifunctionality makes it a perfect all-rounder for your kitchen, saving you space and reducing clutter. Shop the Avista 3-in-1.
4-in-1 Taps: The most versatile option is the 4-in-1 tap, which provides cold, hot, boiling, and chilled filtered water. The added benefit of filtered water makes these taps perfect for homes where water quality or taste is a concern. This feature ensures you have pure, great-tasting water for drinking, cooking, or making beverages, directly from your tap. Shop the Quantum 4-in-1.
Each type of tap comes with its own pros and cons, and the best choice often depends on your specific needs, preferences, and budget. In the next section, we will explore the various style options available for your boiling water tap.
Styling Options for Your Boiling Water Tap
Choosing the perfect boiling water tap is not just about functionality, it's also about aesthetics. After all, your tap will be a focal point in your kitchen, so it's essential that it complements your kitchen's style and décor. Boiling water taps are available in a variety of finishes and shapes to suit any kitchen design:
Finishes: The finish of your tap can dramatically affect the overall look of your kitchen. You can choose from a wide range of finishes such as brushed nickel for a sleek, modern look, matt black for a high-impact, ultra-modern look, or brushed gold for a touch of luxury. Each finish comes with its own set of benefits; for instance, chrome is known for its durability and easy maintenance, while brushed gold adds a luxe touch to your kitchen.
Shapes: Boiling water taps come in a plethora of shapes from curved spouts for a soft, timeless look to square spouts for a sharper, contemporary style. Some taps also come with a pull-out spray head, making it easier to rinse dishes and fill pots.
Remember, when choosing the style of your boiling water tap, consider not only your kitchen's current design but also any future renovation plans. You want the tap to continue to fit in even if you decide to change up your kitchen décor. In the next section, we are going to discuss how to care for your boiling water tap to ensure its longevity and optimal performance.
Caring for Your Boiling Water Tap
Taking care of your boiling water tap goes a long way in preserving its quality, longevity, and performance. Regular maintenance doesn't have to be a daunting task, and here are a few simple steps you can take:
Regular Cleaning: Clean your tap regularly to prevent build-up of limescale and bacteria. A mild, non-abrasive cleaning solution and a soft cloth will do the trick. Remember to never use harsh chemicals or abrasive sponges to avoid damaging the tap's finish.
Filter Replacement: If your tap has a filter to provide purified water, remember to replace it periodically as per the manufacturer's instructions. This will ensure you always have clean, great-tasting water.
Prompt Repairs: In case of any malfunction or leak, call a professional to fix the issue promptly. Neglecting minor problems can escalate to serious issues or even damage your tap.
Winter Care: In colder months, to avoid any freezing issues, you might need to insulate your tap or follow specific care instructions provided by the manufacturer.
By following these simple tips, you can ensure that your boiling water tap remains a valuable asset in your kitchen for years to come. Find out more about maintaining your boiling water tap here.
In the final section, we'll discuss some of the top boiling water taps available in the UK market today.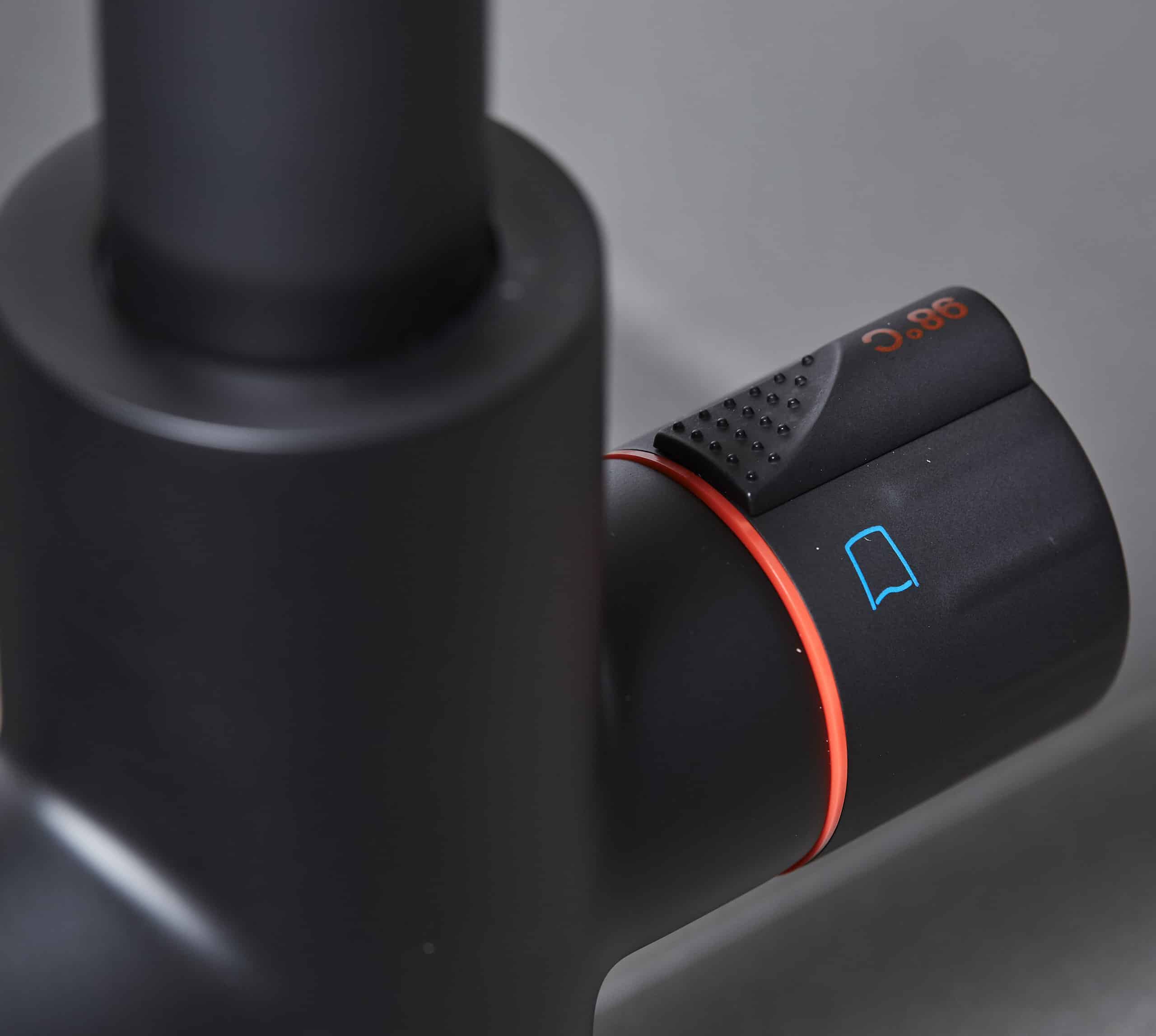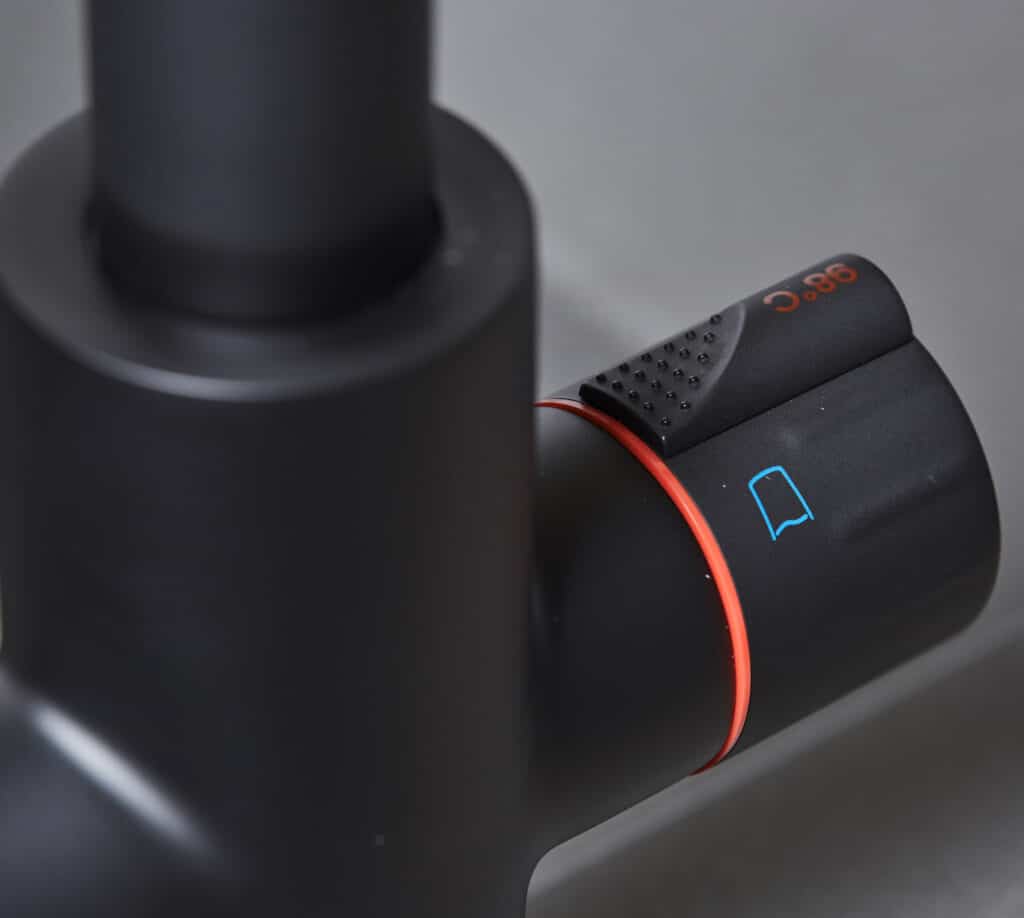 Prioritising Safety with Boiling Water Taps
While convenience and style are paramount when choosing your boiling water tap, safety should always be at the forefront of your decision-making process. Manufacturers like ourselves are aware of the potential risks and have incorporated various safety features into our designs:
Child-Safe Locks: This feature ensures that boiling water can't be dispensed accidentally or by curious children. The locking mechanism is usually activated by a push-and-turn motion or even a touch-sensitive sequence, which can be complex for a child to operate.
Cool-to-Touch Technology: To prevent accidental burns, many taps are designed so that they remain cool to the touch, even when dispensing boiling water. This feature is particularly useful if you have young children or elderly family members who are more susceptible to burns.
Automatic Shut-off: Some models have an automatic shut-off feature that stops the flow of boiling water after a certain time or volume, preventing accidents and conserving energy.
Safety measures should be an integral part of your boiling water tap choice. Always ensure that your selected model incorporates these vital features to create a safe environment in your kitchen. Read more about safety when using boiling water taps here.
Making the Final Choice
Choosing the right boiling water tap hinges on a variety of factors, including your individual needs, kitchen setup, and style preferences. Here are some practical tips to help you make an informed choice:
Assess Your Needs: Are you a tea enthusiast who requires boiling water at a moment's notice? Do you value the convenience of filtered water for drinking and cooking? Your unique requirements will determine whether a 3-in-1, boiling-only, or 4-in-1 tap is the best fit for you.
Consider Your Kitchen Setup: The size of your under-sink cabinet can influence the type of water tap you can install. Some models require more space for the boiler tank, so check your under-sink space before making your decision.
Match Your Style: Your tap should not only meet your functional needs but also contribute to your kitchen's aesthetics. Consider the style of your kitchen and choose a tap shape and finish that complements your decor.
Prioritise Safety: If you have children or elderly individuals in your home, prioritise safety features like child-safe locks and cool-to-touch technology.
Think Long-Term: Opt for a tap from a reputable manufacturer that offers a good warranty. Also, consider the availability and cost of replacement filters if you opt for a tap with a purified water function.
Remember, the right boiling water tap will bring convenience, style, and safety to your kitchen. Be sure to consider all these factors for a choice that you'll be happy with for years to come. Learn more about the difference between boiling water taps here.
Related Articles from the same category: