3-in-1 vs 4-in-1 Taps: What's the Difference?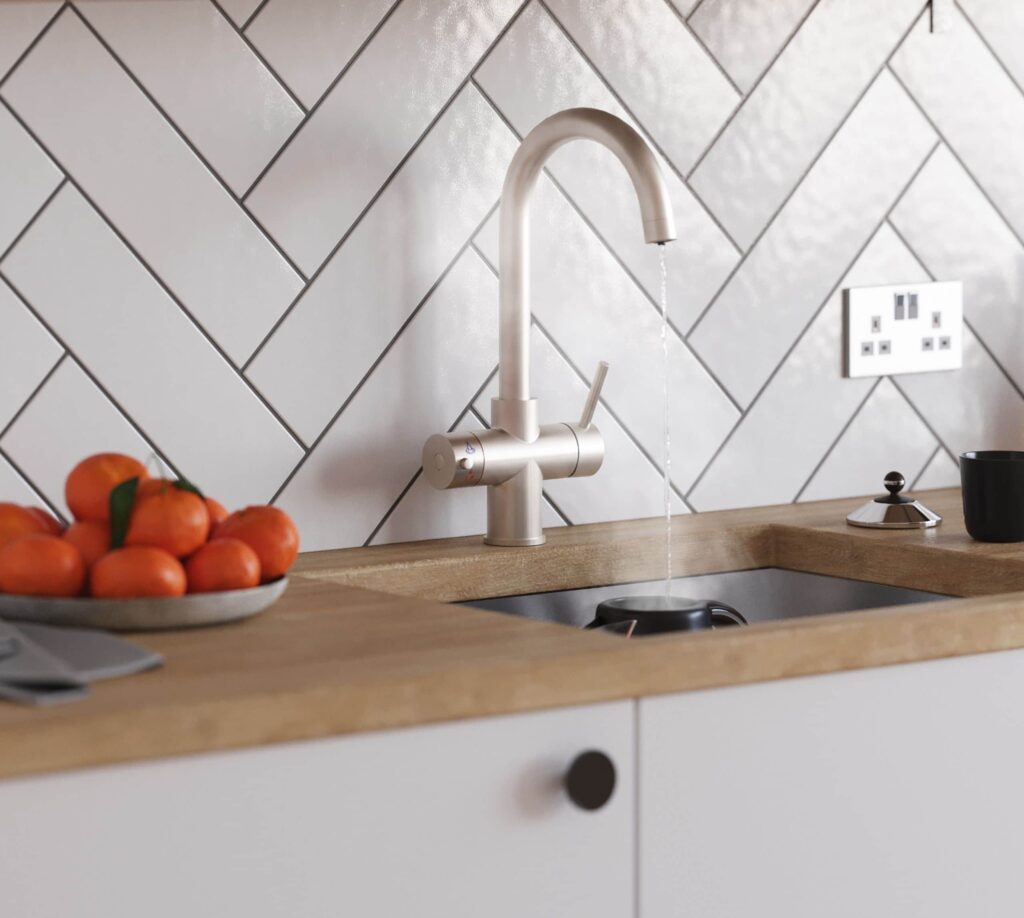 On the hunt for a brand-new boiling water tap? You've probably come across 3-in-1 and 4-in-1 taps, but what sets them apart? And how about the pros and cons of each? Don't worry, we're here to break it down for you so you can choose the ideal option for your home.
What's the difference between a 3-in-1 and a 4-in-1 tap?
The main difference is that 3-in-1 taps dispense:
Regular hot water
Regular cold water
Filtered boiling water
While on the other hand, 4-in-1 taps dispense:
Regular hot water
Regular cold water
Filtered boiling water
Filtered chilled water
So, if you're looking for a more advanced tap, a 4-in-1 model would better suit you. Some 4-in-1 taps will dispense filtered sparkling water instead of filtered still, so it's worth checking the fine print, especially if you don't enjoy sparkling water (like us!).
The difference in cost
Of course, 4-in-1 taps usually command a higher price than 3-in-1 models, so it's important to consider your budget, too.
You should bear in mind that our taps are the most affordable on the market, and that's something we're very proud of. What this does mean, however, is that other brands may charge far more for their taps - both 3-in-1 and 4-in-1 models. We know that some of the big-name brands can charge upwards of £1,000 for models that dispense sparkling water, for example.
If your budget is limited, 3-in-1 taps are still bursting with high-tech features and offer a whole raft of benefits:
Benefits of a boiling water tap
Convenience
A major plus of having a boiling water tap is the sheer convenience it brings. Instant access to hot water whenever you need it means no more waiting for the kettle to boil or juggling your hot water needs. Whether for cooking, cleaning, or drinking, just turn on the tap and let the boiling water flow.
Energy Efficiency
These taps are designed with energy efficiency in mind, using an insulated boiler tank to minimise heat loss and dispense just the right amount of water. Boiling the kettle a few times a day? You'll likely see some energy savings. Choose a compact, energy-efficient, and insulated boiler tank (like our 2.4Ltr model) to make an even bigger dent in your energy bill.
Space Saving
Boiling water taps can also help you free up kitchen space. Kettles tend to be bulky and hog counter space, while boiling water taps are sleek, compact, and easily tucked away under your sink or elsewhere. That means more room for meal prep, cleaning or other daily kitchen tasks. It also makes wiping down your worktops far easier as you won't need to battle with cords or multiple appliances just to sanitise!
Safety
These taps can be safer than traditional kettles by reducing the risk of spills or scalds. With a kettle, you have to lift and pour hot water, which can lead to accidents. Boiling water taps dispense hot water directly into your cup, pan or pot over the sink, nixing the spillage risk. Plus, they come packed with child safety features to prevent accidental scalding. Click here to read more about how safe boiling water taps are.
Time-Saving
Finally, one of the best perks of a boiling water tap is the time you'll save. Hot water at your fingertips means no more waiting for the kettle to boil. This can be a game-changer during busy mornings or when making hot drinks, cooking dinner, or cleaning up at night.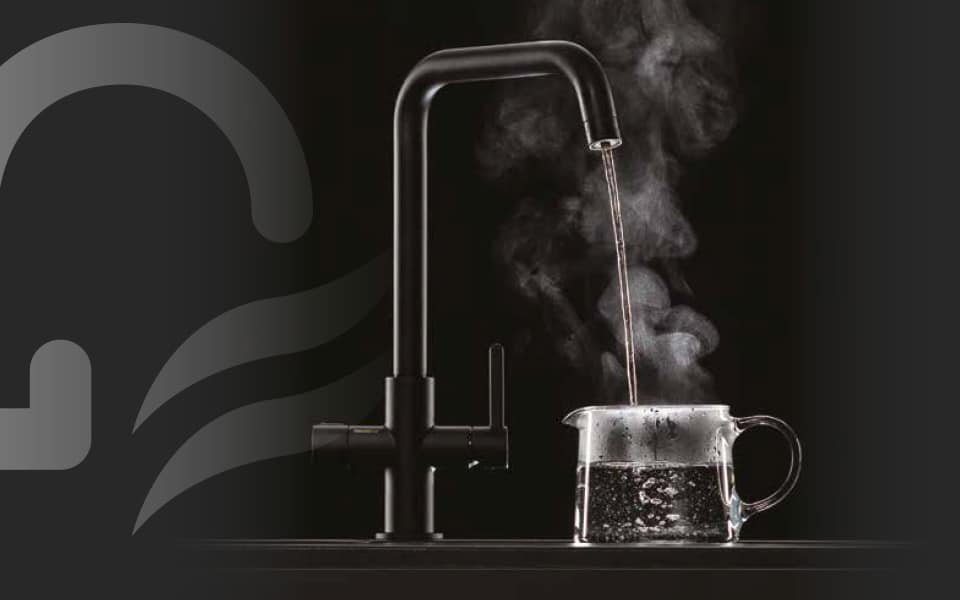 How does a boiling water tap work?
Boiling water taps are becoming more and more popular as advances in technology are making them both more convenient and increasingly cost-efficient. Here's how they work:
Insulated tank: A boiling water tap comes with an insulated tank fitted into the kitchen cupboard below. This tank holds and maintains a constant supply of boiling water, ready to be used whenever the handle is turned on the tap itself.
Thermostat and heating element: Boiling water taps generally use a thermostat and a heating element to ensure the water temperature is spot-on, be it boiling or something lower
Cost and time efficiency: Boiling water taps save time and work out to be cheaper in the long run due to energy efficiency and less wasted water.
Filtration systems: Advanced models even have filtration systems to provide clean and healthy water on tap!
Versatility: These taps can be used for various activities, such as:
Making hot drinks
Defrosting food
Sterilising utensils
Blanching vegetables
Washing dishes more quickly
You can learn more about how our taps work in our ultimate guide.
How are boiling water taps installed?
Installing a boiling water tap in your home or workplace can be both a time saver and an energy saver, but installation may appear intimidating or difficult. However, this is not the case. In basic terms, to install a boiling water tap, you simply need to attach your boiler tank to the mains, attach the provided filter and then attach this to the tap. If you're inexperienced in plumbing or electricals, we advise hiring a plumber.
Is a boiling water tap safe?
A boiling water tap is one of the safest options for your home when it comes to instant boiling water. Boiling water taps typically offer an insulated spout, temperature control, safety mechanisms and different flow settings. With proper installation and precautions taken, they can provide safe and reliable hot water on demand at all times.
How much do boiling water taps cost to run?
With energy prices remaining at an all-time high, we get that our customers are worried about hiking up energy bills. Fear not: we estimate that a boiling water tap will cost between 10-15p to run per day. In comparison, a kettle will cost between 2-6p to boil each time, depending on the make and how full it is. So, if you're as addicted to tea as we are, you're unlikely to see a significant difference in energy costs.
What about filters?
The filter for your hot water tap should be replaced every 6 months to protect the system from limescale build-up and keep your warranty valid. This is often the case for taps from other brands too, so do your research and find out before you commit. Like our taps, we try our best to keep prices as low as possible. Our filters are £24.95 with a rolling subscription (we will automatically send out your filter every 6 months), or £29.95 for one-off purchases.
Conclusion
So, what's the verdict? In general, 3-in-1 taps are the more cost-effective option because they're cheaper to buy upfront. However, 4-in-1 taps come with unique benefits that may make them worth the extra cost for some homeowners. We're proud to stock a huge range of boiling water taps at affordable prices, with a full spectrum of finishes and styles.
Related Articles from the same category: