Clean & Contemporary: Designing the Modern Kitchen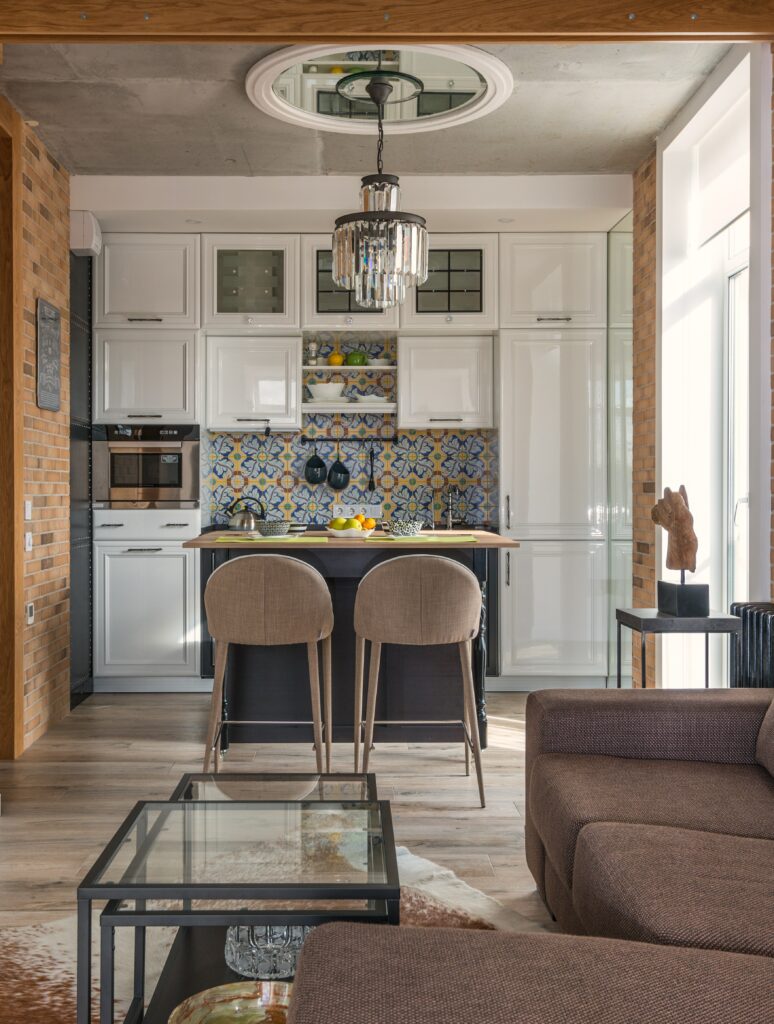 Are you looking to upgrade the design of your kitchen? Are you considering a modern look that is sleek, clean, and timeless? If so, then you've come to the right place! This blog post will cover the ins and outs of designing a contemporary-style kitchen.
We have everything you need to create your dream kitchen, from transitional decor elements to high-end appliances. Whether you are a beginner or an experienced designer, our tips and tricks will help make this process easier. So let's get started designing!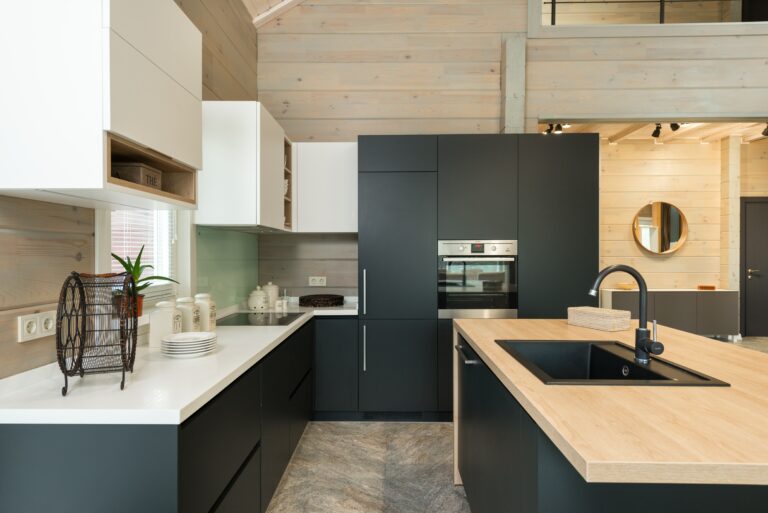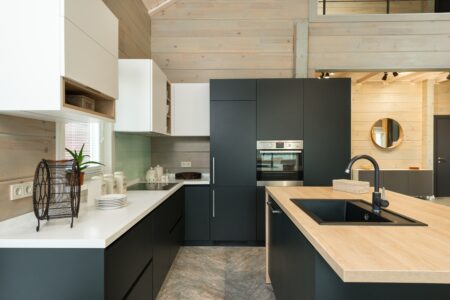 Introduction to Modern Kitchen Design
Open Layouts
Modern kitchen design is becoming increasingly popular, as it offers homeowners the opportunity to add value to their property while making their space both modern and functional. Modern kitchens often feature open layouts, which allow them to blend seamlessly into other living spaces in the home.
Open floor plans encourage conversation and connection while still allowing enough room for cooks to move around without feeling cramped or crowded. This is especially useful in smaller spaces where every inch counts! Open kitchens are also great for entertaining because they make it easy to mingle with guests while cooking or cleaning up.
Contemporary Appliances and Technology
Modern appliances come in all shapes and sizes, making it easier than ever to find something that fits your budget and style. Many modern appliances also come equipped with advanced technology, such as voice-activated controls or digital displays that can be used to keep track of ingredients or recipes. Smart refrigerators have become increasingly popular in recent years due to their convenience and energy efficiency; they also look great.
Unique Finishes and Fixtures
Modern kitchens are filled with unique finishes, fixtures, and materials that make them stand out from the crowd. From sleek cabinetry to quartz countertops, there's no shortage of options for creating a contemporary look for your kitchen. Other popular features include waterfall islands (extending past the countertop), marble backsplashes for added texture and interest, and stainless steel accents for an industrial edge.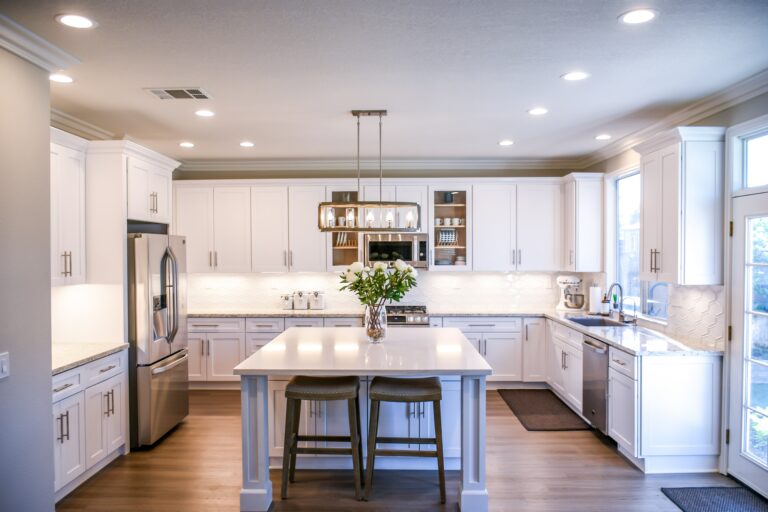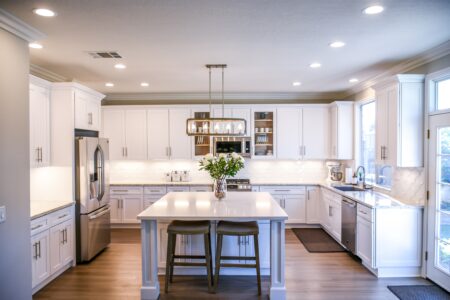 Defining a Contemporary Aesthetic
When it comes to modern kitchen design, the most important factor is defining a contemporary aesthetic. This can mean using modern elements like stainless steel appliances, modern cabinetry and sleek countertops or natural materials like wood, stone and other natural elements. The key is finding the perfect balance between modern and traditional so that you can create a modern look without compromising on functionality.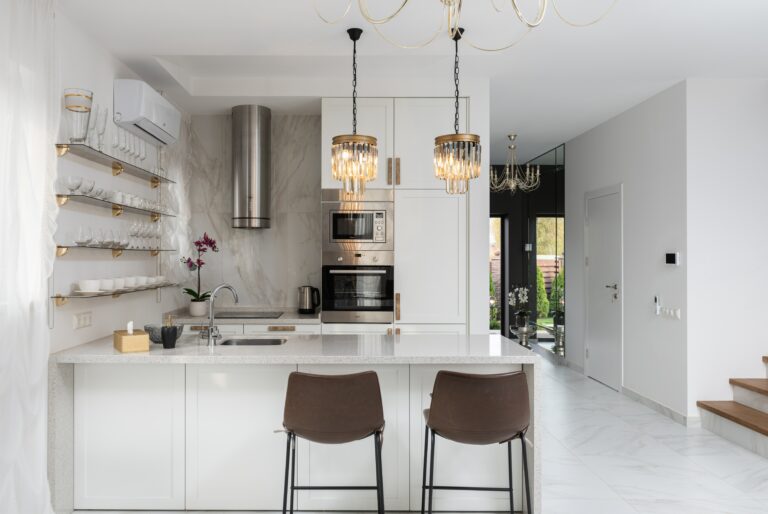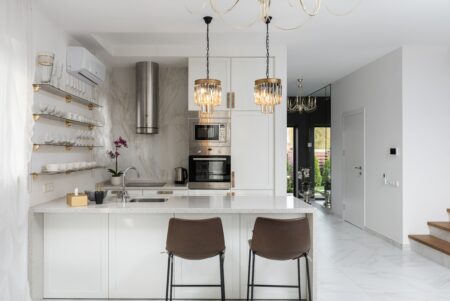 A modern kitchen should also be filled with natural light and incorporate statement pieces like lighting fixtures or wall art to create an exciting atmosphere. You can play around with modern colours, textures and finishes for cabinets, countertops and floors, such as natural wood paired with more neutral tones like white or grey. Having a modern kitchen idea in mind before you start designing will help you create the modern dream kitchen of your dreams.
Evaluating Your Kitchen Layout
When planning a modern kitchen, it's important to evaluate your kitchen's layout carefully. Considering the space available, answer questions such as what appliances and furniture you need and want to include, how much counter space you'll need, and where to incorporate storage, so everything is accessible. Opting for an open-plan kitchen can give you more opportunities to connect with other spaces in the home while also creating an inviting and friendly atmosphere for entertaining.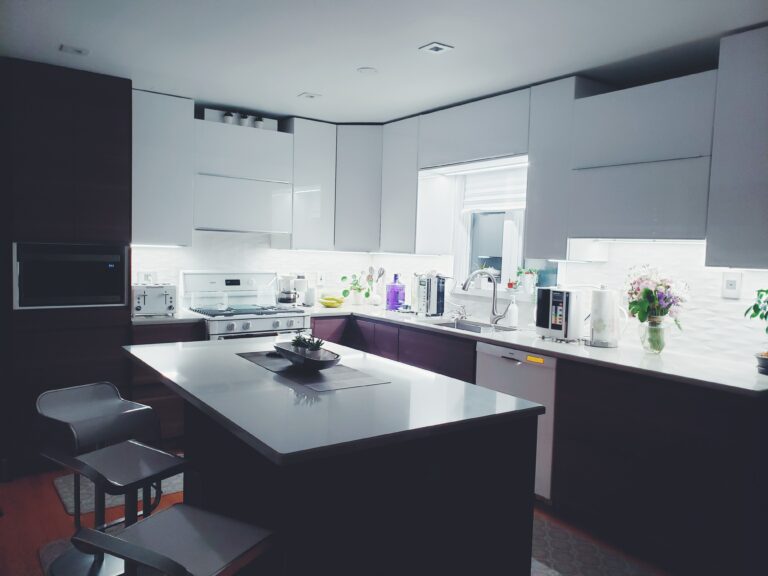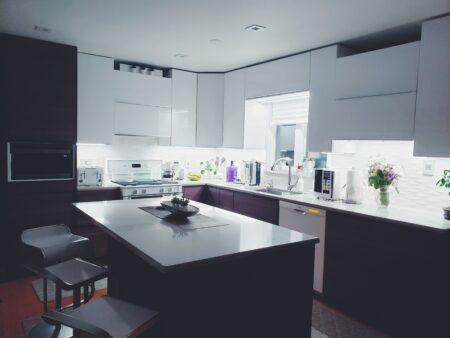 However, if you have a small area to work with, then think about including clever storage solutions that allow you to enhance the functionality of your space. By taking the time to consider your kitchen layout options carefully from the get-go, you can create a modern kitchen that meets all your needs and looks fantastic at the same time.
Breaking Down the Elements of a Modern Kitchen Design
Cabinet Styles
The cabinets in your kitchen set the tone for the entire space. A sleek, contemporary style with minimal ornamentation will help create an open feel while giving the room a modern edge. For example, flat-panel or frameless cabinets are perfect for achieving this look. These cabinets have no frame around the outside, so they blend more easily into their surroundings and appear less bulky than traditional framed cabinetry. You can also opt for European-style cabinets with simple lines and minimal hardware for a truly modern look.
Countertops
Countertops can play an important role in achieving the look and feel of your modern kitchen design. Contemporary materials such as quartzite and granite are popular due to their durability, low maintenance, and timeless beauty. A quartzite countertop has subtle veining patterns that give it depth without being too distracting; granite is incredibly versatile because it comes in so many colours and finishes—from glossy black to rustic brown—so you're sure to find something that fits your style perfectly.
Appliances
When it comes to appliances, stainless steel is usually the preferred material of choice when creating a modern kitchen design due to its sleek aesthetic appeal and utilitarian vibe. Stainless steel also resists fingerprints, smudges, and dirt better than other materials like plastic or painted surfaces do; plus, it's easy to clean with just some mild soap and water! In addition to looking great, stainless steel appliances are often more energy efficient than other models, so you get both style and savings.
Cabinetry: The Key Piece in Modern Design
Cabinetry truly is the key component of modern kitchen design. It provides a stylish backdrop for all kitchen features, appliances, and decor elements. Kitchen cupboards have come a long way since their traditional wood panel designs; now, they come in various styles and finishes to match any kitchen theme perfectly. From sleek shaker-style variations to warm wooden panelling, there are so many options to choose from.
A kitchen's cabinetry design can also set the tone for colour choices regarding countertops and other kitchen accessories. Whether you're going for a modern or traditional feel, your kitchen cabinets must reflect both yourself and your kitchen ideas. By beginning your kitchen remodel with the right type of cabinetry, the possibilities of what you can do within the room are exponentially increased.
Choosing Finishes for a Clean Look
When it comes to designing a modern kitchen, finishes are key. The right finishes can bring together a room and give it a cohesive, clean look. A popular choice for modern kitchens is using laminates and veneers as they are easy to install and maintain while also providing a sleek, uniform appearance. Natural materials such as granite or marble can be used to make the room feel more sophisticated.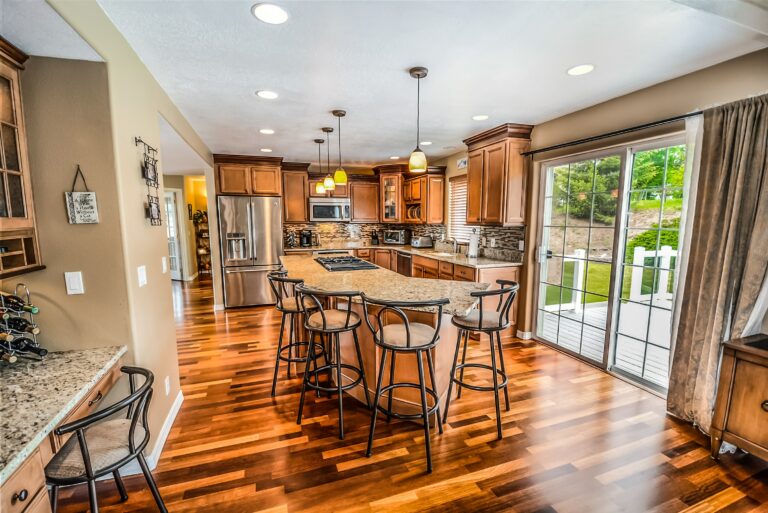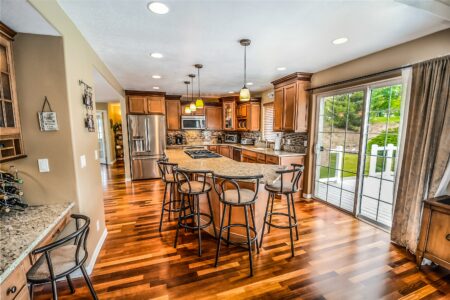 When selecting colours, opt for neutrals - think greys, whites, or even soft pastels. These colours will add warmth without overwhelming the environment. Finally, consider mixing various metallic finishes, such as chrome or nickel, that can easily blend into the overall style. These tips are handy when choosing the finishes for that modern kitchen of your dreams!
Worktop Options to Complement Your Look
When it comes to designing a modern kitchen, countertops can go a long way toward creating an atmosphere of sophistication and aesthetic appeal. For ultimate contemporary elegance, granite countertops are hard to beat with their bold texture and colour palettes – perfect as the centrepiece for the ultimate statement kitchen.
If you're looking for something more subtle yet equally chic, quartz is another great option, representing an even blend of style and functionality which adds a unique touch while remaining low maintenance. While these two possibilities provide classic, timeless allure that will never go out of style, if you want something with extra flavour that also provides plenty of practical use, then glass or marble surfaces could be just what you're after.
Whether sleek glass or historic marble, these materials can bring your home into the 21st century without losing any traditional charm - making them the perfect combination for modern dining.
Lighting your Way Through the Design
When it comes to modern kitchen design, lighting is an often overlooked aspect that can truly elevate your space. Not only will good lighting make all of the other design elements more visible, but it can also add a layer of the atmosphere often missing in kitchens. There are many ways to light up your kitchen without sacrificing style. For example, spotlights beneath cabinets or island fixtures can allow you to see better while cleaning and cooking and personalize your space with tasteful ambient lighting.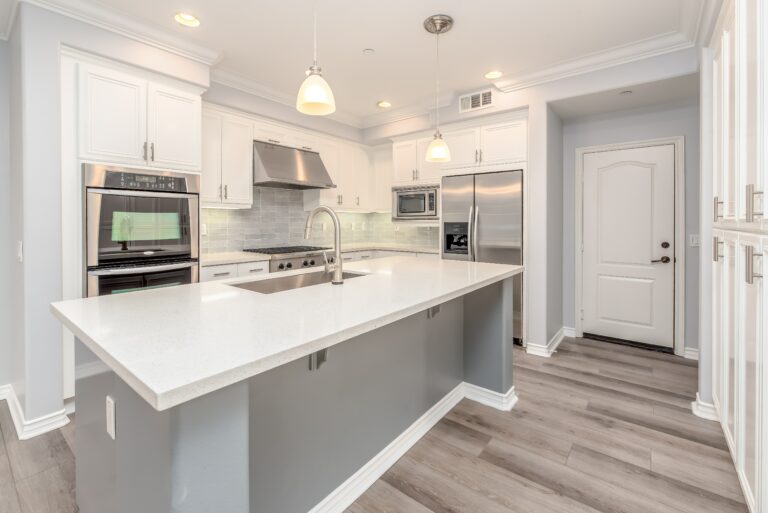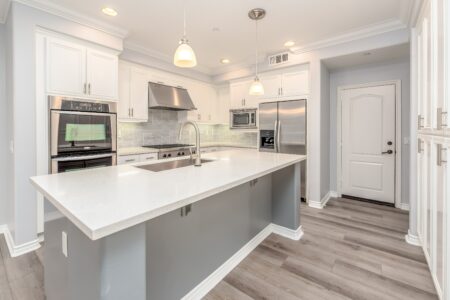 You may also want to consider installing dimmable lights on the walls or over the dining table for added visual effect or even pendant lights strung from above for an ethereal feel. Whatever type of lighting you decide upon, intelligent and creative placement as part of your overall design can help bring your modern kitchen to life.
Guiding Principles of Accessibility & Comfort
When renovating a kitchen, accessibility and comfort should always be the top priority. Good design is key to creating a comfortable, user-friendly space that anyone can navigate easily. For example, kitchen accessories such as pull-out drawers, countertop appliances and open shelving can create an environment that does cooking and entertaining simple and enjoyable for all.
Other important components for accessible living include task lighting, strategically placed wall outlets, and ergonomic appliances. The goal of every kitchen design project should be to make life easier, safer and more pleasant for everyone who uses the space. With thoughtful planning and creative solutions tailored to individual user needs, renovating a kitchen can become a rewarding experience.
Bringing Life Into the Room With Appliances & Hardware
When designing a modern kitchen, it's important to think about how you can bring life into the space; appliances and hardware can help do just that. Appliances with modern features such as digital displays, temperature controls and even voice commands are increasingly popular and can give your kitchen a modern feel. Additionally, modern hardware like cabinet pulls, drawer slides and hinges come in a variety of styles to complement any design style.
Adding boiling water taps for boiling your food or making tea and coffee in an instant adds efficiency and pleasure when cooking. And modern kitchen hoods and cooktops can add a unique character to the room without sacrificing modern convenience.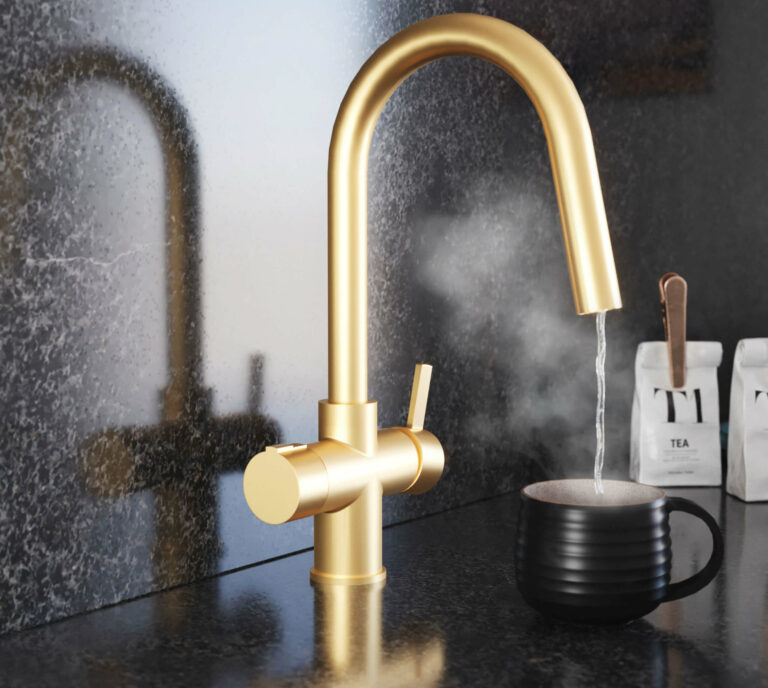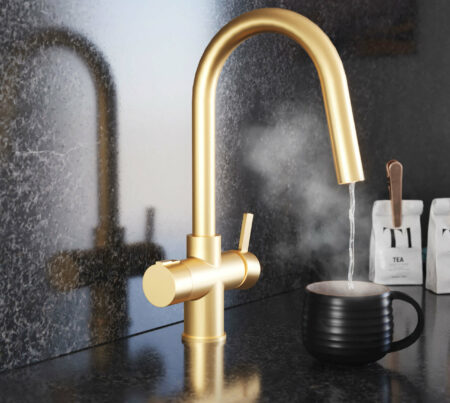 Saving Money on Your Modern Design Renovation Project
Shop Around for Deals and Bargains
Before starting any renovation project, it's important to do your research and shop around for the best deals. Start by browsing online stores like Amazon or Wayfair for furniture pieces that match your desired style. You may also want to check out charity or antique shops in your area, as they often have great pieces at a fraction of the cost of retail stores. Additionally, if you plan ahead, you can keep an eye out for seasonal sales, which can offer great discounts on items like furniture, paint, and other renovation materials.
DIY Where Possible
Depending on the scope of your renovation project, there are likely some areas where you can save money by doing it yourself. For instance, if you want to repaint one room in your house, this is something that you can easily do yourself and buy the necessary materials from a local hardware store. This is also true when it comes to small decorating projects such as wallpapering or hanging curtains—these things don't require specialized skills, so they are easy enough for anyone with basic DIY knowledge. Doing these types of jobs yourself will save you a lot of money compared to hiring someone else to do them for you.
Invest in Quality Materials
When renovating a space with modern design elements, investing in quality materials is key to achieving the look and feel that you want without spending a fortune. Investing in quality materials means they will last longer and be more durable than cheaper alternatives—saving money in the long run because they won't need replacing as often. When shopping around for materials, keep an eye out for items such as hardwood floors which add value to your property over time instead of just being an expense now without any return later on down the line.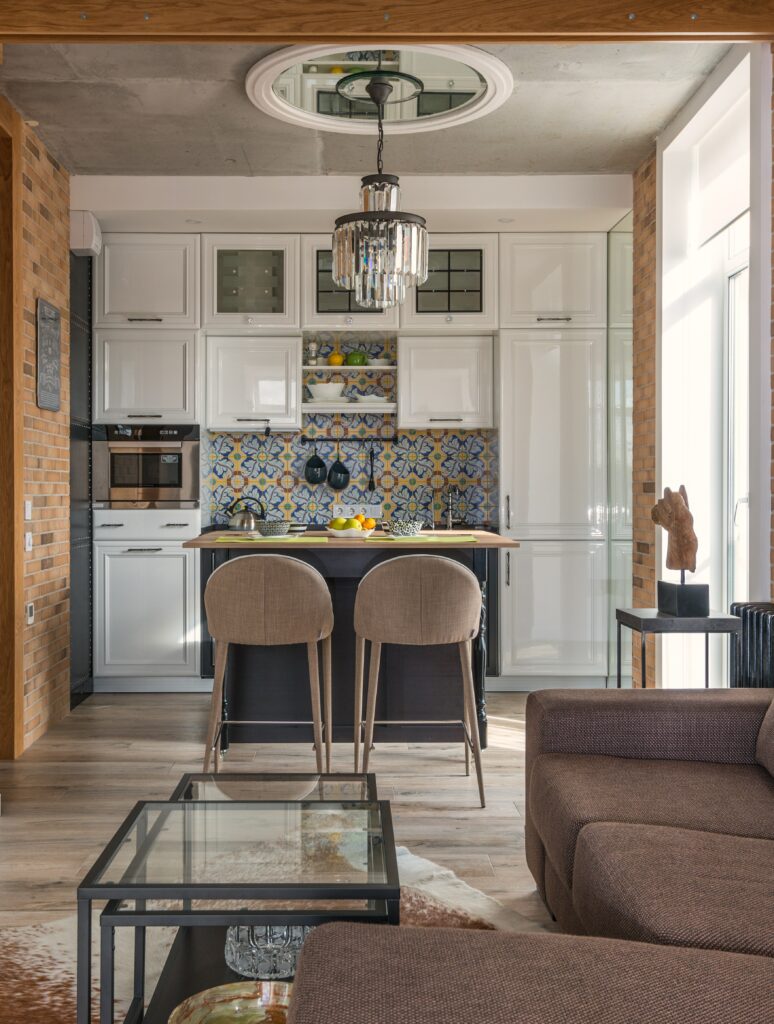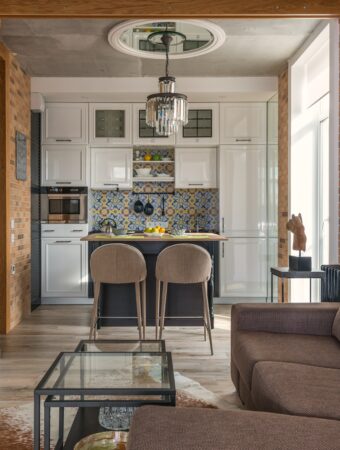 Creating Environmentally Conscious Choices For Your Home's Makeover
Whether you're adding a few new pieces of furniture or taking on a full-fledged home makeover, making wise, environmentally conscious choices can majorly impact your home and the planet. From choosing sustainable materials to responsibly sourcing pieces, much can be done to ensure you invest in products and services that will stand the test of time while having minimal adverse environmental effects.
For example, opt for organic fabrics that don't contain harsh chemicals or dyes that threaten our air quality or forgo plastic or petroleum-based furniture. Instead, invest in those made from renewable sources like bamboo or locally sourced reclaimed wood. With careful consideration, you can create a stunningly beautiful space you love without compromising the health of your home or the surrounding environment.
Mistakes to Avoid When Designing a Kitchen
Choosing Unsuitable Countertops
When redesigning a kitchen, there are several kitchen renovation mistakes to avoid to create the perfect space. Countertops are one of the most important elements in any kitchen design—which is why it's important to choose materials that fit your lifestyle and budget. For instance, granite or marble countertops may look nice, but they can be easily scratched and stained, whereas quartz is more durable and less expensive. Other materials, such as wood or concrete, can also work well in certain kitchens, depending on what you're looking for. No matter which material you choose, make sure it fits your needs and style before committing to it.
Not Thinking About Storage Options
When designing a kitchen, many people focus solely on aesthetics and overlook practical considerations such as storage. This is especially true if you have limited counter space or cabinets—in which case you should think about incorporating additional storage options such as shelves or drawers into your design. This will help keep your kitchen organized and clutter-free while also adding more visual interest to your space.
Ignoring Lighting Considerations
Lighting is often overlooked when designing a kitchen, but this element can really set the tone for your entire space. Natural lighting from windows is ideal for brightening up a room during the day but don't forget about nighttime lighting too! Think about incorporating task lighting (such as under-cabinet fixtures) and ambient lighting (such as pendant lights) into your design for a cohesive look that will be both functional and stylish at night.
Conclusion
The kitchen is the heart of the home, so why not make it a space you love? A clean and contemporary kitchen design can give you an uplifting place to cook and entertain. Plus, with the right layout and materials, your modern kitchen will be practical and stylish for years to come. Are you ready to create your dream kitchen?
Our boiling water taps come in a huge variety of styles and finishes, perfect for upgrading your modern kitchen's aesthetic. Find out more about how a boiling water tap works.
Related Articles from the same category: