Shaker Kitchens: A Designer's Guide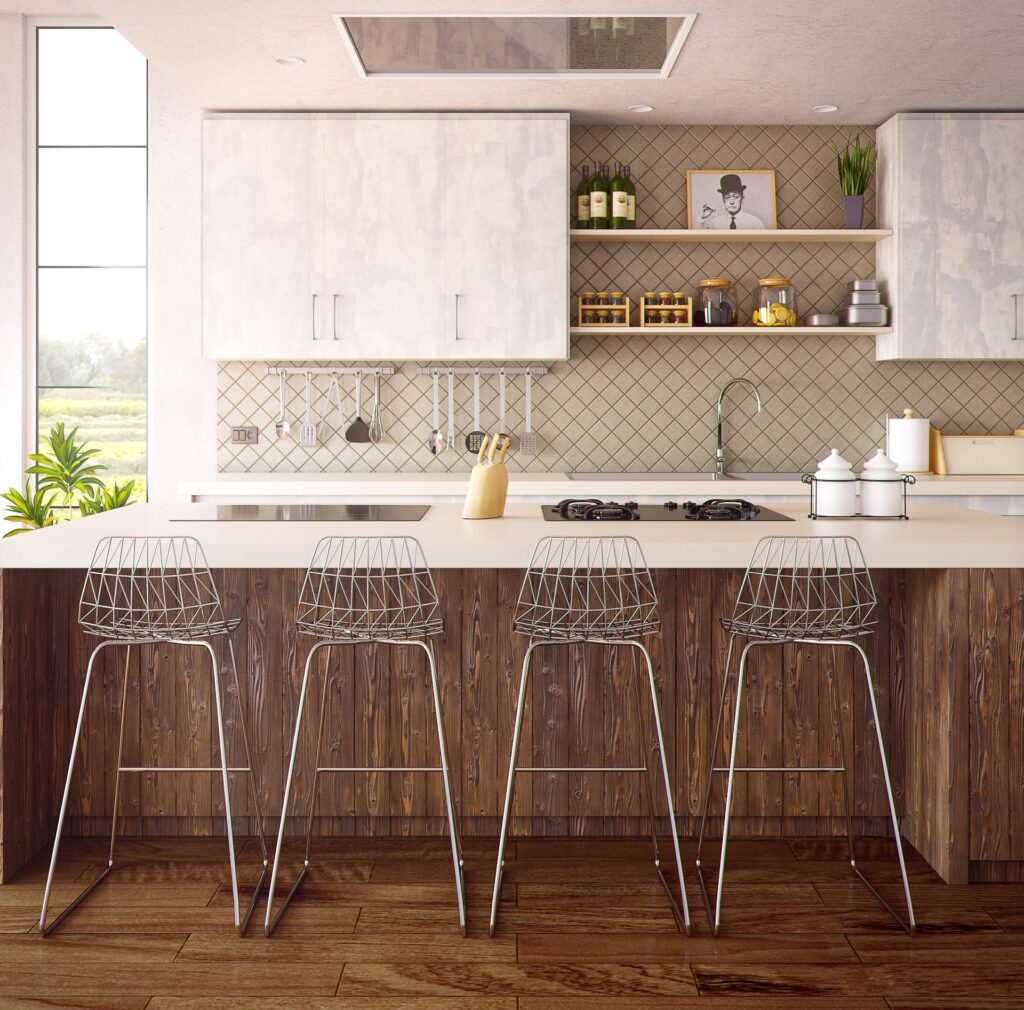 Is your kitchen in need of a refresh? If so, you may be considering a shaker-style design. Shaker kitchens are trendy now, thanks to their timeless elegance and minimalist charm. In this blog post, we will take a look at some of the critical features of shaker-style kitchens, as well as provide you with some designer tips on how to create a beautiful and functional space. Read on to learn more!
The history of Shaker-style kitchens
The Shaker style of the kitchen became popular in the early 1800s after members of the religious group known as the Shakers moved to America from England. Originally focused on crafting utilitarian furniture and household items, this distinctive style featured clean lines, minimal ornamentation, and practical functionality.
Specifically, Shaker kitchens were noted for their tidy simplicity and focus on ease of use. They typically consisted of cabinets, counters, and appliances that were arranged logically and efficiently, allowing even amateur cooks to prepare food quickly and efficiently. Over time, the appeal of Shaker kitchens extended beyond the religious community, resulting in the widespread adoption of this functional style around the world. Today, though many newer kitchen designs have emerged over the years, Shaker-style kitchens remain an iconic fixture of modern home design.
Key features of traditional Shaker kitchens
View this post on Instagram
The Shaker movement was founded in eighteenth-century England as a radical religious society centred around ideals of simplicity and selflessness. One important aspect of the Shakers' communal lifestyle was the incorporation of shared kitchens into their communal living spaces. Traditional Shaker kitchens were characterized by several key features that reflected the core values of the Shaker movement.
For example, these kitchens were typically designed to allow for large groups to work together, with multiple prep areas and ample counter space for cooking and food storage. Additionally, Shaker kitchens were typically built with high-quality materials that could withstand heavy use over time, such as sturdy wood cabinets and stainless steel appliances.
Overall, these features reflected the Shakers' emphasis on community and functionality, making traditional Shaker kitchens an ideal setting for building connections through food.
How to design a Shaker kitchen
When designing a Shaker kitchen, it is important to start with the basics. First and foremost, accuracy and attention to detail are crucial when working with this type of aesthetic. Key features, such as cabinetry, wall hangings, and countertops should be carefully chosen to complement each other and foster a sense of harmony throughout the room.
Additionally, simplicity and clean lines are two core principles that underpin the Shaker style. This means that fixtures and furnishings should be kept to a minimum, and any decorative elements should focus on simple geometric shapes like squares or circles. Overall, by carefully considering key design elements and keeping these basic principles in mind, anyone can create an elegant and timeless Shaker kitchen that will truly stand the test of time.
What woods are used in a Shaker-style kitchen?
View this post on Instagram
Many different types of wood can be used to create a Shaker-style kitchen. Some of the most popular options include oak, cherry, walnut, and maple. Each wood has its unique look and feel, ranging from rich and dark to light and smooth. Additionally, each type of wood will vary in terms of how well it can withstand wear and tear over time.
For example, oak is known for being highly durable and resistant to moisture damage, making it an ideal choice for worktops or flooring. Meanwhile, cherry tends to be softer than other woods and must therefore be treated with extra care lest it becomes scratched or damaged.
Ultimately, the choice of wood will depend on both aesthetic preferences as well as practical considerations like durability and ease of maintenance. Regardless of which type you choose, a beautiful wooden kitchen is sure to impress your guests and add joy to your everyday cooking experience.
What colours are best suited to a Shaker-style kitchen?
https://www.instagram.com/p/CLoGryRnSfJ/
Colours play an important role in any design scheme, and this is particularly true for Shaker-style kitchens. These minimalist spaces are characterized by clean lines and functional layouts, so it is crucial to choose colours that will enhance the look of the space rather than detract from it. Some colours that can help to create a beautiful Shaker-style kitchen are lighter neutrals such as white and cream.
These shades maintain a crisp and clean aesthetic while adding a sense of warmth to the space. Another option is soft pastels such as light blues or greens, which add just a hint of colour without going overboard. Ultimately, the most important thing when choosing colours for your Shaker-style kitchen is to think about what will work best with the rest of the design scheme while also bringing out its inherent beauty.
Is Shaker a contemporary design style?
There is no clear answer to this question, as the definition of "contemporary" can vary widely depending on individual perspectives. Some would argue that Shaker is a distinctly modern design style, due to its minimal aesthetic and clean lines. However, others might contend that Shaker is a style that has origins in the past, as it draws inspiration from traditional design principles and techniques.
Ultimately, the debate over whether or not Shaker is "contemporary" comes down to one's interpretation of the term. Some may see it as an outmoded way of thinking that belongs firmly in the past, while others may recognise it as an enduring and forward-looking style. Whatever your opinion may be, there is no denying that the Shaker aesthetic continues to influence and shape modern design today.
How to use vintage furnishings in a Shaker kitchen
When designing a kitchen in a Shaker style, it is important to carefully consider the use of vintage furnishings. These older pieces can help to add warmth and richness to the space, as well as add a sense of history. However, it is important to make sure that these furnishings are both functional and well-suited to the style of your kitchen.
First, start by choosing your vintage pieces wisely. Look for items that have simple lines and clean shapes so they will fit in seamlessly with your overall design aesthetic. It is also important to consider the materials used in the piece; while wood or brass may feel more traditional, there are many modern options like cast iron or stainless steel that would also look great in a Shaker kitchen. Additionally, always pay close attention to scale; you want your vintage pieces to feel integrated into the larger space rather than taking up too much visual room.
Once you have selected your vintage furnishings, be sure to incorporate them into the overall space in an intentional way. Consider how they will function with other elements in the kitchen, such as countertops and cabinets, and how they might be complemented by decorative accents as patchwork throws on seating or textural rugs on the floor. By carefully selecting your vintage furnishings and utilizing them thoughtfully, you can create a beautiful and functional Shaker-inspired kitchen that exudes timeless style and welcoming warmth.
Using natural materials in a Shaker kitchen
When it comes to designing and decorating a kitchen, there are many different materials that you could use. Wood, metal, and glass are all popular choices, as they provide functional and stylish elements that can help to elevate your space. However, when it comes to Shaker kitchens, the best option is often natural materials. These eco-friendly products offer unique design elements that capture the rustic charm of a traditional Shaker-style aesthetic.
Some of the most commonly used natural materials in Shaker kitchens include wood, stone, leather, clay, and glass. Using these natural materials in your kitchen will not only help to create a warm and welcoming space that feels true to the Shaker aesthetic, but it will also help to reduce your impact on the environment by using sustainable products. So if you want to create a beautiful kitchen that looks great and does good for the planet at the same time, try incorporating natural materials into your Shaker design!
Conclusion
Budding interior designers can embrace past interiors and create a timeless kitchen by using the Shaker style as their foundation. With an understanding of proportion, scale, and style, any designer can create beautiful kitchens that will last for years. By mixing in traditional and modern elements, you can give your home the best of both worlds and make your dream kitchen a reality.
Upgrade your shaker kitchen with a boiling water tap, now available at unbeatable prices and with free 60-day returns. Alternatively, dive into more of our design guides here:
Related Articles from the same category: